15-Minute Chores to do Daily
Keeping your house clean and orderly isn't as hard as you think. While we often feature deep cleaning tips, this list of Ten 15-minute Chores to do Daily is a must. On the busy days when you feel like you can't get enough done, this is a great list to keep you on top of chores without feeling overwhelmed.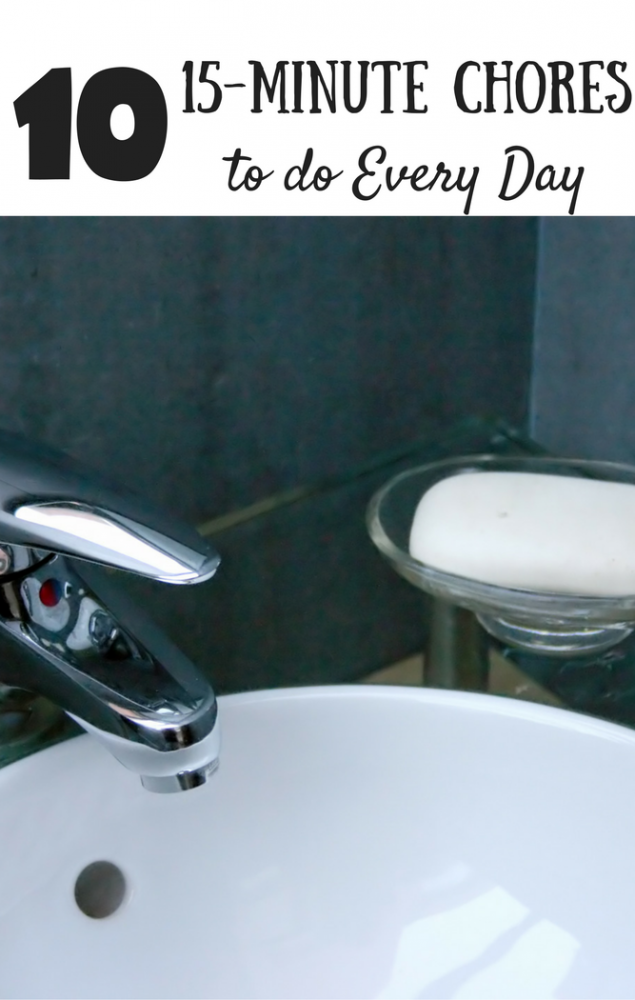 Ten 15-Minute Chores to do Daily:
Load the dishwasher: Emptying your kitchen sink can make a huge difference in how you feel. Walking into your kitchen and seeing a clean sink just makes you feel accomplished. Loading (or unloading) the dishwasher takes minutes but has a huge result of cleanliness in your kitchen.
Sweep floors: While mopping may take more time, taking your broom or Swiffer to the floors in your home takes minutes. A quick sweep can pick up dust, dirt, and pet hair. This makes things look and feel tidy between mopping.
Take out the garbage: Gathering and taking out the garbage doesn't take much time but can make a big impact. From making sure your home smells great, to not having clutter in sight, this is one task that needs to be done daily.
Wipe down kitchen counters: Clearing off bowls, plates, and miscellaneous items are easy to do. Grab some sanitizing wipes and make sure those counters are wiped down while you are at it. This will give a clean appearance and often gives a nice freshly cleaned aroma to the room.
Make your bed: This takes just minutes in the morning and totally transforms the appearance of your bedroom. I recommend doing this as soon as you get up for the day since it helps set your mind that sleep time is over and it's time to get to work.
Wipe down bathroom counters: Makeup, lotions, hair, and more find their way to the top of bathroom counters. A simple wipe over faucets, sinks, and counters can keep the mess to a minimum and rid your bathroom of germs when needed.
Clean the mirrors in your house: Mirrors are a great item to clean in just a few minutes. Everything is shiny and bright, and that makes your house look and feel better!
Pick up the living room: Putting away magazines, books, pillows, blankets, and toys is a must! This can make your living area look better, but also free you from distractions or accidents waiting to happen. Tripping over clutter is never fun!
Put away a load of laundry: Putting away that basket of laundry just takes a few minutes but leaves you feeling accomplished!
Clean up after pets: This can be as simple as sweeping and cleaning the area around their pet food bowls, or as much as emptying litter pans. This is a great chore to assign to your kids since they can do it so fast and easily before or after school.
These 15-minute chores are a great addition to your routine to help keep your home neat and orderly every day of the week!
More Cleaning Tips:
25 Spring Cleaning Tips (good all year long!)
How to Deep Clean Your Home in 7 Days
How to Use a Weekly Cleaning Schedule
Melissa is a football and soccer mom who has been married to her best friend for 24 years. She loves sharing recipes, travel reviews and tips that focus on helping busy families make memories.