How to freeze leftover turkey
I thought I would share with you How to freeze leftover turkey that you have from Thanksgiving or any holiday meal. I know we always have more than enough turkey leftover after a holiday celebration.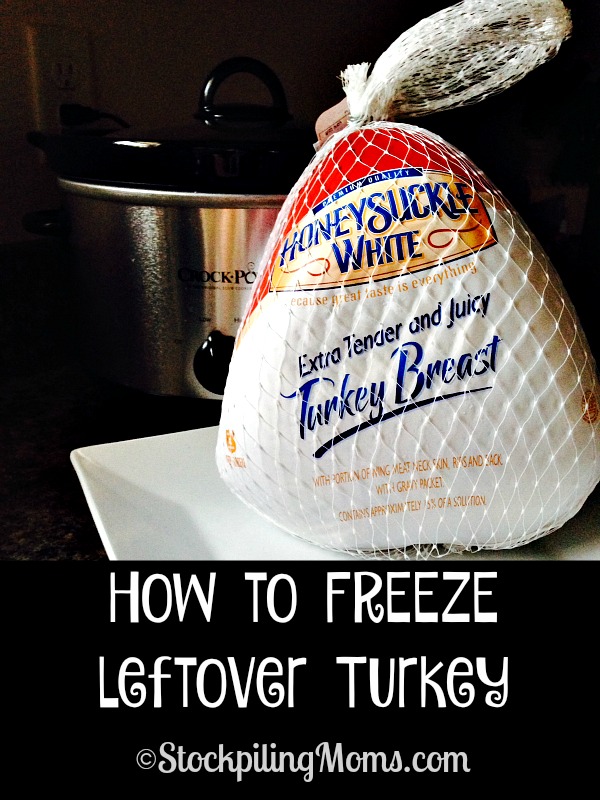 This is fine by me because I love to use the leftover turkey in various recipes. By freezing the leftover turkey you can keep it longer and freeze in portions to use for future recipes.
I love to use Honeysuckle White Turkey because they do not use growth promoting antibiotics making a wholesome product for you to enjoy but of course this works with any brand. Cooked turkey has a short shelf life of 3-4 days so freezing is a great alternative to stretch the life of the leftovers. By doing so you can really take advantage of sale prices and purchase a larger turkey so that you will for sure have leftovers.
How to FREEZE leftover Turkey
For Diced Turkey Pieces: Remove all meat from bones and dice turkey. Place in a freezer safe container or freezer bag. Remove as much air as possible. Keep about a quarter inch for the turkey to expand, but poultry does not expand much when freezing. Diced turkey does well in soup and chili recipes.
For Shredded Turkey Pieces: Use the same directions as written above, but shred the turkey. Shredded turkey does well in taco and pasta recipes.
For Turkey in Gravy: Shred your turkey and place in freezer safe container or bag. Pour gravy over in and leave at least half inch of space for the gravy to expand when it freezes.
For all three of these methods make sure turkey is cooled completely before packing for freezing. Thaw over night in your fridge and then use. Do NOT thaw frozen cooked poultry on the counter or in a sink with water. It is best to remove the skin from the turkey before freezing and to remove it from the bone before freezing. Frozen Cooked Turkey is good for up to 6 months in your freezer. You can learn more at HoneySuckleWhite.com
Recipes that use Leftover Turkey that you may Enjoy:
Smoked Turkey Cranberry-Orange Sandwiches
Turkey & Gravy Thanksgiving Leftovers Recipe
Tastes Like Thanksgiving Casserole
Shelley is a boy mom, marine wife, and is blessed with an amazing family. She loves sharing recipes, travel reviews and tips that focus on helping busy families make memories.