How to Clean your Keurig Coffee Maker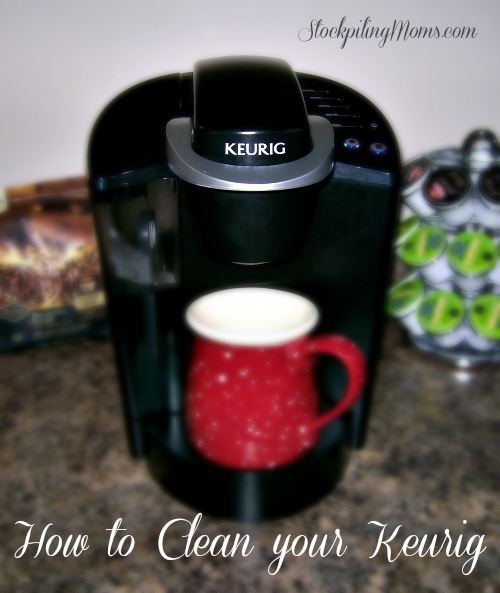 How to clean your Keurig is as simple as pouring vinegar into the water compartment and running it through. Yes, it is that simple! You should clean your keurig every 2-3 months to help descale it (remove any calcium deposits and hard water residue). If you are a coffee lover like me and are using your keurig everyday then you want to make sure to be cleaning it more often. One morning I woke up and my coffee was not ready because it needed to be cleaned. So to avoid this happening to you be sure to follow these easy tips to a clean keurig! Also according to the manufacturer you should be using filtered water. I use filtered water from my fridge.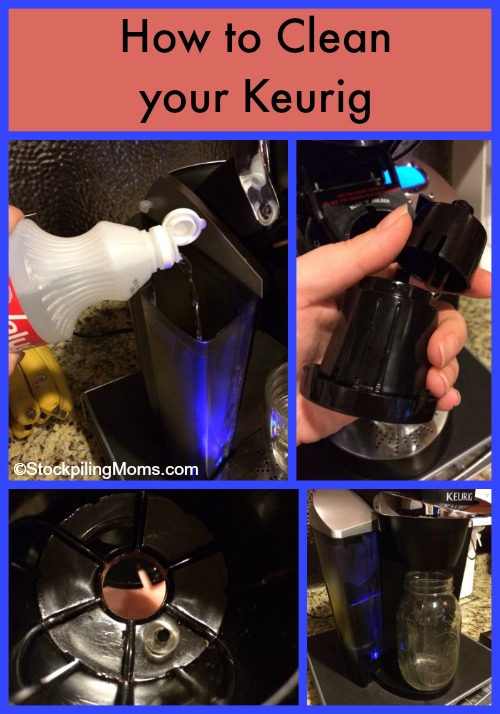 How to clean your Keurig:
Start by pouring white vinegar into the water reservoir (tank) and fill it up to the top. Next, keep brewing cups (running the water through) until the vinegar has run throughout the machine and until the "add water" indicator comes on. The keurig should be left on and heating for 4-6 hours. During this time the vinegar is now in the internal tank and will be heated by the brewer; the combination of the heat and the vinegar will "descale" or dissolve deposits inside the internal tank. After the 4 to 6 hour period has passed you will proceed with the next step.
Next, fill the water compartment with water to the top and run it through. I repeated this three more times for a total of 4 times to make sure all the vinegar had run through. I didn't want to have any funny tasting coffee.
Finally, I took the little black holder that holds the k-cups out and took the two parts apart. They are dishwasher safe, so they are easy to clean. That keeps the bottom piercing needle clean. I also poked a straight pin in the top needle that comes down to pierce the k-cup to unclog it from any grounds.
So the next time your machine is running a bit slow, only filling cups halfway then be sure to clean it! You will be a happy coffee lover just like me! Regardless of what type of water you use this is a step that you can take to extend the life of your keurig.
Be sure to check out these coffee posts:
DIY Containers – How to reuse your Coffee Mate Containers
Homemade Pumpkin Pie Creamer Recipe
Miss Debbie's Coffee Bread Recipe
Shelley is a boy mom, marine wife, and is blessed with an amazing family. She loves sharing recipes, travel reviews and tips that focus on helping busy families make memories.