Helping Your Child Choose A Fall Sport To Participate In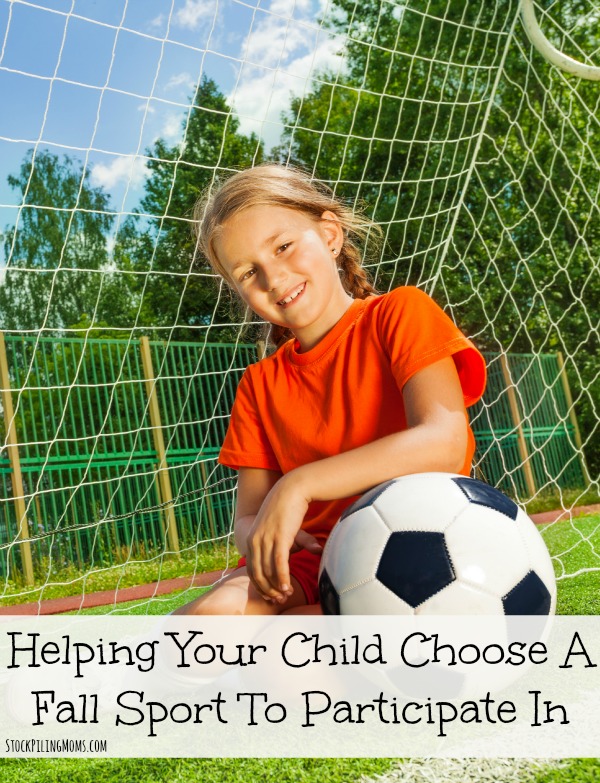 As your kids start to get a bit older, things like football season, cheer leading camp, marching band and even basketball become terms you, as a mother have to embrace. You may be faced with Helping Your Child Choose a Fall Sport to Participate In. It may seem to be something easy to do, but in reality, you will find it is a very tough decision for many kids and parents.
HELPING YOUR CHILD CHOOSE A FALL SPORT TO PARTICIPATE IN
Determine Their Skills: Is your child naturally athletic, or do they enjoy the sport but lack skill? If your child is one who is naturally athletic, it will be easier to determine which sport they are better with. Make sure they enjoy that sport, and if they excel and have fun doing so, then it will be the perfect choice for them.
Determine Time Available for Team Obligations: Some sports and clubs require a lot more time spent in practice, games and events. Before making a decision about which sport your child will try out or sign up for, make sure you and they will have time to fulfill obligations.
Decide If That Is the Only Sport They Want to Participate In: Does your son like football and basketball? If so, the teams may have games and practice at the same time toward the end of the year. This can cause conflicts and an inability to play on or the other sport. By checking with coaches and schedules you can determine if this is going to be a problem. If it will be, then it may be necessary to make a choice between the two sports for what is going to be their preference.
Weigh Expenses Involved: While your kids desires are the top thing to consider, you also must weigh what expenses are involved. Some team sports cost a significantly larger amount of money than others. While you want to give your kids the best you can, finances can limit you at times. Make sure you know cost to participate well in advance of try outs.
Picking what sport to participate in can be a fun and exciting time for your child. Think ahead and determine what his or her needs and wants are to help make this transition easier. Helping your child choose a fall sport to participate in doesn't have to be a difficult event. Work together to make this a great year of activities for the whole family!
Sports Ideas:
Check out these Game Day DIY Projects:
Melissa is a football and soccer mom who has been married to her best friend for 24 years. She loves sharing recipes, travel reviews and tips that focus on helping busy families make memories.