How can I prepare for surgery?
If you are getting ready to prepare for surgery there are several things that you can do to prepare. One of the best ways to prepare is to schedule your surgery (if possible) at a convenient time. Choose a down time at work or during the school year. I recently had open heart surgery and scheduled mine at the end of the soccer season but gave myself 2 months to recover before Christmas Day.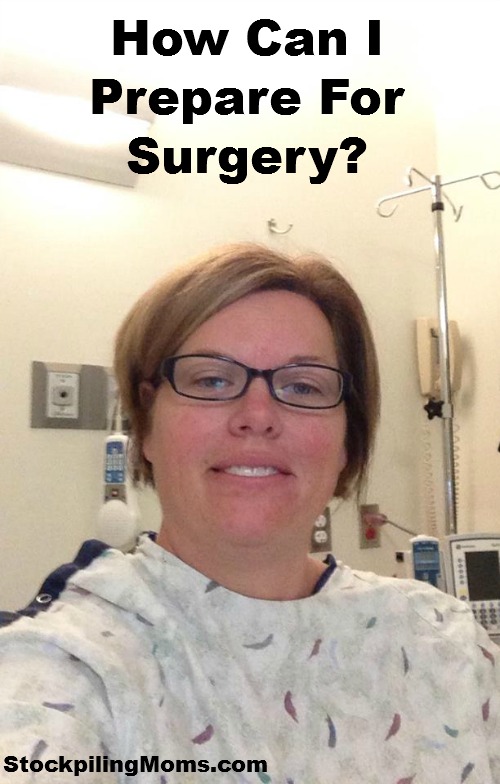 By scheduling your surgery and not having to have an "emergency" surgery you can get your affairs in order and prepare. You can seek out the surgeon of your choice and making certain that you feel comfortable with their bed side manner and skill level. This gives you time to get more than one opinion, get referrals and do some research on the surgeon.
Tips for preparing for surgery:
Drink plenty of fluids prior to surgery. By being hydrated your IV process will be easier. I suggest drinking 8 glasses of water daily prior to surgery and at least 1 Powerade or Gatorade daily. I always do this for up to 7 days prior to a major surgery. I am not a good stick and this really helps!
Cut back on caffeine. This will help with headaches after surgery. Consider drinking 1/2 caffeine and 1/2 decaf the days prior to surgery if you are a coffee drinker. Of course after most surgeries they will offer you coffee but your stomach may not be up to drinking it and that will help with headaches.
If you need to lose weight per-surgery consider a physician recommended program like Optavia. You can easily lose 12+ pounds in 30 days on a program like this and they even offer gluten free and vegetarian options. It will help with recovery if you are down the weight.
Prepare your family. Make freezer recipes in advance so that they can eat without having to eat out and that you don't have to cook during your recovery.
If you are the primary caretaker of your family write lists of things to do and step by step directions in a notebook. Be sure to include common numbers like the pediatrician, school, vet, and dentist in case of an emergency. Include activities with pick up and drop off times for the kids and a schedule of who is handling that for you while you recover. Be sure that if you have bills due while you are recovering that is also included.
Ask for help! This is hard for me but when I found out about my bypass I called my Mom and she came for 10 days to help me. Without her help it would have been much more challenging with taking care of my son and the time that we had together during my recovery was priceless.
If you have children consider writing them a note or wrapping a small gift for them to open daily, especially if you are in the hospital for an extended time. This gives them reassurance especially if they can't visit you. I wrote both Tim and Peyton a letter to open on surgery day and I wrapped 5 small gifts and included a card each day that I would be at the hospital. This really helped me but also them.
I hope these tips help! If you have any others please leave them here!
Heath and Wellness Posts:
Why It Is Essential You Drink Enough Water
The Powerful Health Benefits of Chia Seeds
Sleep & Stress Management = Weight Loss
Paleo Diet & CrossFit – Helping with Gluten Intollerance
Surviving My 2nd Open Heart Surgery
February is American Heart Month
It is OK to say NO (thank you)
Stockpiling Moms can be found in all your favorite places. Hop on over to Instagram and follow the fun. We love posting memes, family fun, travel, and whatever we are feeling that day. Pinterest is also an amazing place to visit Stockpiling Moms. This is where you can pin all your favorite articles from our Food, Travel & Lifestyle Blog.
Melissa is a football and soccer mom who has been married to her best friend for 24 years. She loves sharing recipes, travel reviews and tips that focus on helping busy families make memories.