Gluten Free Rosemary Shortbread
Gluten Free Rosemary Shortbread is the perfect addition to a gluten free tea party or for an afternoon treat. I love using fresh herbs in baking and this is a perfect example. I like the savory herbal twist on this cookie. I hope you enjoy it as much as I do. Gluten Free Rosemary Shortbread is so delicious and perfect with a cup of afternoon tea.
Gluten Free Rosemary Shortbread
Shortbread with an herbal twist! Gluten Free Rosemary Shortbread is so delicious and perfect with a cup of afternoon tea.
Print Recipe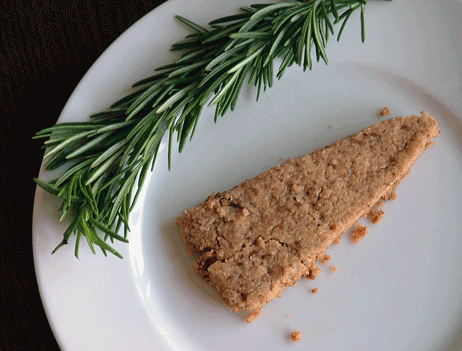 Ingredients
1/2

cup

coconut oil

1/3

cup

white sugar

pinch

salt

1

tsp

gluten-free vanilla extract

1

cup

almond meal

2

tsp

finely chopped fresh rosemary
Instructions
Preheat oven to 300 degrees. Line baking sheet with parchment paper.

In mixing bowl, beat coconut oil until smooth. Add sugar, salt, and vanilla; beat well until combined, scraping sides of bowl as needed.

Add almond meal and beat on medium speed until well-blended. Add rosemary and mix well.

Pat dough into a 7 1/2-inch disk on parchment-lined baking sheet.

Prick shortbread with tines of fork and using a sharp knife, make shallow indentations where you will cut the shortbread into 12 pieces.

Bake for 45 minutes or until golden around the edges.

Slide parchment with shortbread onto a wire rack. Cool.

Transfer to cutting board and cut into 12 wedges following the cut lines you made before baking.
Notes
Adapted from "Rosemary Shortbread" recipe in Everyday Cooking with Organic Produce by Cathy Thomas.
Gluten Free Recipes:
Gluten Free Strawberry Pretzel Salad
Gluten-Free, Casein-Free Chocolate Donuts
Rachel is the mother of a son with Autism. She and her family began eating a gluten-free, casein-free diet in November 2011. Not long after, she discovered that she too was intolerant of gluten and has happily enjoyed discovering new ways to find delicious ways to enjoy eating a gfcf diet. Please visit her blog to learn more.