Gluten-Free, Dairy-Free Cheesecake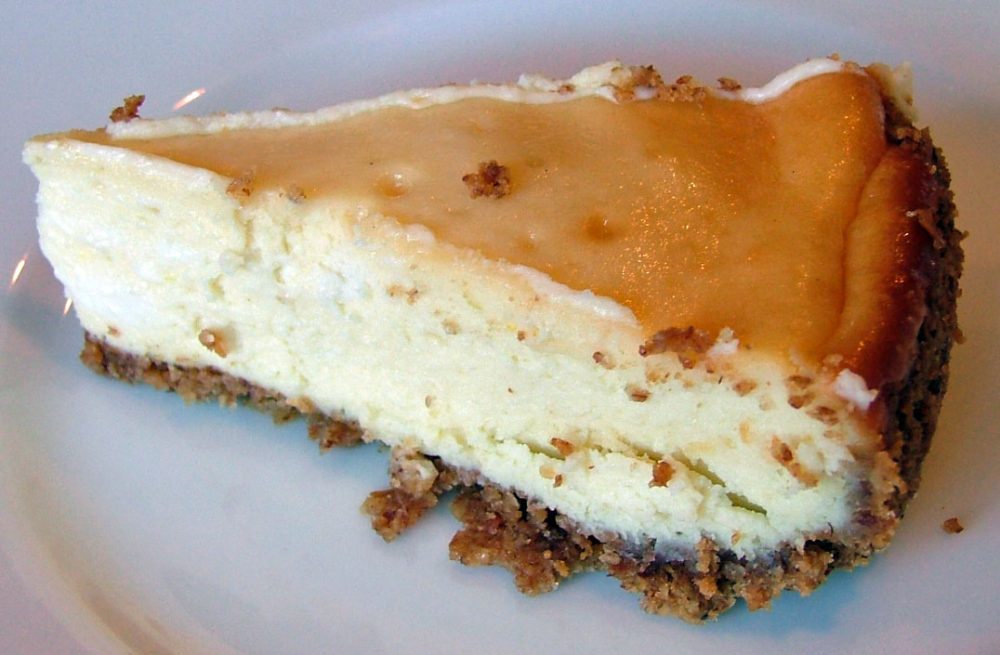 We had several reader requests for a Gluten Free, Dairy Free Cheesecake and I have to admit one of them was me 🙂 Yes, you can enjoy this recipe even if you are not gluten free and dairy free too! It is that yummy! You can serve it with this delicious homemade blueberry topping recipe or fresh fruit too! Gluten-Free, Dairy-Free Cheesecake is AMAZING! You just won't believe how tasty this is!
Gluten-Free, Dairy-Free Cheesecake
Yes, you can still have cheesecake if you are gluten-free and dairy-free!
Print Recipe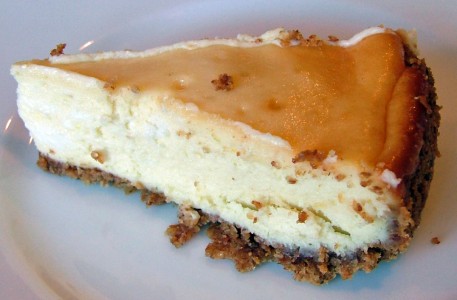 Ingredients
Crust -

1/2

cup

coconut oil

1/3

cup

white sugar

pinch

salt

1

tsp

gluten-free vanilla extract

1

cup

almond meal

Filling -

3 8-

oz

packages of Toffuti Better than Cream Cheese

cream cheese substitute

1

cup

white sugar

2

Tbsp

gluten-free all-purpose flour

1

tsp

gluten-free vanilla

1/4

cup

coconut milk

in carton

3

eggs

Lemon zest from one lemon

optional
Instructions
To make crust:
Preheat oven to 300 degrees. Line a pie plate with parchment paper.

In mixing bowl, beat coconut oil until smooth. Add sugar, salt and vanilla; beat well until combined, scraping sides of bowl as needed.

Add almond meal and beat on medium speed until well-blended.

Pat dough into pie tin, spreading out evenly.

Bake for 45 minutes or until cracking and golden brown. Cool in pan on wire rack until filling is ready.
For filling:
In a large mixing bowl, beat the cream cheese substitute, the sugar, the gf flour, and vanilla, until combined.

Beat in milk, until smooth. Stir in eggs, and if using, the lemon zest.

Empty crust mixture into an 8-inch springform pan. Spread evenly across bottom and halfway up the sides. (Texture should be similar to wet sand.)

Pour filling into crust-lined pan. Place an empty cookie sheet on the rack below where you will cook the cheesecake to catch any drips.

Bake for 45-50 minutes or until a 21/2-inch area around the outside edge of filling appears set when gently shaken.

Cool in pan on wire rack for 15 minutes.

Using a small, sharp knife, loosen crust around sides of pan; cool for 30 minutes.

Remove sides of pan; cool cheesecake completely on rack.

Cover and chill at least 4 hours before serving.
Notes
Crust recipe is a variation of the Gluten-Free Rosemary Shortbread Recipe (available on this site). Filling recipe is inspired by Better Homes & Gardens New Cookbook (14th edition).
Gluten Free Recipes:
Four Ingredient Peanut Butter Kiss Cookies
Gluten Free and Dairy Free German Chocolate Cake
Gluten Free Rosemary Shortbread
Rachel is the mother of a son with Autism. She and her family began eating a gluten-free, casein-free diet in November 2011. Not long after, she discovered that she too was intolerant of gluten and has happily enjoyed discovering new ways to find delicious ways to enjoy eating a gfcf diet. Please visit her blog to learn more.