Does Traveling Make You Happier?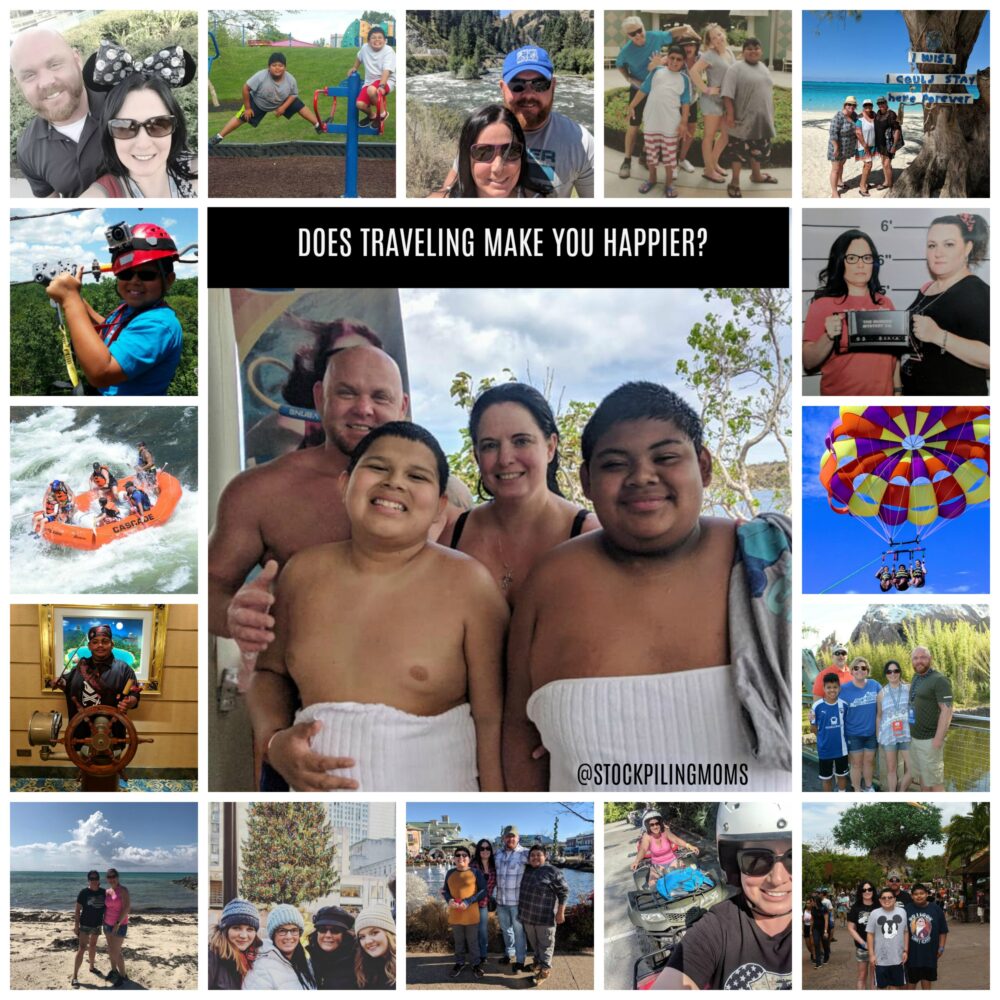 Does traveling make you happier? I read an article on this, not to long ago, and science says yes! Personally, I have always loved to travel and I love to take my children. There is just something about seeing a place for the first time or revisiting a place that means so much to you.
Does Traveling Make You Happier?
My family traveled a lot with my Dad's job and I have so many amazing memories. I would not take any material in the world over the beautiful memories I made with my family. Now that I have my own children I often give memories as gifts. Being a travel writer this is sometimes easier for me but there are so many ways to find a great deal.
Ways To Find A Great Deal On Traveling
Groupon
Travel Reward Credit Cards
Cash Back Credit Cards
Costco
Sam's
Google Flights
Priceline
TripAdvisor
AirBNB
Hotwire
Autoslash
Living Social
AAA
Travelelocity
Specials on their website
I have made a list of some our favorite travel articles:
WHY SHOULD I STAY ALL INCLUSIVE AT BEACHES TURKS AND CAICOS?
BIG CYPRUS LODGE – OUTDOOR PARADISE LODGING IN MEMPHIS, TENNESSEE
REASONS TO RENT A VACATION HOME WHEN YOU VISIT ORLANDO, FLORIDA
WHY YOU MUSH VISIT SOUTHWEST IDAHO AND HOW IT CHANGED MY LIFE
10 REASONS YOU SHOULD TAKE YOUR TEENAGE ON A DISNEY CRUISE
THE BEST ATTRACTIONS AND DINING OF PIGEON FORGE, TENNESSEE
10 REASONS TO VISIT HOLIDAY WORLD
DISNEY WORLD ARTICLES ON STOCKPILINGMOMS
THE WIZARDING WORLD OF HARRY POTTER DIAGON ALLEY
I know many of you will say I can't afford to travel and there are times we can't either. This is the time to explore all the wonderful things around you that you have never thought about. Through my research I found many parks and activities around my home.
You can also use a lot of the above resources for local travel also. Check local resources such as your county extension office, local activity guides, libraries, local Facebook groups, or just pole your Facebook friends. I have found many things to do through Facebook and some of the activities were free!
Over the years we have written several articles on local destinations. Some of these may have been written a long time ago but they are still fun places to visit!
Kentucky/Ohio Travel Destinations:
35 THINGS TO DO IN THE LEXINGTON AREA WITH YOUR KIDS
70 THINGS TO DO IN THE CINCINNATI AREA
DATE NIGHT IDEAS FOR CINCINNATI AND NORTHERN KENTUCKY
FAMILY FUN AT THE CINCINNATI ZOO
This summer take my advice and see new people, places, and things! There is nothing better than getting out of the house and exploring. Try new foods, new adventures, girls/guys trip, date night, and make memories with your family! No adventure can be too big or too small.
It can be as small as reading a book at a new park while the kids play or a family vacation to Disney. All memories are important. Now get out there and make them!
So to answer the question, Does Traveling Make You Happier? I would say it certainly does! Not only is it educational, it also helps me learn about the people around me. I have seen how traveling has influenced my kids. They have eaten things I never thought they would eat.
They have become adventurous and have amazed me doing things I never thought they would. Most of all I have seen them grow as people over the years and a lot of it has shown while traveling. My family and friends make me happy but spending time with them doing different things makes me happier. Traveling certainly makes memories that last forever!
Shelley is a boy mom, marine wife, and is blessed with an amazing family. She loves sharing recipes, travel reviews and tips that focus on helping busy families make memories.