Disney's Beaches & Cream Soda Shop
The Disney's Beaches & Cream Soda Shop is one of my favorite places to eat! I am a huge fan of diner type food, and I am a HUGE soda shop fan! I have always said I would make reservations just for the dessert, but I haven't done it yet! If you haven't tried this restaurant, put it on your Disney Bucket List!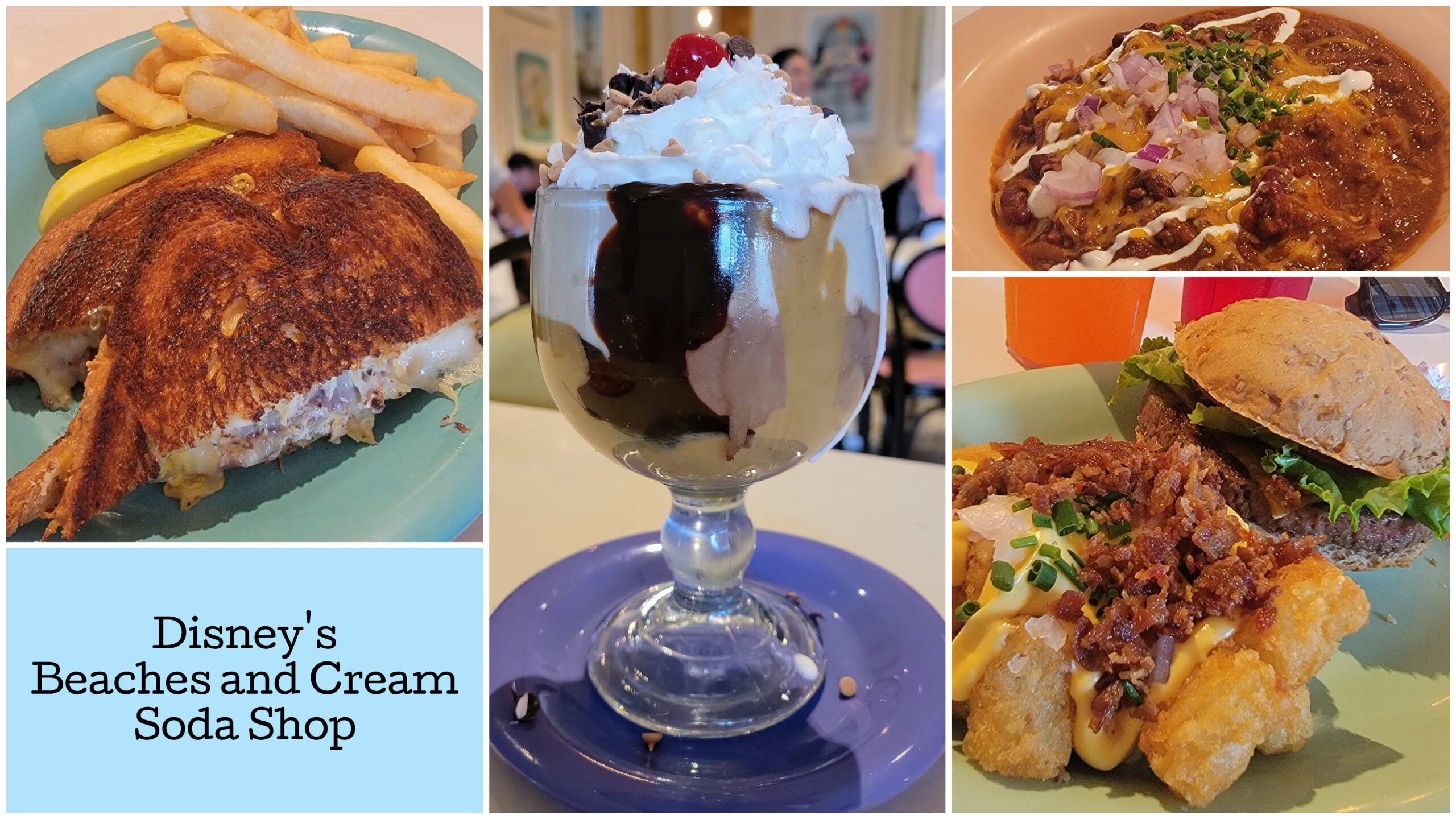 Reservations are sometimes difficult to get so I recommend you make reservations at your 60-day mark. I always choose the most important restaurants first! We could only get a 4:30 pm reservation but that worked for us!
Shelley – Impossible™ Burger with Cheddar, Lettuce, and Tomato on a Freshly Baked Bun. I just needed the plant-based burger, but I wanted it prepared the way the Angus Beef Burger would be. I added Loaded Cheese Fries! They also add Red Onions and Garlic-Peppercorn Ranch. They were amazing! Everything was delicious.
Tonya – Bowl of Chili topped with cheese and onions. She was our lightweight eater this trip! I sure wish I could! Food is one of my first loves! I go all out! She loved it and said it had a great taste. She will be ordering this again!
Lynette – Beaches & Cream Grilled Cheese was a hit! I had to try it and it was really good! It came with tomato soup, but she substituted fries. You can also add bacon or ham for an extra $5. This was a great choice!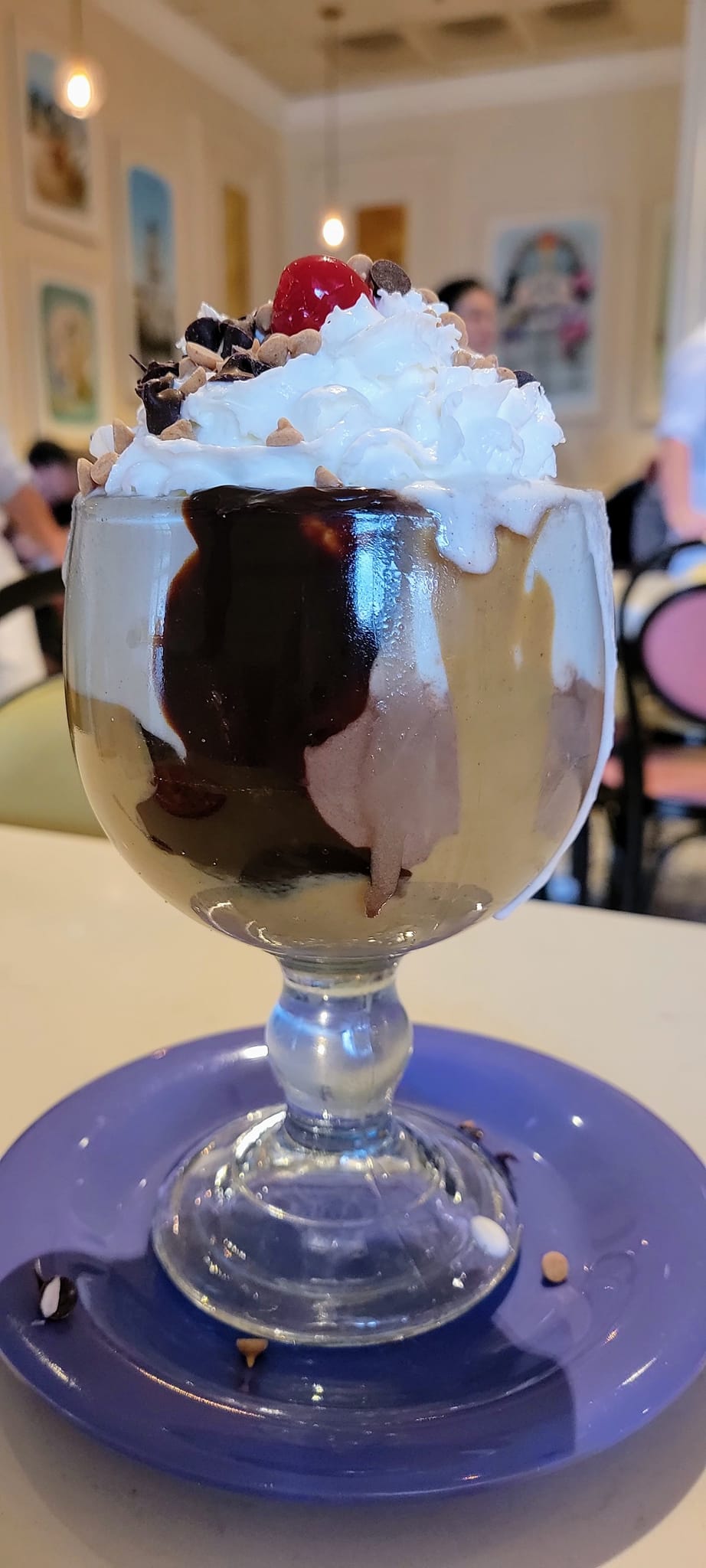 Now Let's Talk Dessert
No Way José (pictured above) – This is my favorite dessert at the soda shop. I know everyone loves the Kitchen Sink, but I don't think we could eat a $35 dessert. This Peanut Butter and Hot Fudge dish of heaven has Chocolate and Vanilla Ice Cream, Peanut Butter and Chocolate Morsels, Whipped Cream, and a Cherry. It is my heaven! I love this dessert!
Classic Banana Split – I have always enjoyed their Banana Split also! It is a classic!
Frozen Sunshine – Rainbow Sherbet, Vanilla Ice Cream, and Seltzer blended and topped with Whipped Cream and a Candied Orange Slice! I had this last time I was at the Soda Shop, and it was amazing! Rainbow Sherbet is my favorite sherbet!
Kitchen Sink – This crazy big dessert serves 4 people if not more! It has scoops of Vanilla, Chocolate, Strawberry, Cookies 'n Cream, and Mint Chocolate Chip topped with, Hot Fudge, Peanut Butter, SNICKERS® pieces, Fresh-baked Brownie, and then topped with every single topping they have! We have only ordered this once because it is a lot! BUT… some people want to tell everyone they had everything and the kitchen sink at Disney!
Transportation To Beaches and Cream Soda Shop
Boardwalk, Dolphin, Swan, Yacht and Beach Club – This restaurant is located at the Beach Club. All these resorts are a short walk to the restaurant.
Hollywood Studios and Epcot – It is a short walk from both parks.
All other Parks and Disney Springs – You must take a bus to one of the resorts listed above. It is best to take the Beach Club bus, but we have been known to jump any of the resort buses in this area.
Art of Animation, Pop Century, Riveria, Caribbean Beach – Take the Skyliner to Epcot and walk over. This is a very quick and easy way!
All other resorts – You must take a bus to a park and then jump a bus to one of the resorts listed above. You can always call a Minnie Van, Lyft, or Uber also.
CHECK OUT OTHER AMAZING STOCKPILING MOMS ARTICLES!
DISNEY OGA'S CANTINA REVIEW – This dining experience is out of our world. Literally. Step inside this notorious local watering hole to partake of unique libations for all ages.
Shelley is a boy mom, marine wife, and is blessed with an amazing family. She loves sharing recipes, travel reviews and tips that focus on helping busy families make memories.