Weekend Family Friendly Itinerary in Chicago
Weekend Family Friendly Itinerary in Chicago. We are home from a fun weekend family friendly road trip to Chicago, IL. In the summer I like to plan educational and fun trips that the whole family can enjoy. My husband I have been to Chicago many times, but this is the first time that my son and niece have been.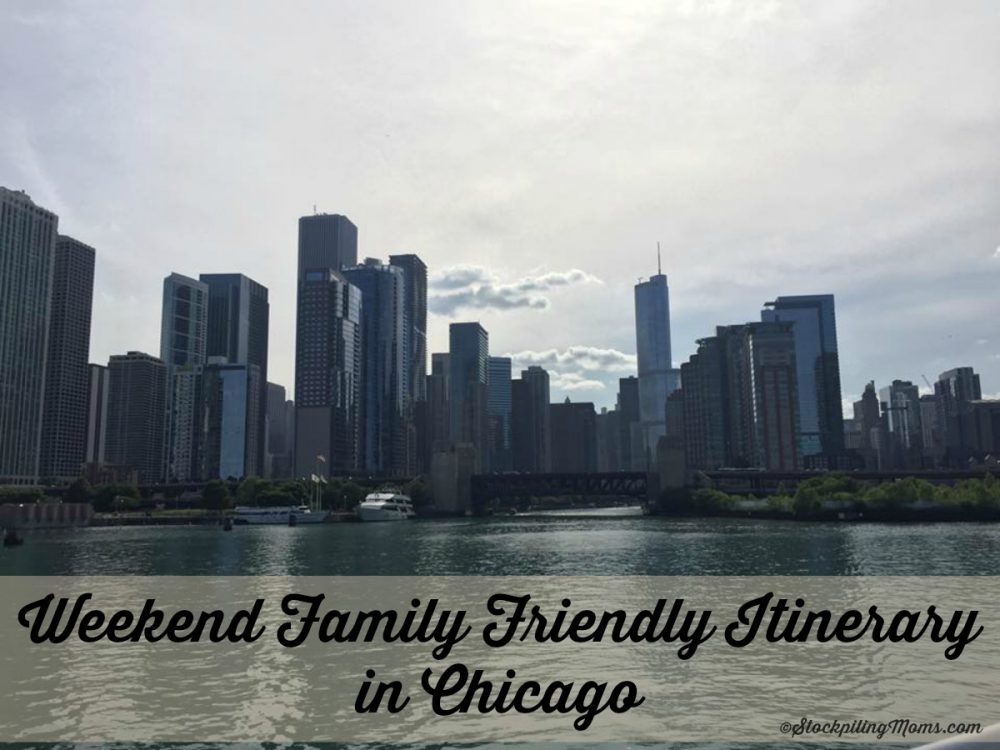 We really enjoyed sharing one of our favorite cities with the kids and they loved it as much as we do. First of all, when it comes to Chicago there is so much to see and do. I would suggest a minimum of two nights, but three nights would be my preference if your budget allows.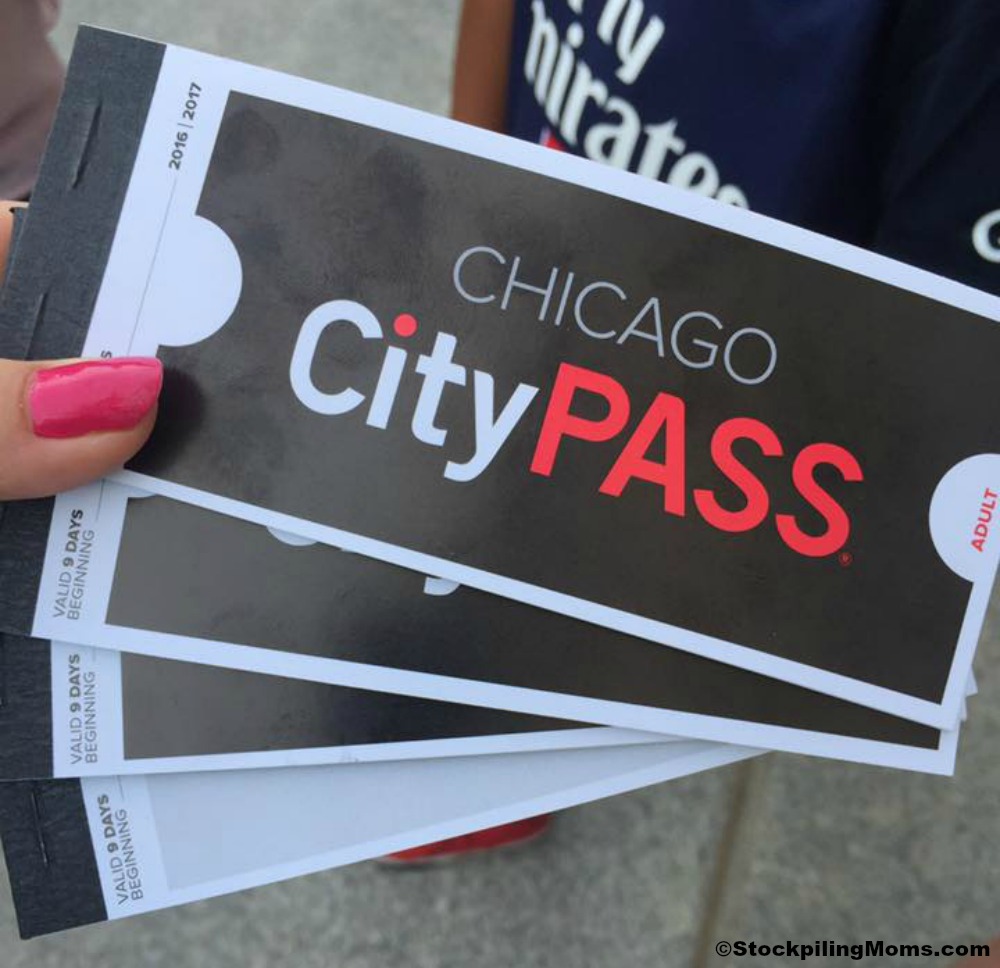 My first piece of advice is to purchase a CityPASS. I had never purchased one before but several of my friends suggested it and it is – AMAZING! The CityPASS is the best way to save money and time when you are sightseeing. Not only do you get the tickets for less money than if you pay for each attraction separately – the biggie for us was the VIP treatment!
The Chicago CityPASS includes admission to:
Shedd Aquarium – includes VIP entry plus a 4-D experience
Skydeck Chicago (Willis Tower) Fast Pass (includes the ledge)
The Field Museum (all access pass, plus your choice of one digital 3D Film)
Museum of Science and Industry, Chicago (VIP entry plus Omnimax Theater Show or special timed entry exhibit, and a motion simulator ride) OR 360 Chicago Fast Pass (formerly John Hancock Observatory)
Adler Planetarium (VIP Entry and unlimited access to your choice of all available shows) OR Art Institute of Chicago (Fast Pass entry and audio tour).
The CityPASS includes express service. At Chicago CityPASS attractions pass holders take the VIP route, skipping most main-entrance ticket lines. This was a HUGE time saver for us! Not only do you save money by purchasing a CityPASS but you also save time! You can purchase a Chicago CityPASS online or at any participating attraction. You then redeem your voucher for a booklet at your first stop. We did and it was so easy!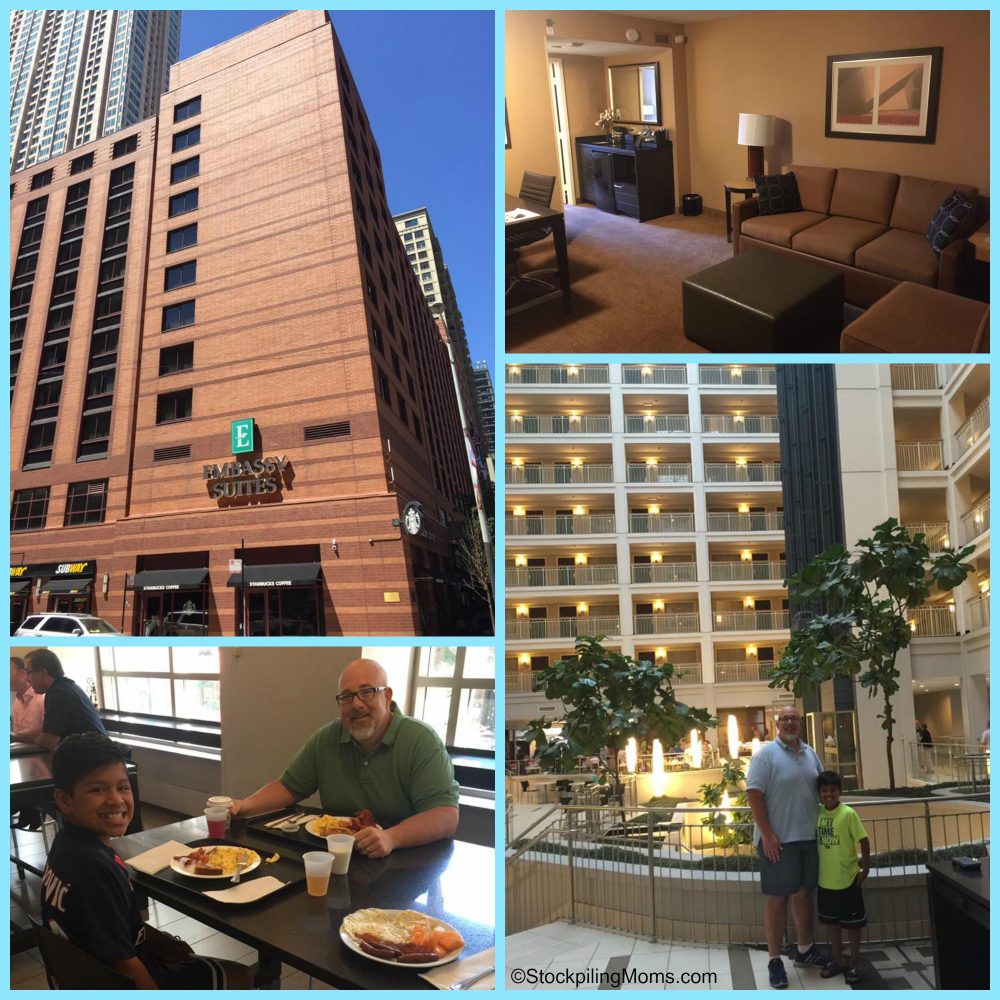 We stayed at the Embassy Suites Hotel by Hilton Chicago Downtown. This is a GREAT downtown Chicago Hotel and, in my opinion, a hidden gem. First of all, the prices were reasonable for a downtown Chicago hotel. Second of all it is located in the heart of the city and is surrounded by shopping, dining and entertainment venues. It is located on State Street between Ohio and Ontario Streets, only three blocks west of Michigan Avenue's Magnificent Mile, and convenient to the Loop, the financial district and popular attractions. A block away is the free seasonal Navy Pier trolley and subway, linking to local attractions and both Midway and O'Hare airports.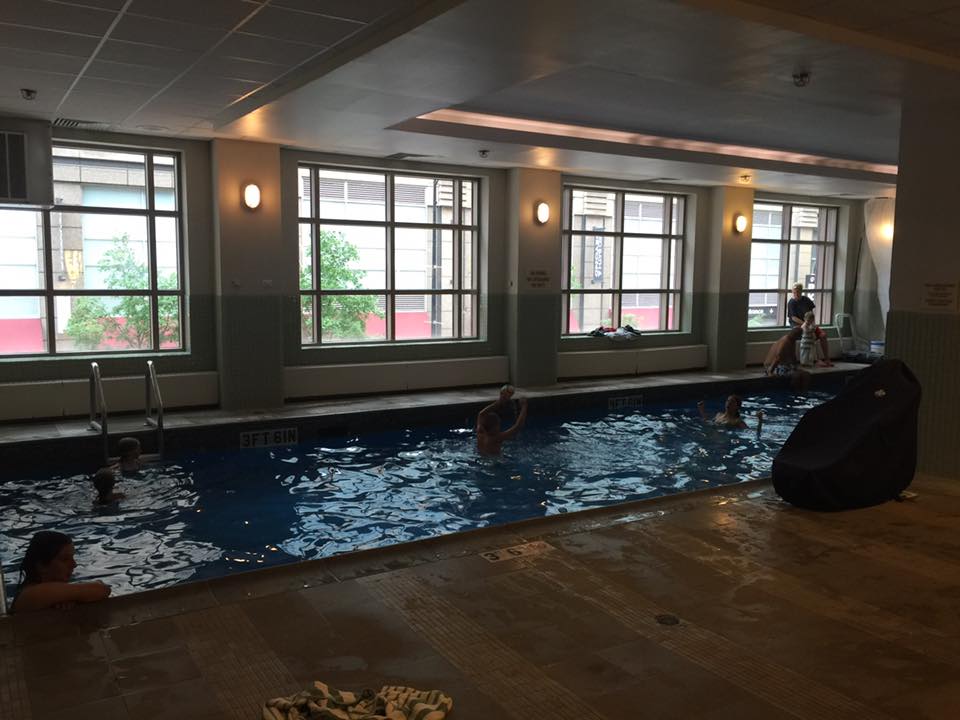 A great choice this all-suites property provides you plenty of room to relax during your down time. Start your day with a free made-to-order breakfast that included an omelet station, hot buffet and wide variety of beverages. We enjoyed relaxing in our two-room suite, complete with a separate lounge, refrigerator, microwave and Wi-Fi access. In the evening you can unwind with drinks and snacks at the complimentary Evening Reception. They also offer a complimentary fitness center, indoor pool and whirlpool.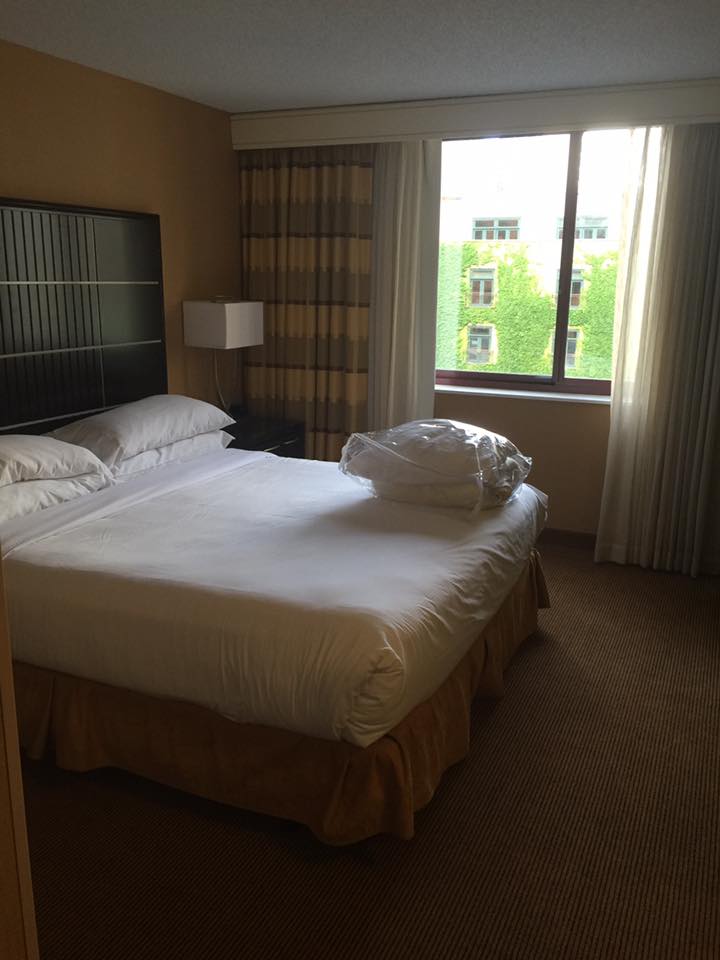 The hotel was clean, the beds were comfortable, and the staff was very accommodating. We were originally placed in a room by the elevator, and we requested to be moved and they did so for us with no problem. There are only 11 stories in this hotel so request a top floor (and away from the elevator) for a better view. There is no self parking and valet parking is $59 per night however there is a covered lot across the street for $44 per night. I personally feel this hotel is great value for the price with all of the amenities and for the location. Like I said, a hidden gem!
Weekend Family Friendly Itinerary in Chicago:
I am going to share with you a sample three-day itinerary. This gives you an idea of how fast paced we were. I will start out by sharing we are NOT museum people. With that being said we went to several and enjoyed them.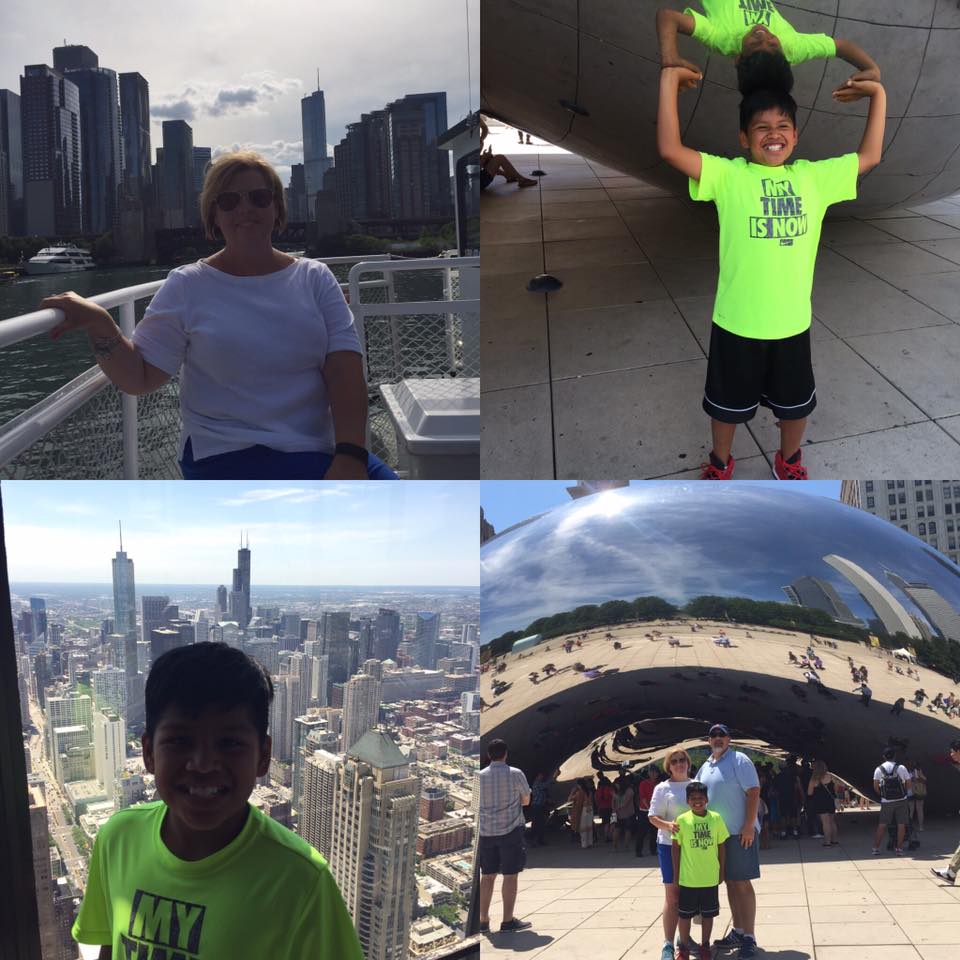 Day 1:
Millennium Park, Chicago Architecture Foundation River Cruise, 360 Chicago (formerly John Hancock Center), Cheesecake Factory, Beach, Michigan Avenue, Ditkas
Millennium Park (The Bean) – Walk down Michigan Avenue across the Chicago River to Millennium Park. Enjoy a relaxing stroll through the park and check out the art displays. Our favorite was the Cloud Gate often referred to as "The Bean". You can stop for a beverage or snack and enjoy that at the park.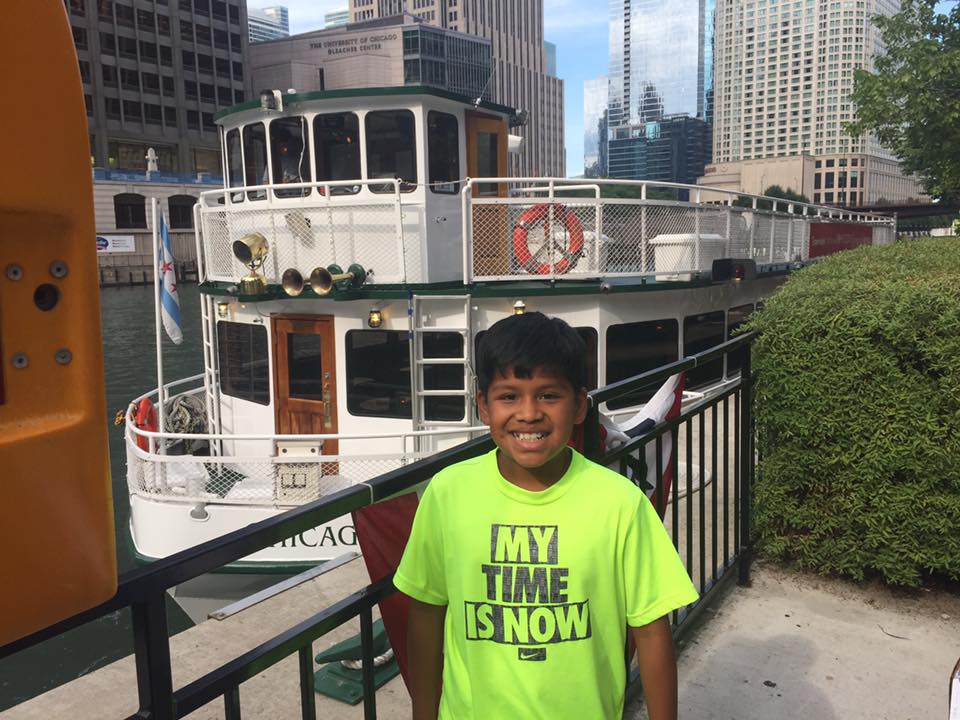 Chicago Architecture Foundation River Cruise – The highlight of our trip. We all loved it! I am so glad a friend suggested this because it is a great way to start your trip. You can see the entire city and learn about the architecture at the same time. The cruise is 1.5 Hours in length and costs $44 for the daytime cruises (adult or child) and $46 for the 7:30pm Twilight Cruise. The dock is located at the southeast corner of the Michigan Avenue Bridge at Wacker Dr. Look for the blue awning marking the stairway entrance.
Cheesecake Factory – Located in the John Hancock Center on Michigan Avenue. Bottom level. Walk down the steps from Michigan Avenue. This is a must for us when we are in town. We always split an entree and a slice of cheesecake because they are so large and the atmosphere at this location is intimate and different than most of the other locations.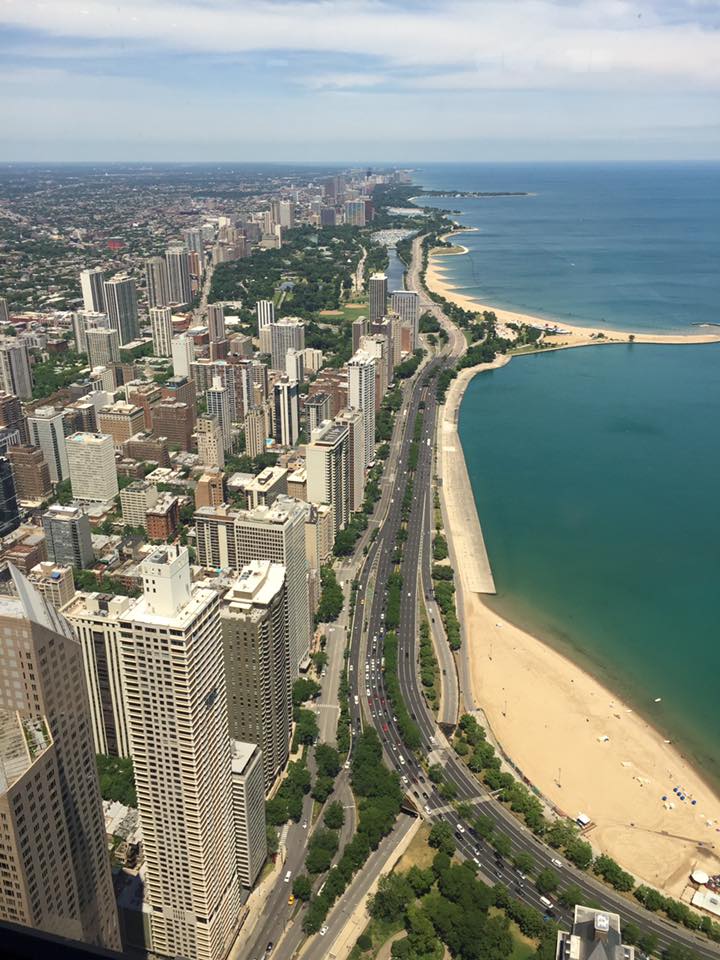 360 Chicago (formerly John Hancock Observatory) – This included a Fast Pass and had zero wait. It only took us 20 minutes to see the 360 Chicago and we chose not to do the Tilt. It would have been an additional $7 per person and we decided that since you could not take your own photos that we didn't want to splurge on it. The views are amazing and well for visiting.
Michigan Avenue – Shopping. Even if you are not buying you can window shop. Our favorites were the LEGO store, Nordstrom Rack and American Girl Doll.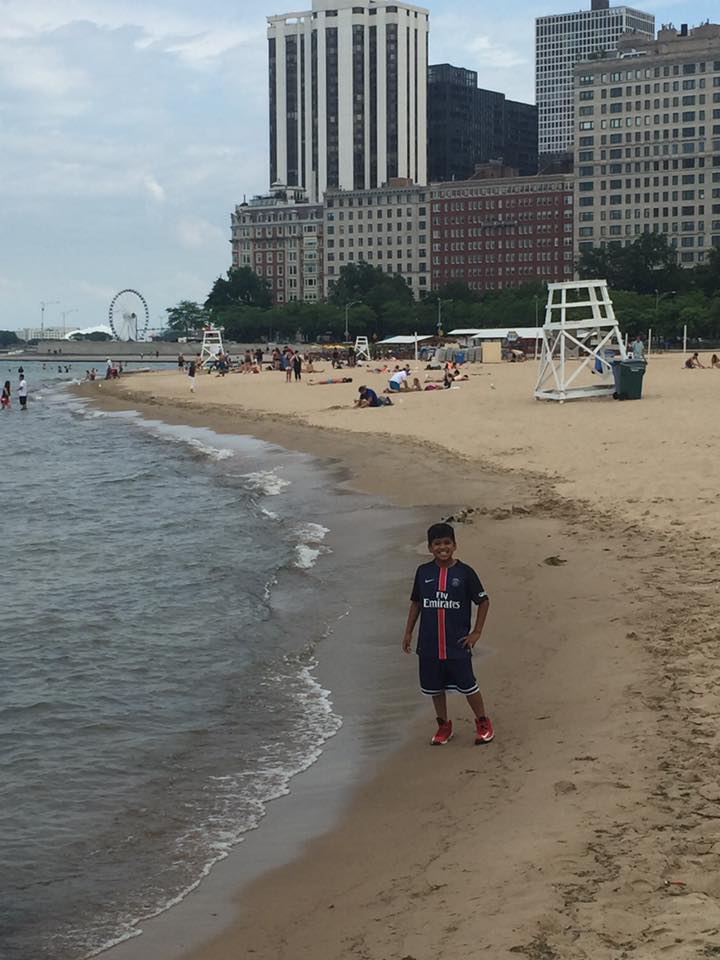 Beach – Walk up Michigan Avenue and cross the street to Oak Street Beach where you can enjoy a walk on the Michigan Lake Shoreline. Take a few minutes to put your feet in the sand, wade in the water or for photos. If you have time you sit and relax for a bit and enjoy and ice cream cone. You will be glad you did because the view is amazing.
Ditka's – Located on 100 E Chestnut Street. There isn't a single trip to Chicago that we have taken that we haven't eaten there. They have a small menu and the portions are HUGE. It is a great place to share an entree and order an extra side or salad. My favorites are Mike's Salad and "Da Pork Chop". Both are delicious!
Finally we walked back to our hotel and took showers, played some games and went to bed. We were tired (ok exhausted) but the time difference played in our favor and we had a great first day.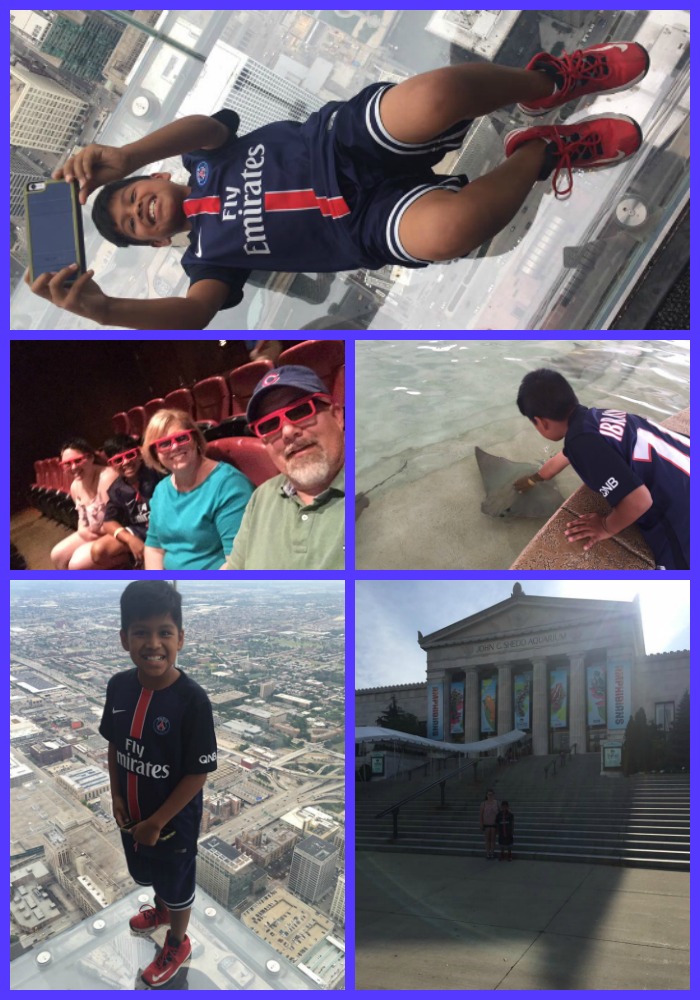 Day 2:
Shedd Aquarium, Navy Pier, Willis Tower, Rainforest (or Hard Rock Cafe)
We started off our day at Shedd Aquarium. We arrived at 8:30 am. They don't open until 9:00 am HOWEVER a line started forming before we arrived. My family was so glad we came early because when we left at 1:00 there was a HUGE line. You will easily spend 4 hours+ at Shedd. Wear comfortable shoes and pack a lunch. We watched the 3D movie Predators, and we added the water show but I would skip the water show if I was go back. It wasn't worth the money or time we spent.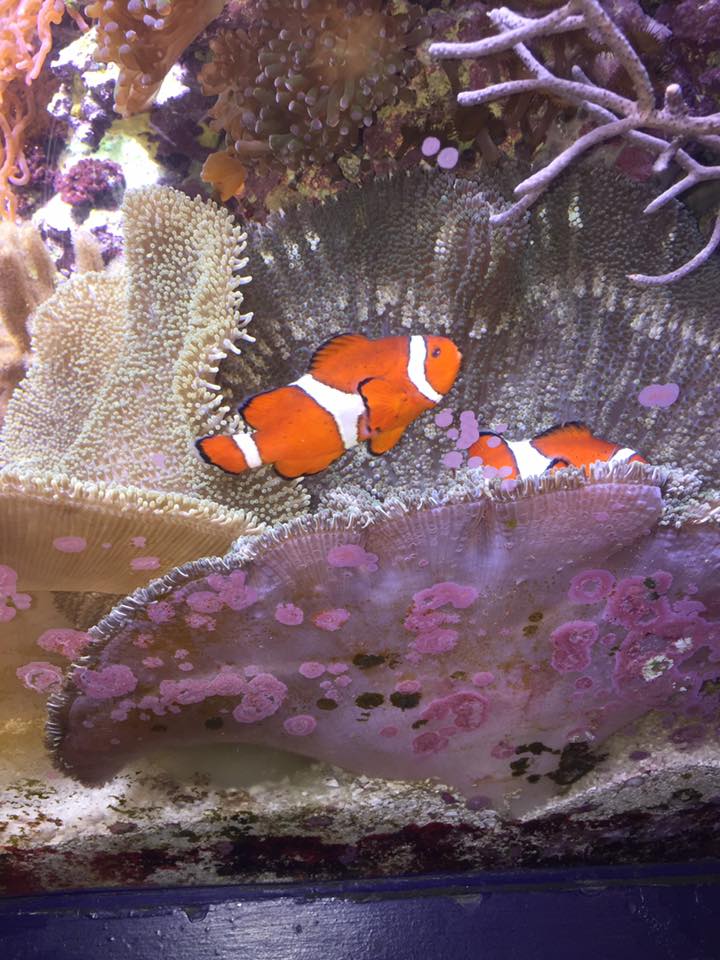 The aquarium was not crowded until 11:00 am and it got really crowded. We enjoyed the two hours when we first arrived the most. With that being said this is the best and biggest aquarium I have ever been to. I loved it and I would highly recommend it to anyone going to Chicago (with or without kids).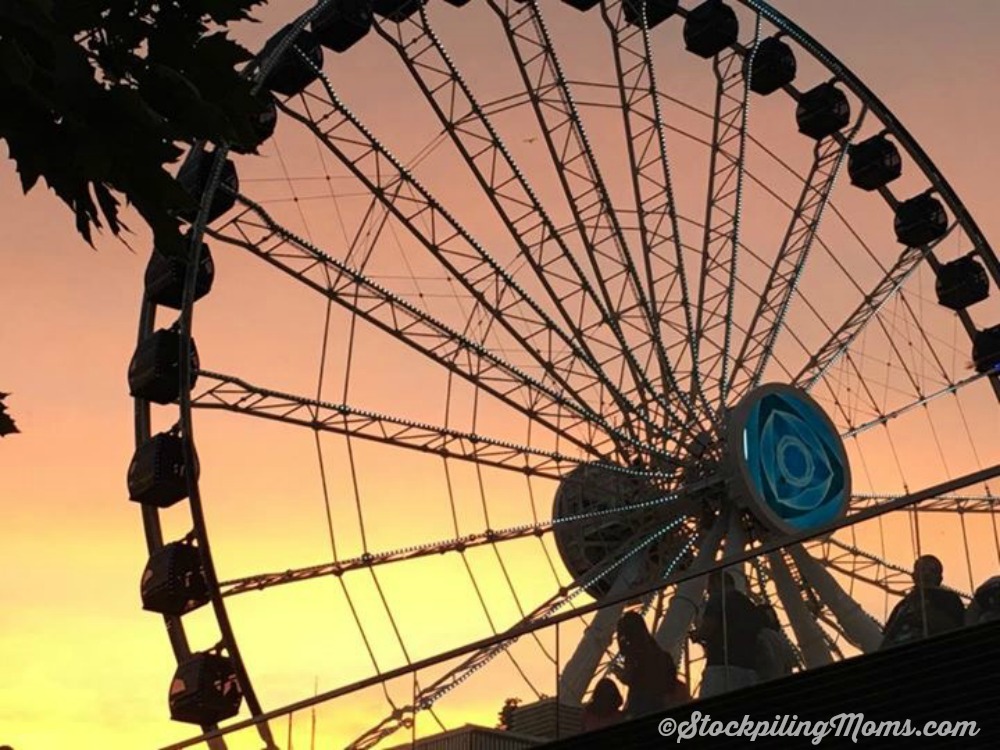 Navy Pier – Our original plan was to eat lunch and then go to the Willis Tower. However due to the weather predictions for the evening we switched our plans and took a Water Taxi to the Navy Pier. I really wanted to go to the Navy Pier in the evening but due to the forecast we just spent a few hours there eating lunch, shopping and checking out the rides.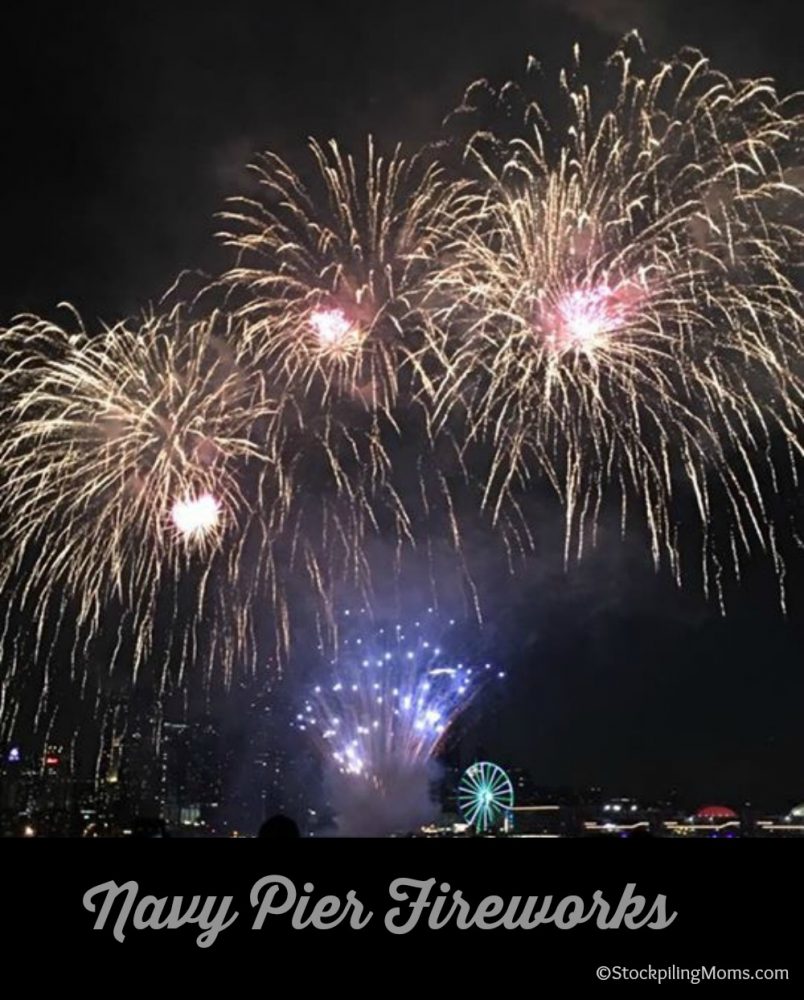 My friend Emily shared two of her pictures with me that she took so I could share with you how beautiful it looks at the Navy Pier in the evening. Plus they offer free fireworks displays (check online to be sure of the time/dates).

Willis Tower – The CityPASS gives you a fast pass and VIP entry. Others waited for 1 and 1/2 hours but we waited for 10 minutes! It was a great VIP experience for us and my husband said that the CityPASS paid for itself just by his experience at the Willis Tower. You ride the elevator up 1353 feet and then have breathtaking views of the city. You can step out on the Sky Deck for no additional cost and take your own photos and experience being on a glass while "hanging over the city". You can see that Peyton really enjoyed it!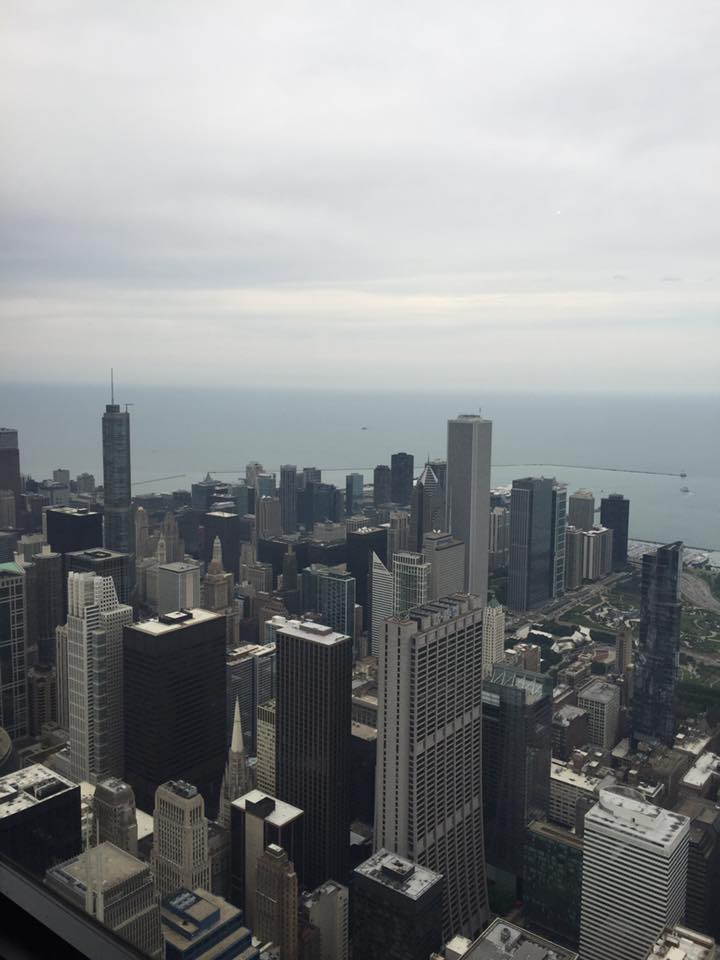 Rainforest Cafe – We let the kids choose dinner and they chose the Rainforest Cafe. Luckily it is near the hotel and they take reservations. Also on Wednesday kids eat for only $2.99. We enjoyed dinner before a huge rain passed through. Hard Rock Cafe is also conveniently located nearby the Embassy Suites Downtown Chicago if you prefer.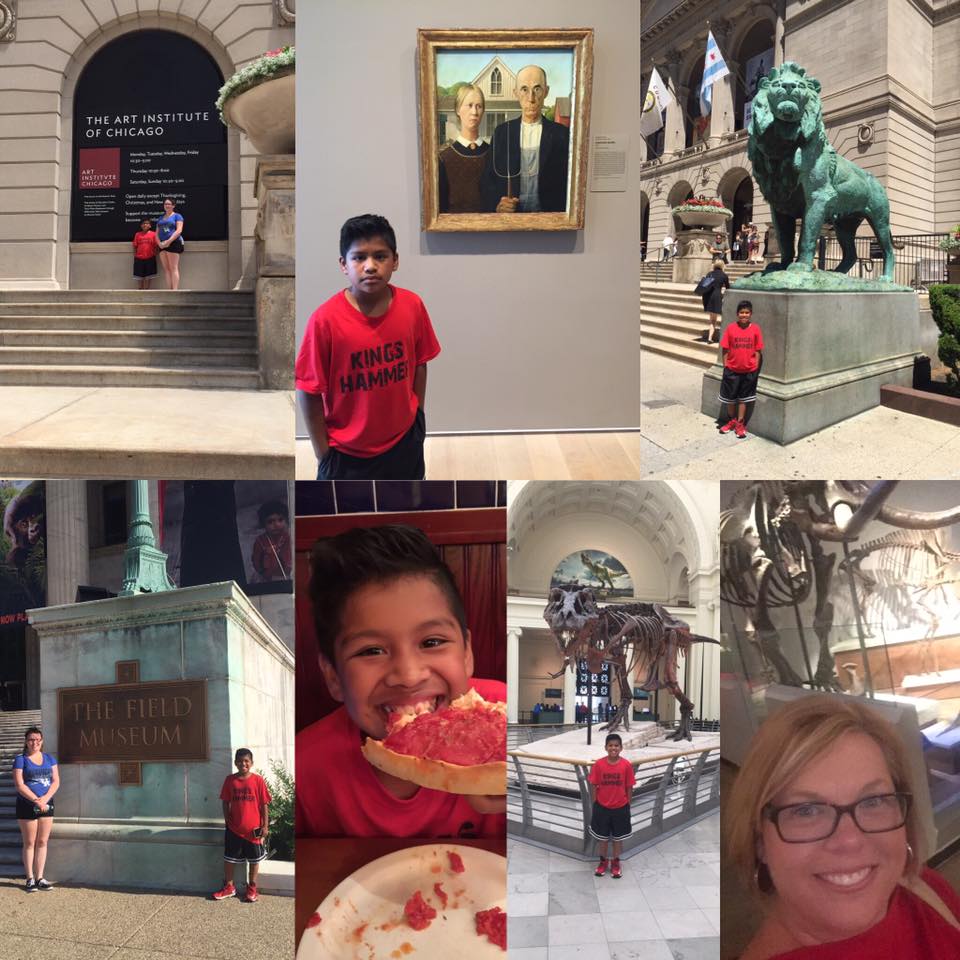 Day 3: Field Museum, Buckingham Fountain, Lou Malnati's and Art Institute of Chicago
The Field Museum – Go early for a less crowded experience and the 3D movie about the T-Rex named Sue was great! Peyton's favorite exhibits were the Underground Adventure and Dinosaur Hall. Be sure to wear comfortable walking shoes and pack a snack and drink. An affordable souvenir is the $2.00 Mold-A-Rama machines throughout the museum where you can create an automatic miniature plastic figure in seconds. We counted five but Peyton only chose 1 to make and bring home.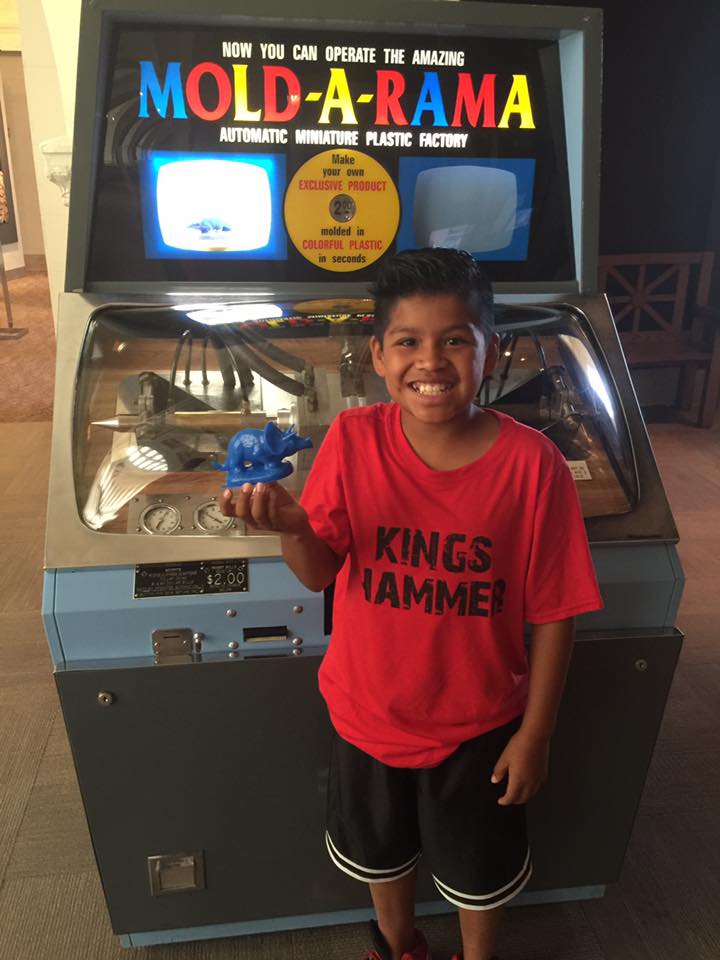 Lou Malnati's Pizza – You can not come to Chicago and not indulge in Chicago Style Deep Dish Pizza. We loved our choice of Lou Malnati's in for lunch and they even have a gluten free deep dish pizza that was really good! This was in walking distance to the Field Museum and we got see several parts of the City on our way including Roosevelt Park and the Christopher Columbus Statue.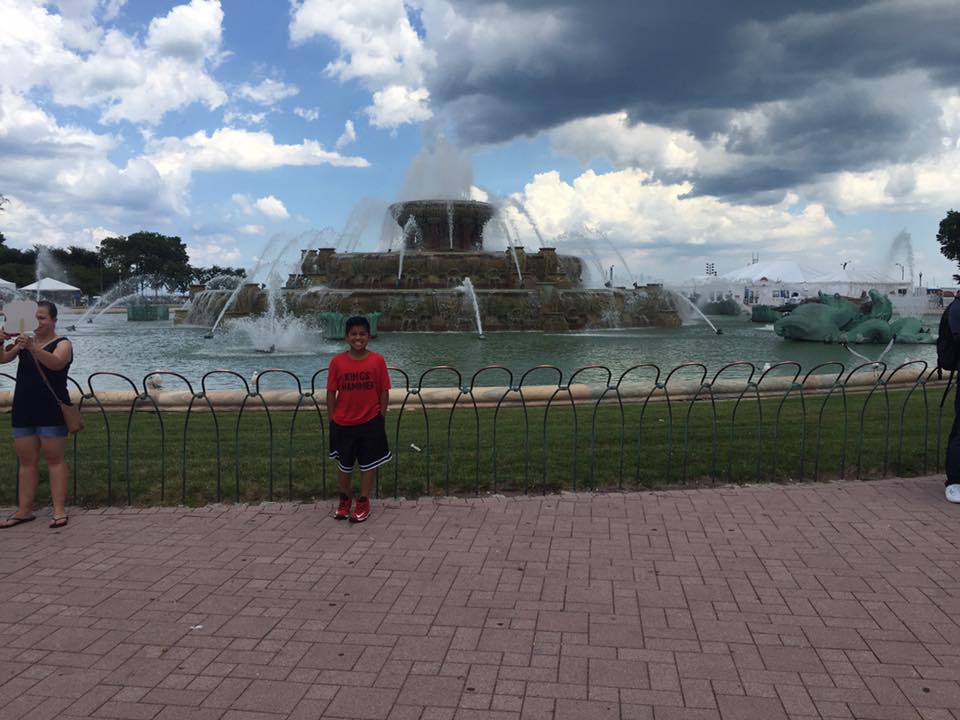 Buckingham Fountain in Grant Park – After lunch we walked to the Buckingham Fountain. The Clarence Buckingham Memorial Fountain, one of the largest in the world, is located at Columbus Drive (301 East) and Congress Parkway (500 South) in Grant Park and runs from 8 a.m. to 11:00 p.m. daily, typically from early April through mid-October, depending on weather. While in operation, the Fountain produces a major water display for 20 minutes every hour.
During the major display, a center jet shoots water to a height of 150 feet into the air. Major displays begin daily at 9:00 a.m. and continue thereafter, every hour on the hour. Beginning at dusk, a spectacular light and music display accompanies the major display, beginning every hour on the hour for 20 minutes. Each evening, the final major display begins at 10:35 p.m.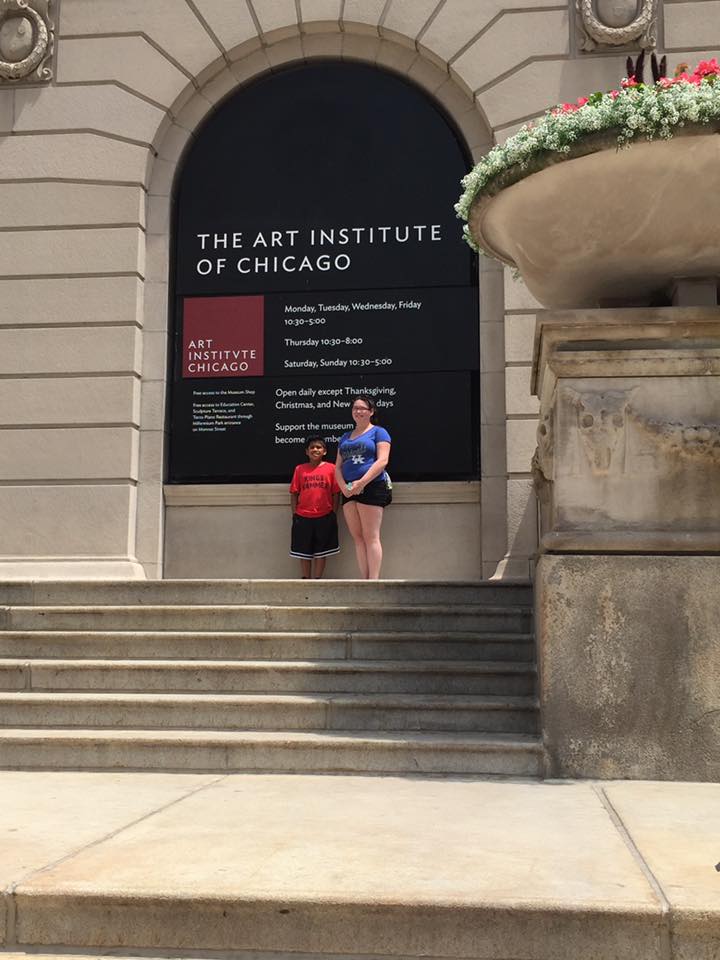 Art Institute of Chicago – Our final stop was the Art Institute and honestly my family didn't want to go. However, I pulled Mom wins and we went. I honestly promised them that we would just go in to see the American Gothic painting and of course while we were there we say "a little" more. You could easily spend 4+ hours at the Art Institute. One thing I want to point out is that it is silent once inside. I don't think it is a place for loud children or toddlers however it was an amazing experience, and I am glad we went.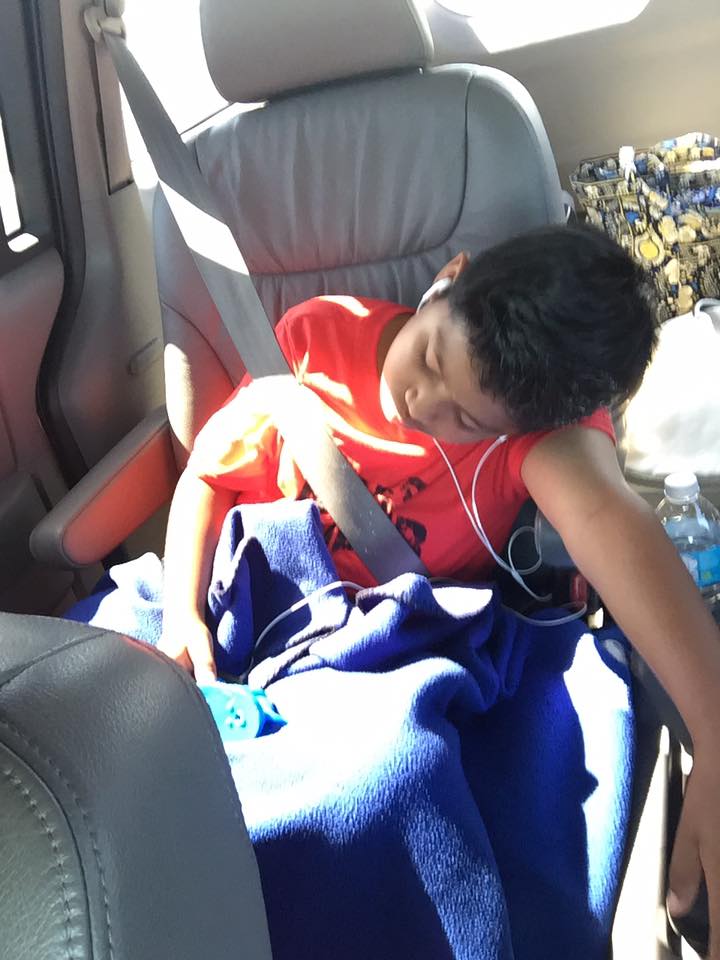 Finally we loaded into our van and headed home. As you can see this was a sign of successful road trip! We hope you enjoy this Weekend Family Friendly Itinerary in Chicago.
Disclaimer: My admissions to all attractions and 1 night hotel stay was provided. All opinions are 100% my own. I have been traveling to Chicago for over 15 years and loved sharing this experience with my son and niece.
Travel Tips:
Hotel Felix Review, Chicago, IL
Stockpiling Moms can be found in all your favorite places. Hop on over to Instagram and follow the fun. We love posting memes, family fun, travel, and whatever we are feeling that day. Pinterest is also an amazing place to visit Stockpiling Moms. This is where you can pin all your favorite articles from our Food, Travel & Lifestyle Blog.
Melissa is a football and soccer mom who has been married to her best friend for 24 years. She loves sharing recipes, travel reviews and tips that focus on helping busy families make memories.