Nickelodeon Suites Resort – A Kid Friendly Vacation in Orlando, FL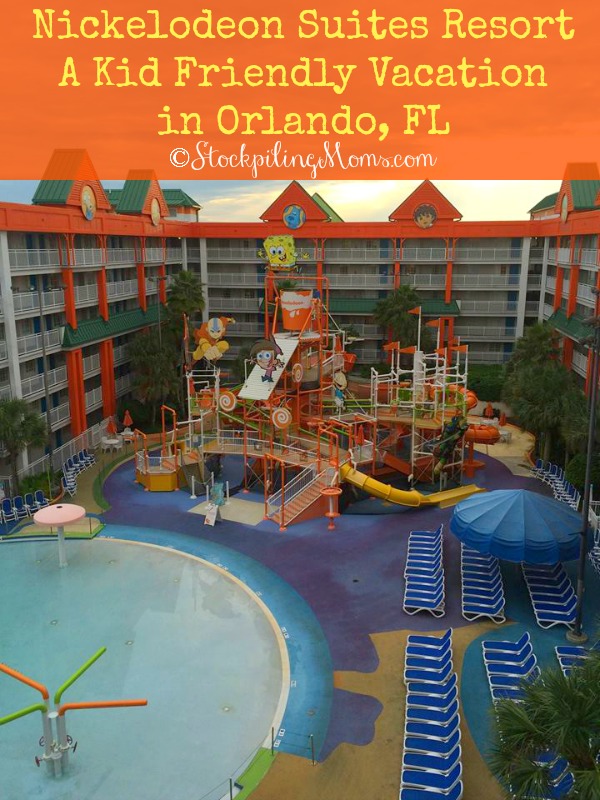 Check out the Nickelodeon Suites Resort – A Kid Friendly Vacation in Orlando, FL. We recently spent two nights at the Nickelodeon Suites Resort in Orlando, FL. In fact, we had the SLIME of our lives! We thought the boys would love to stay at the Nick Hotel however we had read some mixed reviews so we are not sure how Shelley and I would like it. However, once we arrived, we were pleasantly surprised! The hotel is obviously designed for kids but with parents in mind.
Nickelodeon Suites Resort – A Kid Friendly Vacation in Orlando, FL
What really appealed to us is that all of the rooms are suites, and that Nick Hotel is a kid-friendly hotel located in Orlando, FL. We assumed this would provide us enough room to spread out and with a kitchenette we could actually save some money by preparing some of our food and snacks ourselves. We were right! We do suggest that you bring your own foods for snacks, lunches and breakfast to save money during your stay.
The resort is located on 24 beautiful acres and there are activities for all ages. It is a great location to celebrate a birthday or a family getaway. If your kids love Nickelodeon characters, then they are going to love this resort! At the resort you will be able to see SpongeBob SquarePants, the Teenage Mutant Ninja Turtles and Dora the Explorer in action. When you make your reservation, you can request the theme room of your choice too.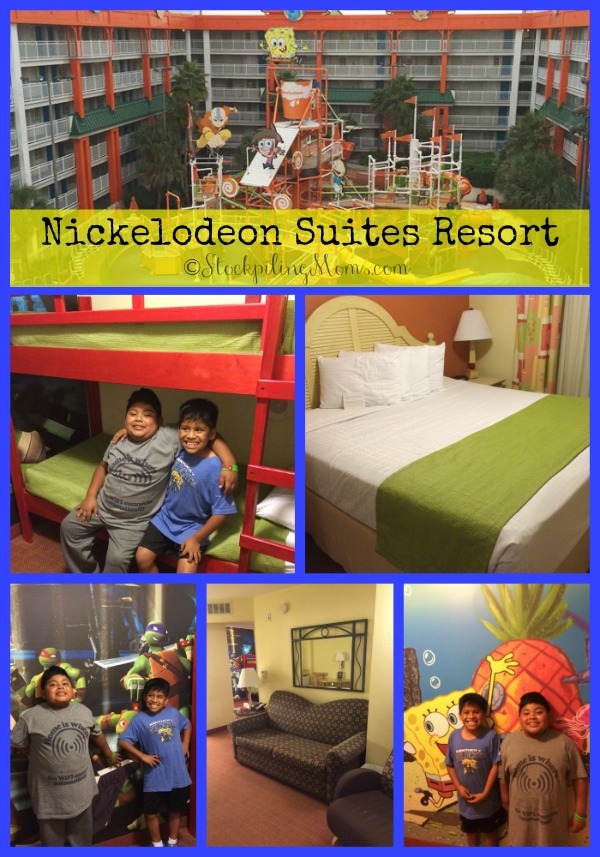 Resort Amenities that are included:
Basketball
400 gallons of SLIME at the Mass Sliming
Lagoon Pool with a zero-depth entry pool
Whirlpools
Mini Golf
Nick Jr. area for the little ones
Nick Live Poolside for interactive games
The suites provided us enough room for the whole family to relax. You can choose from a 1 bedroom, 2 bedroom and 3-bedroom suite. Every suite features a flat screen TV and WIFI internet connection. You can upgrade to a Nickelodeon theme suite like SpongeBob SquarePants, Teenage Mutant Ninja Turtles or Dora the Explorer for the ultimate sleepover adventure. We stayed in a 2-bedroom theme suite and the boys loved it! The room was really clean and spacious and obviously renovated.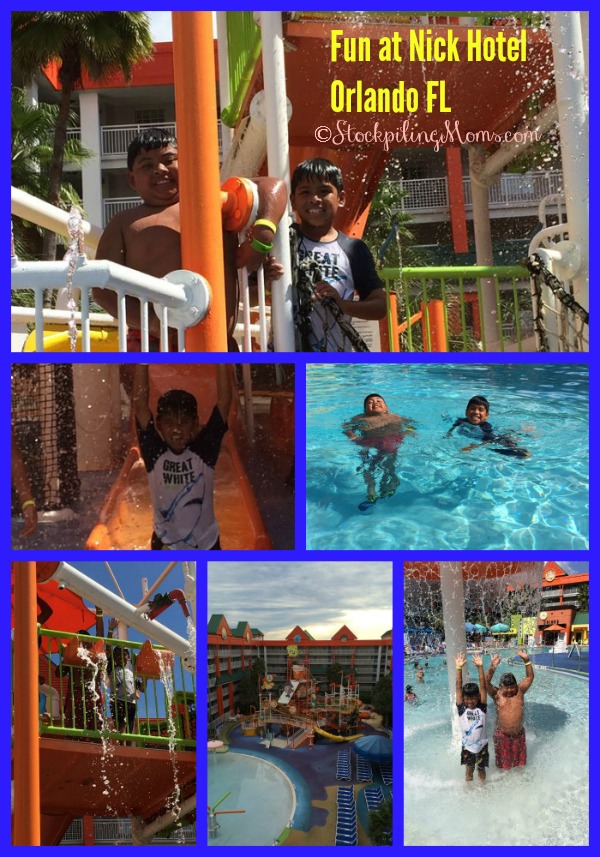 Please note that when you stay at the Nickelodeon Suites Resort, you are charged a resort fee of $35 USD plus tax, per suite, per night. The Nick Hotel's resort fee covers a wide variety of services not commonly found in many of the resorts and hotels in Orlando. Be sure to include the resort fee in your budget when you are planning your stay and take advantage of the amenities.
Covered in this resort fee is:
1. Live Nickelodeon-themed entertainment including Double Dare LIVE, Dora's Friendship Fiesta, Story Time with Dora & her Friends and Family Karaoke.
2. Poolside entertainment, where the pies fly, and someone always gets SLIMED.
3. Meet and greets with Nickelodeon characters including Dora the Explorer, Diego and Boots, SpongeBob SquarePants, Patrick Star, Squidward, Mr. Krabs, Sandy Cheeks, Mrs. Puff, Blue, Little Bill, Ming Ming, Pablo, Aang, Cosmo and Wanda, Teenage Mutant Ninja Turtles, April O'Neil, FanBoy, Milli, Geo, Molly, Gil, Jimmy Neutron and more!
4. Use of amazing water park with slides, flumes and a four-story water tower with 400-gallon dump tank.
5. Convenient scheduled bus transportation to Walt Disney World's Magic Kingdom, Epcot, Hollywood Studios and Animal Kingdom (a great way to save on parking costs).
6. Basic wireless Internet in guest suites and throughout the resort.
7. Unlimited local telephone calls.
8. Use of the Business Center where you can check your email.
9. Parking for one standard vehicle.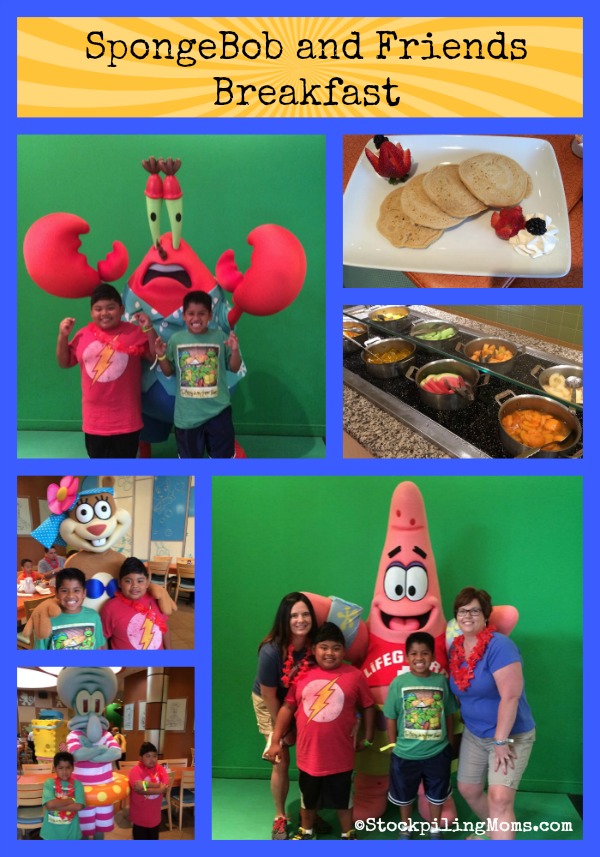 In addition to the cost of the resort you can purchase admission to Character Meals. We chose a SpongeBob SquarePants and Friends character breakfast, and it was really nice. One tip that we learned is to be sure you arrive early for best selection and variety on the buffet. We were really pleased with the hot breakfast buffet which included an omelet station, and they were able to accommodate me with a gluten free meal too! In fact, the chefs went out of their way to prepare foods that met my needs and desires during our stay.
We thought that the breakfast was worth the money because not only was it delicious, but it also provided us with time to interact and take pictures with all of the SpongeBob characters. I would say the breakfast is geared towards those 10 and under and has dancing and entertainment too.
We spent the day enjoying the outdoor water park. The boys loved it! We really enjoyed it too and we liked that the pool was not chlorinated but instead used salt water. The boys didn't have to use googles and their eyes didn't burn as a result. They did empty the pool several times during the day to clean which we really appreciated. We found the pool and pool area to be clean. They provide towels that you can check in and out too.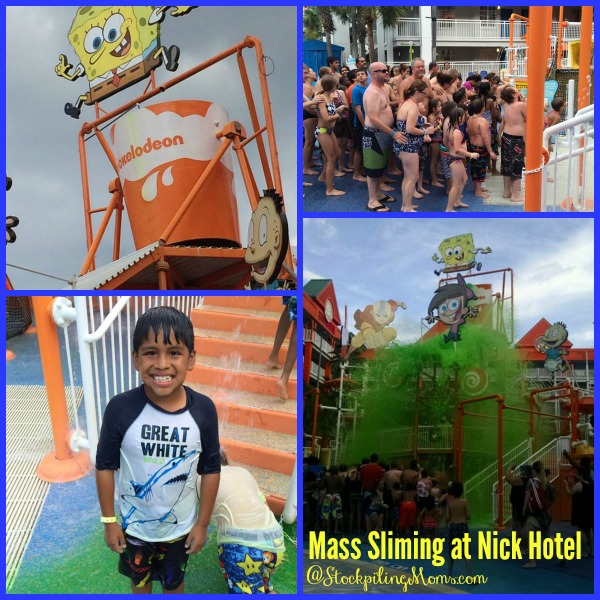 The mass sliming was Peyton's favorite experience of his stay at the Nick Hotel besides the fun he had at the Water Park. He was so excited to be slimed. My hope was that he would get slimed "enough" for his desire. He was indeed covered in slime from head to toe and thrilled with the sliming. Be sure you are at the sliming on time as they only do 1 mass sliming per day at 4:45 pm (check the event calendar to be sure not to miss it).
One of the boy's favorite attractions at Nick Hotel was the 4-D Experience Theater. It is an additional cost extra, but we felt it was worth the price of admission. It was $13.95 for a wrist band which included unlimited visits during your stay. We watched 6 movies, so it was really worth the price to us. Our tip is to purchase the band as soon as you arrive so you can maximize the number of movies you can see.
The movies offer thrilling experiences and extra-dimensional adventures including wind, water, bubbles, scents, snow and SLIME. Films feature SpongeBob SquarePants, Dora & Diego and an array of other lovable Nickelodeon characters. We did that in the evening after we watched Double Dare Live. Shelley and I found Double Dare Live to be a lot of fun and that is included in your resort fee, just be sure to make a reservation. It brought back memories to us of when we watched it as kids! The boys found it hilarious too.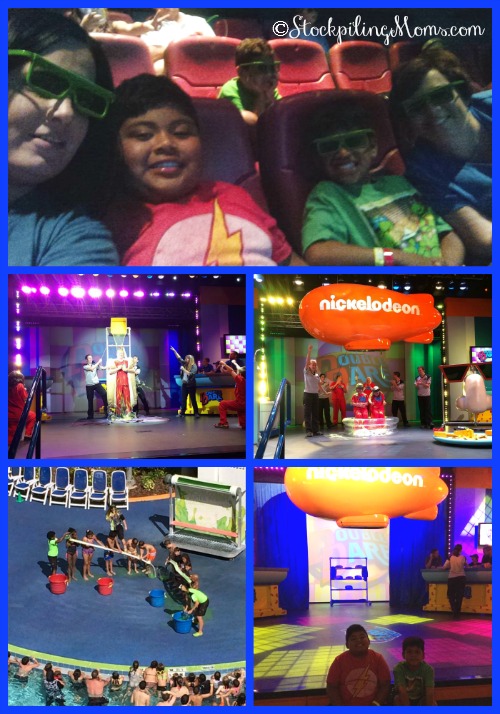 What we decided during our stay is that Nick Hotel is a great family vacation. If you are looking for an alternative to Disney World or Universal Studios and your kids love Nickelodeon and Water Parks, we would highly recommend staying at the Nick Hotel. Our boys had the SLIME of their lives! We found the resort to be very accommodating and a lot of fun for the entire family. We give The Nick Hotel two thumbs up!
Nick Hotel is located:
14500 Continental Gateway
Orlando, FL 32821
877-642-5543
Disclosure: The Nick Hotel provided our accommodations for two nights and SpongeBob breakfast for our review. All opinions are 100% our own.
Travel Articles:
How to have the best trip to SeaWorld, Orlando Florida
LEGOLAND Florida Tips and Review
Stockpiling Moms can be found in all your favorite places. Hop on over to Instagram and follow the fun. We love posting memes, family fun, travel, and whatever we are feeling that day. Pinterest is also an amazing place to visit Stockpiling Moms. This is where you can pin all your favorite articles from our Food, Travel & Lifestyle Blog.
Melissa is a football and soccer mom who has been married to her best friend for 24 years. She loves sharing recipes, travel reviews and tips that focus on helping busy families make memories.