5 Steps To Easy Second Pet Transitions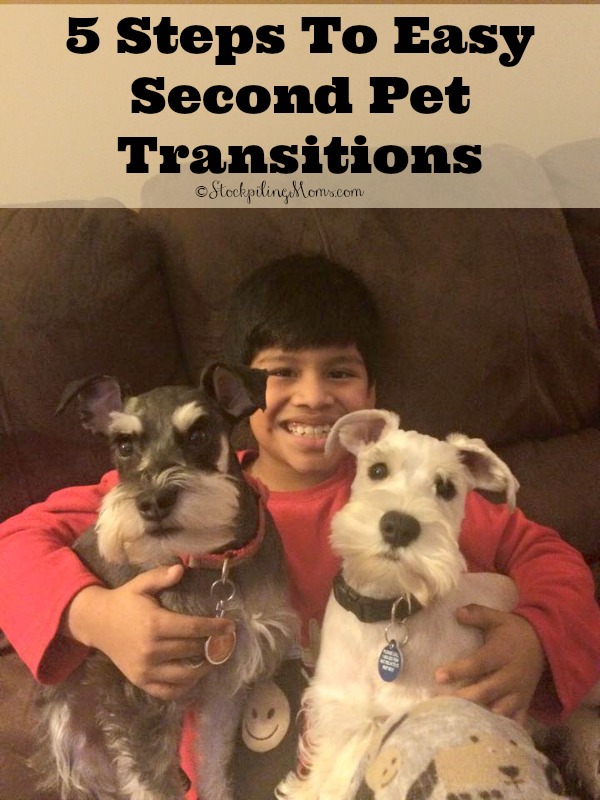 Whether you have chosen a dog like our family, or a cat, rabbit or other inside pet, there are some things to consider when working into a second pet joining your home. Here are 5 Steps to Easy Second Pet Transitions. Not only will your pets adjust well, but your whole family will as well. Making sure to take care and know what to expect will help make this a fun and easy transition for everyone. Trust me from experience, it is not EASY to add a second pet but in the end it is worth it.
5 STEPS TO EASY SECOND PET TRANSITIONS
Know Your Breed: Some breeds of dogs and cats will be a bit more intimidated by new surroundings and animals. If your new or old pet is of a breed that tends to be more sensitive, you may want to ease into this transition a bit more carefully. Some breeds just won't mix well together, so make sure to do some research before adopting just in case. Also, depending on the age of your pet it may or may not adjust well. In our research we found that dogs under the age of 4 do better with a 2nd dog so that is something to consider.
Have A Play Date in A Neutral Zone: This doesn't work so well with some pets, but for dogs this can be a great thing. Rather than bringing the new dog directly into your home, meet the new dog with your existing dog in a neutral space like a friend's yard or a dog park. If the animals seem to fight and not do well with each other, you may want to rethink your adoption. If they seem to get along and have fun together, it is easy to load them up together and introduce them to the new living situation. Our dogs didn't get along instantly. In fact, it took several days before they did but it was just like a light switch and now, they are best of friends.
Make Their Own Space: Give your new pet their own pet bed, toys and food and water bowls. This is not only for the new pet, but mostly for the existing pet. You don't want them to feel someone else invaded their space. Giving each pet their own distinct space will help considerably. Also, your new pet may not have all of their vaccines and may even not be well when they come home. You need to protect your current pet by making sure that they have separate spaces and food dishes because of that too.
Don't Make Them Share: This is much like the above suggestion. Don't make your pets share food bowls, bedding or toys. Make sure that if the new pet takes the old pet's toy, you take it away and give them something different of their own. The existing pet may feel a bit apprehensive already. Don't add to that fear by allowing the new pet to invade and take their things away. It will also take a few days for the pets to adjust and during this time having separate items will really help.
Don't Expect Overnight Success: While most second pet transitions are easy to navigate, there are occasions where fights and discomfort happen. Don't expect everything to fall into place overnight. Work with them to both build comfort with you and each other. Give some time and space to allow them both to adjust. It took several days for Rocky to adjust to our new dog. In fact, it was a tough first 48 hours. Rocky literally "shunned" the new dog and didn't want anything to do with him for several days. However, within 4 days he warmed up and now they are best friends.
Enjoy the fun of having a second pet in your home. Follow these steps to easy second pet transitions to make your new and existing pets both feel loved, secure and welcome in your home. We suggest using the Puppy Crate Training Method when you bring home a new dog. This is a method that we really believe it and our readers do too!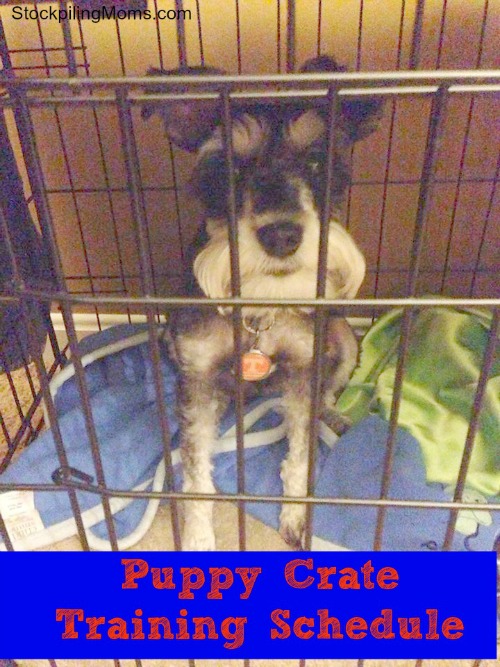 Dog Tips You May Enjoy:
DoggyLoot – A great way to save
YourPet.com – Social Network for Pets
Natural Cleaning Tips for Dogs
Tips for brushing your pets teeth
Stockpiling Moms can be found in all your favorite places! Hop on over to Instagram and follow the fun! We love posting memes, family fun, travel, and whatever we are feeling that day! Pinterest is also an amazing place to visit Stockpiling Moms. This is where you can pin all your favorite articles from our Food, Travel & Lifestyle Blog!
Melissa is a football and soccer mom who has been married to her best friend for 24 years. She loves sharing recipes, travel reviews and tips that focus on helping busy families make memories.