4 Affordable Fashion Statements You Need To Stand Out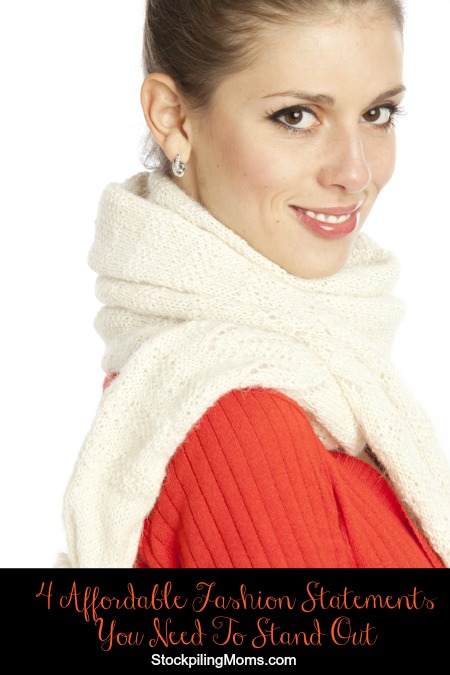 4 Affordable Fashion Statements You Need to Stand Out. Staying fashionable and presentable is a staple for any mother on the go or a young fashionista looking for creative ways to express herself. The only hurdle that comes with great fashion sense and feeling good about yourself, is the fact that you can easily go over budget on your essential pieces. While looking great is a sacrifice some people make with their finances, there are ways you can get around spending hundreds of dollars on looking great, but still look amazing and show the world your true identity.
When it comes to looking amazing, there are 4 staples that any fashion forward person would want to have in her closet to look pulled together at any time of day. The best thing is that these items may be hiding in your closet or can be found anywhere at affordable prices.
4 Affordable Fashion Statements You Need to Stand Out:
1. Chunky Jewelry
Jewelry is a great way to make a fashion statement on a limited budget. Not only is it a versatile option that can be worn with many different outfits, in many different ways, but it's also extremely affordable to keep and stock up on your favorite pieces. Chunky jewelry not only adds pops of colors to your outfits, but can worn as necklaces, earrings, a belt, or even hung on a purse to add a funky vibe. You can find affordable chunky jewelry on sale or at yard sales for mere change to a couple of dollars.
2. Cardigans
Having a great selection of cardigans at your disposal is a great fashion choice if you are trying to stay in a budget. You can easily spruce up a sun dress, tank top, or strapless dress by throwing on a neat cardigan and completely changing the look. There are great selections of cardigans at consignment stores that are in great shape and may not be found in stores. You can even spruce up a cardigan by adding beads, glitter, or ribbons to the sleeves.
3. Perfectly Fitted Jeans
Nothing beats a pair of perfectly fitted jeans. With the jeans that you love, you can easily roll them up to have a perfect pair of capris, or dress them up with slick black heels. If they fit you well, you can add accessories to them (like the jewelry) around your pockets or belt loop. Worn with a tank, blouse, and your favorite items, are perfect to wear with jeans. It doesn't matter the brand, spend time trying on jeans to see which ones fit perfectly and make you feel confident.
4. Scarves
Another staple that any fashion forward person needs are scarves. Not only can they be turned into fun neck pieces, but worn as a belt, used as a headband, or put on a purse to add a pop of color. There many DIY scarf instructions you can find on Pinterest, and also find some steals at thrift shops, yard sales, or consignment stores. If you have these 4 items, you can make any outfit a statement and stand out on a budget. Check out what items you have in your closet, can have from a friend, and do some thrifty shopping at flea markets to create an amazing wardrobe that be mixed and matched with anything.
More Posts You May Enjoy:
10 Honey Recipes & DIY Remedies
5 Tips to Protect Blonde Hair In The Summer
Apple Cinnamon Metabolism Water
Melissa is a football and soccer mom who has been married to her best friend for 24 years. She loves sharing recipes, travel reviews and tips that focus on helping busy families make memories.