3 for 3 Lunch Challenge – Lunchbox Ideas
Each week I will try to help you stretch your food budget by showcasing 3 different ways to serve 3 main ingredients in your lunchboxes. I will use additional ingredients but will try to keep them limited to common pantry or refrigerator items. At times I will also suggest tools and techniques to help enhance your lunch packing. I have not accounted for any dietary considerations but please swap out for Gluten Free, Nut Free or other types of products as appropriate for your family!
Chicken shortcuts, grape tomatoes, oranges – Now that December is upon us, this week I am featuring my ode to the holiday tree!
#1 Pesto Pizza Trees (pictured above)
Roll out your favorite pizza dough into a rectangle. I have used a pre-made refrigerated brand. Using a pizza cutter slice pizza dough into triangles (I used a cookie cutter for the photograph but triangles are easier and more efficient). Placing upon a greased cookie sheet, next put a spoonful of pesto (or substitute pizza sauce if you prefer) onto each triangle. Top each with a couple pieces of shortcuts chicken and sprinkle with your favorite pizza blend shredded cheese. Bake until bottom of crust is brown. Remove from oven and cool completely before packing in a lunch. You could also make a larger traditional shaped pizza and simply add a slice or two! You could also add sliced grape tomatoes right to your pizza before baking in either case!
Surround with grape tomatoes around the trees and add orange wedges in the smallest compartment.
Finally finish off by adding your favorite snack. In this case I added Naturebox ranch peas mixed with lightly salted almonds.
#2 Festive Caprese Kabobs (pictured above)
To achieve my "tree" shape I have used long cocktail food picks and made kabobs with basil, grape tomatoes and mozzarella pearls. I turned all the points together to illustrate a tree and filled in a few extra pieces around the kabobs to fill it out. I then laid the shortcuts chicken alongside the tree. I drizzled balsamic vinaigrette over my salad so it would marinate before lunch. Don't forget to send a fork! Instead of using kabobs you could just mix all the ingredients of the salad and toss it right in!
I added a "star" to the top of my tree by using a mini cookie cutter pushed through the wax coating of a Babybel cheese. You could skip this!
Let's talk snacks! Add slices of oranges in one compartment. Finally I finished with Late July Organics Dude Ranch Chips.
#3 Chicken Caesar Pockets (pictured below)
In a small bowl I tossed shortcuts chicken, sliced grape tomatoes and a handful of chopped romaine lettuce in a store bought Caesar dressing. I then grated on some Parmesan cheese but you could skip this!
I cut out a portion of a whole wheat pita pocket and added my salad inside. I added a grape tomato in my lunchbox just to top my "tree".
For snacks I added orange and cucumber wedges in one compartment and Way Better Snacks Sweet Potato Tortilla chips in the other!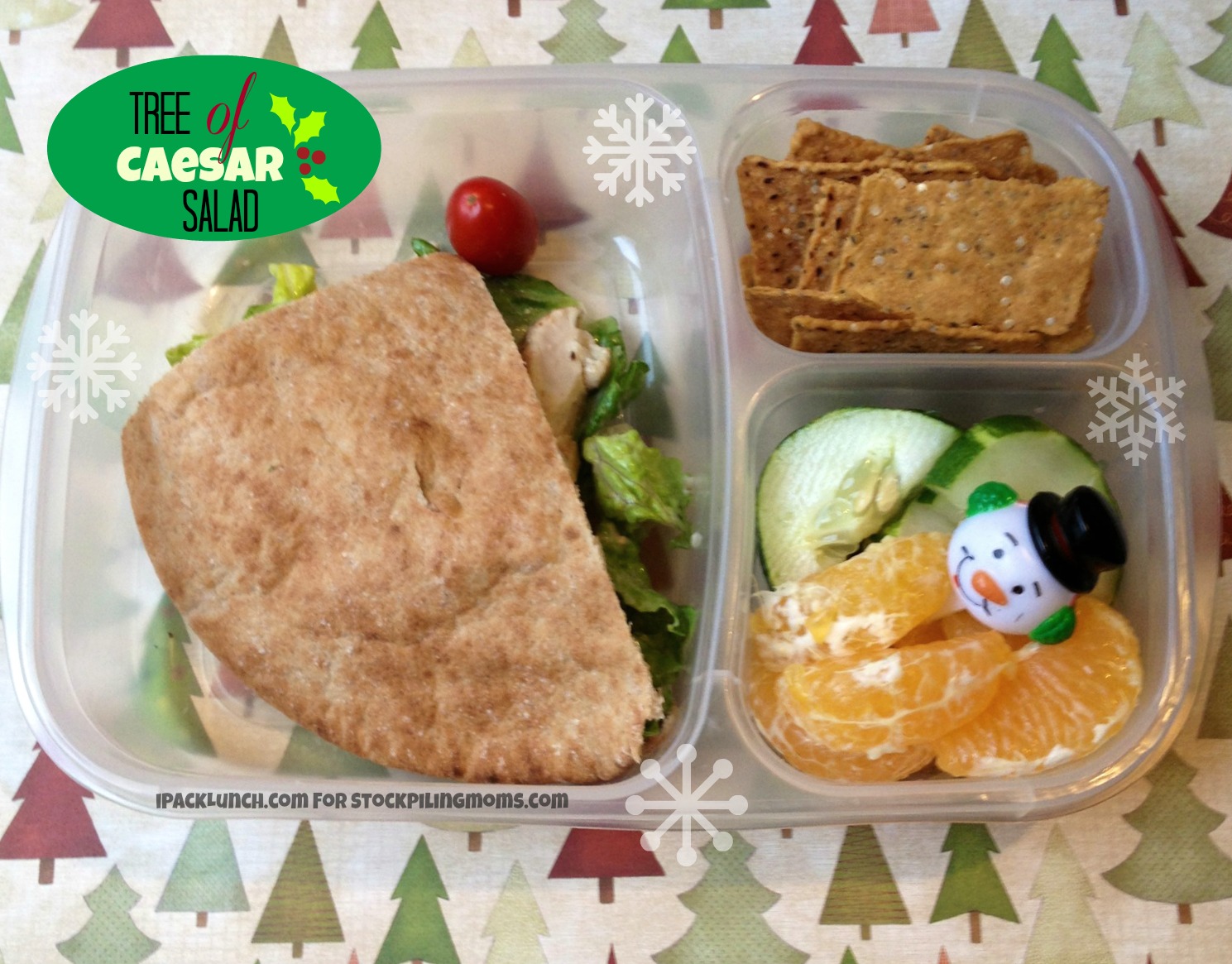 Always substitute for the snack of your choice and make adjustments for dietary considerations as necessary!
Please adjust portions for your family members, lunches shown in photos are just for a reference!
Tip: Remember to add crunchy snacks in the morning so they stay crunchy!
Tip: Food picks can be found in most party stores or stores with a party section. Food picks can also be ordered online.
All three lunches are shown in an Easy Lunch Box.
You may also enjoy:
3 for 3 Lunch Challenge – 9/30
3 for 3 Lunch Challenge – 10/7
3 for 3 Lunch Challenge – 10/14
3 for 3 Lunch Challenge – 10/21
3 for 3 Lunch Challenge – 10/28
3 for 3 Lunch Challenge – 11/4
3 for 3 Lunch Challenge – 11/11
3 for 3 Lunch Challenge – 11/18
3 for 3 Lunch Challenge – 11/25
You may also want to check out:
Here is a how to get started Menu Planning Monthly. We believe it helps us to stay on budget and cook from our Stockpile and save more.
Melissa is a football and soccer mom who has been married to her best friend for 24 years. She loves sharing recipes, travel reviews and tips that focus on helping busy families make memories.