10 Reasons to Visit Holiday World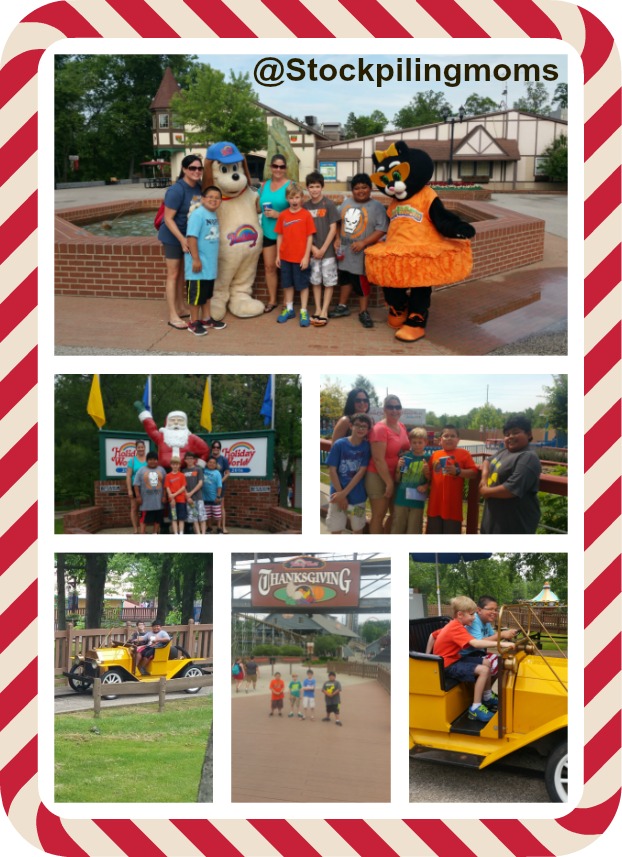 Today I am sharing with you 10 Reasons to visit Holiday World. There are actually so many that I could easily come up with many more! I could actually talk all day about Holiday World and the amazing time we had. However, I decided to limit it to the top 10. If you are looking for a weekend getaway or summer fun Holiday World located in Santa Claus Indiana is a great choice.
10 Reasons to Visit Holiday World
FREE DRINKS and lower priced food: This was something that I will rave about! All day your drinks are unlimited. These free drinks include Pepsi Products and even fountain Gatorade. When we ate in Holiday World we were surprised at the prices. Prices of meal combos were $4 to $5 dollars cheaper than normal amusement parks, not to mention the portion sizes were very appropriate. If you are looking for an amazing snack try the Deep Fried Reese's Peanut Butter Cups. They were the highlight of my day since I am a peanut butter and chocolate lover!
Splashin' Safari: We spent a lot of time in the water park. The kids loved the Bahari Wave Pool the most. Bahari is a giant family wave pool featuring geysers, sprays, and jets. This wave pool covers three-fourths of an acre and provides refreshing waves on 10 minute intervals.
FREE SUNSCREEN: There are free pump stations all over the park. Free sunscreen (Tropical Blend, SPF 30) kiosks are located in front of the restroom buildings in Splashin' Safari and by the west steps of Holiday Theater in Christmas, in Holidog's FunTown, and next to Tippecanoes by The Alamo in Holiday World.
Mammoth Water Coaster: YES, I said water coaster! Mammoth towers seven stories from highest to lowest point and covers more than three acres. This is one amazing ride. I have never experienced anything like it before. This coaster is also in the Guinness Book of World records as the longest water coaster ever!
George's Gluten-Free Pizza and Snacks: Gluten-Free pizza, bread sticks, pretzels, cookies, funnel cakes, and more.
Christmas: The Christmas part of the park was fun for the little ones. Not only is there a nice selection of little rides for the kids you can also stop by Santa's Story Time Theater.
Gobbler Getaway: Now this is a fun ride for the family! Talk about competition between the kids! Autumn Falls is missing its turkeys! It's your family's challenge to round them up, just in time for Thanksgiving. Get your turkey callers ready for this fun interactive ride.
The Staff: The staff at this park are amazing. We were always greeted with smiles and hellos! The food service people were very nice and everything seemed to run very smooth. The ride attendants were extremely helpful.
FREE Parking: I know the amusement park in our area charges $18 for regular parking and $20+ for preferred.
Thunderbird: The Thunderbird is a very smooth ride. You feel as if you are soaring through the air like a bird. It is very exciting! Facts about the Thunderbird:
There are many more things I could say about Holiday World but what is most impressive is the care for their guests. The things that you get FREE in this park are a huge cost at other parks. We really thought this was a small amusement park that we would move through and finish quickly. That certainly was not the case at all. We went to the park and enjoyed the different attractions so much we didn't even make it to some. This park gets an A++ from us!
Please check out the following articles for more places to visit in Santa Claus, Indiana.
Lake Rudolph Campground & RV Resort
Santa's Candy Castle in Santa Claus, Indiana
Horseback Riding at Santa's Stables
Disclosure: Holiday World provided our tickets and 2 meals for our review. All opinions are 100% our own.
Shelley is a boy mom, marine wife, and is blessed with an amazing family. She loves sharing recipes, travel reviews and tips that focus on helping busy families make memories.