Women's Heart Health Facts and Statistics
I am sharing Women's Heart Health Facts and Statistics in celebration of heart health month. As you know I am a heart patient. I recently survived my 2nd open heart surgery.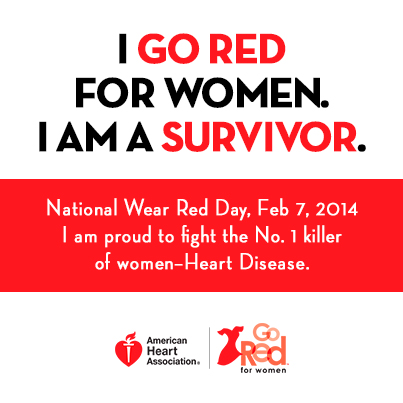 I have acquired heart disease as a result of Kawasaki Disease so this it a cause that is near and dear to my (mending) heart. Did you know heart disease is the #1 killer in women, affecting more women than men and is more deadly than all types of cancer combined. For all the women in your life, let's change this stat! Heart disease kills one woman every minute.
Women's Heart Health Facts and Statistics:
90% of women have one or more risk factors for developing heart disease.
Only 1 in 5 American women believe that heart disease is her greatest health threat, but 1 in 3 women will die from heart disease. Please spread these words and help the other 4 in 5 women who don't know the dangers of heart disease.
While 1 in 31 American women dies from breast cancer each year, 1 in 3 dies of heart disease.
Women comprise only 24 percent of participants in all heart-related studies.
Hispanic women are likely to develop heart disease 10 years earlier than Caucasian women.
Only 1 in 3 Hispanic women are aware that heart disease is their No. 1 killer. Help us spread awareness of this silent killer.
Of African American women ages 20 and older, 46.9% have cardiovascular disease. Let's change this.
A smokers chances of getting heart disease is cut in half just one year after quitting smoking.
Heart Healthy Recipes:
Weight Watchers Peanut Butter Cool Whip Treat

Crockpot Honey Rosemary Chicken
Sauteed Mushrooms, Squash and Zucchini
Country Bob's Baked Pork Chops
Flounder with Spinach and Peppers
Skinny "Fried" Parmesan Chicken
Melissa is a football and soccer mom who has been married to her best friend for 24 years. She loves sharing recipes, travel reviews and tips that focus on helping busy families make memories.