Why I Love Cinemark Movie Club
Disclosure: I am not representing CINEMARK. I pay for this movie club on my own and have not been compensated in any way by CINEMARK. This is 100% my opinion.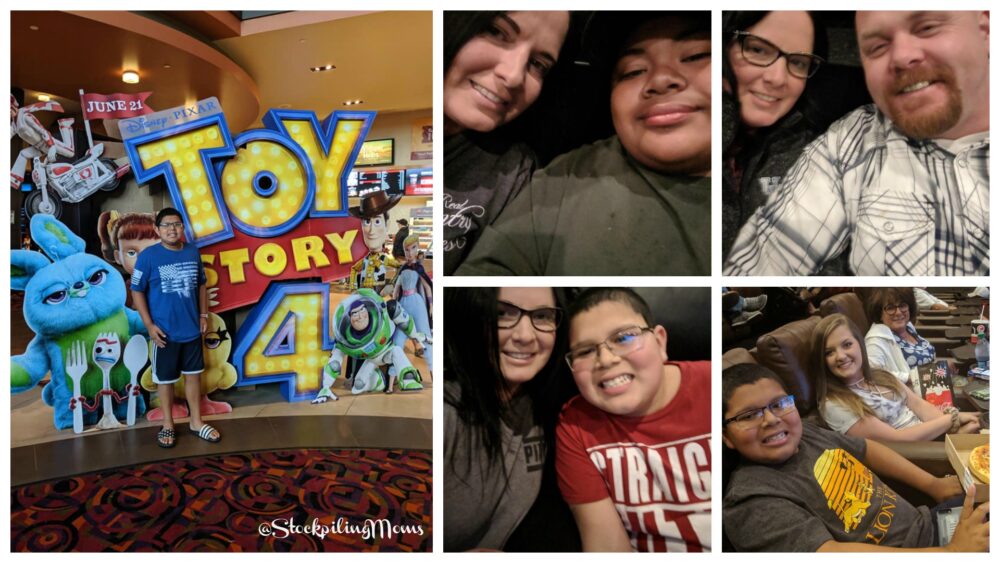 Why I love CINEMARK Movie Club is a no brainer. The CINEMARK theater near us is our favorite theater in the area. They won us over with comfortable reclining theater seats, a food court, and of course amazing popcorn. We also reap the most benefits with CINEMARK. My family goes to quite a few movies throughout the year. We are movie people, which is odd coming from a family that is not into TV that much.
Why I Love Cinemark Movie Club:
We love all types of films but our favorites recently have been The Lion King, Aladdin, Spider Man: Far From Home, Toy Story 4, and Godzilla: King of the Monsters. I know that seems like a lot in a short time but we have seen a few others. That is how much we love the movies.
I hear people all the time say how expensive movies are. This is true but there are plenty of ways to save money. There are two rewards programs at CINEMARK. MOVIEFAN is a free movie reward program and MOVIECLUB is $8.99 Per Month (subject to change). Both reward programs have significant value but it really depends on how often you go to the movies. I belong to the MOVIEFAN reward program of course. It pays for itself every month.
MOVIECLUB BENEFITS: ($8.99 per month subject to change)
Earn one point for every $1 spent

Redeem points for tickets and movie rewards – (points are subject to change but right now a movie ticket is 250 points. It does not take long to rack that up)

Member access to screenings and advance tickets

Birthday rewards

FREE large popcorn and drink refills

Exclusive offers

1 ticket per month

20% off concessions – (This also includes when you order from the food court area)

Waived online fees – (This is an amazing perk! Online fees can be expensive. If you order many tickets this also could make up for your $8.99 per month)

Unused ticket rollover – (There are months we don't go to the movies. Your tickets can be rolled over and used for anyone, as long as you purchase them using your reward program)

Member Pricing for additional tickets
MOVIEFAN Benefits: (FREE)
Earn one point for every $1 spent

Redeem points for Tickets and Movie Rewards

Member access to Screenings and Advance Tickets

Birthday Rewards

FREE Large Popcorn and Drink refills

Exclusive Offers
If you only go to a couple of movies a year it is still worth it. One ticket to an evening show can cost you around $11. The movie club is only $8.99 a month and you don't have to pay online ticket fees. Ticket fees per ticket run $1.70 but can change with time. You can roll over and take the whole family. The 20% off all concessions is also a very awesome perk. Today we ordered a cheeseburger with fries and a Pizza Hut personal pizza for under $16 with the 20% discount. If you belong to the MOVIECLUB you save everywhere.
Now every Rewards Membership has at least one downfall and this one is no different. I can only find one downfall though. You cannot use your free ticket for a 3D or XD ticket without paying a small up-charge fee. My family does not enjoy 3D movies so we don't lose anything on that. We do enjoy the XD movies and pay the upcharge if the movie is a must see.
Tips about using your points:
It is not always beneficial to use your free ticket on an Early Bird Movie.

Don't use on Senior Discount Days (if you are a Senior of course)

Check to make sure you are not visiting on a CINEMARK discount day. At our theater it is on Tuesdays,

Check the rewards on your app. They often have additional off concessions coupons, XD upgrade rewards, and of course free movie tickets.
Disclosure: I am not representing CINEMARK. I pay for this movie club on my own and have not been compensated in any way by CINEMARK. This is 100% my opinion.
More Great Articles by Stockpiling Moms:
Tips for Saving Money From Your Family Budget
7 Tips for Saving Money for Back To School
Is Frontier Airlines Worth the Ticket Savings
52 Week Savings Plan for Debt Resolution
Shelley is a boy mom, marine wife, and is blessed with an amazing family. She loves sharing recipes, travel reviews and tips that focus on helping busy families make memories.