Way Better Snacks Review – When Melissa of Stockpiling moms asked if I would like to try some Way Better Snacks, I did a little dance. Chips? Ya know I'd love that. Of course, chips usually come with a crazy amount of sodium or oodles of fat. But these chips? They really are WAY BETTER! These crunchy bites are non-genetically modified (LOVE!), are made from sprouted grains and seeds, are 100% whole grain, do not contain trans fat or any artificial colors, preservatives or flavors. All six varieties are also Kosher and vegan-friendly. All that and certified gluten-free.
I was lucky enough to try all six flavors:
Simply Sunny Multi-Grain (flax and chia seed, quinoa, radish seed, brown rice and broccoli seed)
Simply Sweet Potato (sweet potatoes, chia seed, quinoa)
Simply Unbeatable Blues (blue corn)
Simply Beyond Black Bean (sprouted black beans, flax, and quinoa)
No Salt Naked Blues (blue corn with no salt, yet you never miss it)
Simply So Sweet Chili (sweet and spicy at the same time – swoon!)
My family loved them all. These chips have a great crunch and toasty flavor. In fact, I had to hide some chips to save some of the deliciousness for myself. My big boy liked the Simply So Sweet Chili because he thought they were a heather, tastier replacement for those other chips (that are shaped like a triangle) without the orange fingers and without the dairy. You know the ones… (*cough*) I really couldn't narrow down a favorite myself as I liked them on their own or paired with various dips. Melissa asked if I could come up with some recipes go with the chips and I was happy too! The flavors were just begging to be matched up with some fun recipes, and not just the standard salsa.
Faced with a box of chips and fall breezes in the air, I couldn't help but think of game days. Whether you are tailgating for your local team's big game or heading out to watch the high school homecoming game, it seems to be all around this time of year. My favorite part of game days? The food, of course! I wanted to put together a meal that you could easily pull together yet was special enough for guests and your family.
Everything at my blog, Angela's Kitchen is gluten and dairy free, so the first thing I did was make a fun dairy free Seven Layer Dip. I served that with the Simply Unbeatable Blues, Simply So Sweet Chili, and the Simply Sweet Potato Tortilla Chips. This dip includes instructions to make your own components for each layer or you can use a short cuts to cut down prep time. I love how the different layers of salsa, re-fried beans, guacamole and the creamy taco seasoned layer play against the crunchy toasty flavors of the chips. The dip is easy to pull together, yet is striking, and can be made ahead your event. Gotta love that! View the Dairy Free Seven Layer Dip Recipe.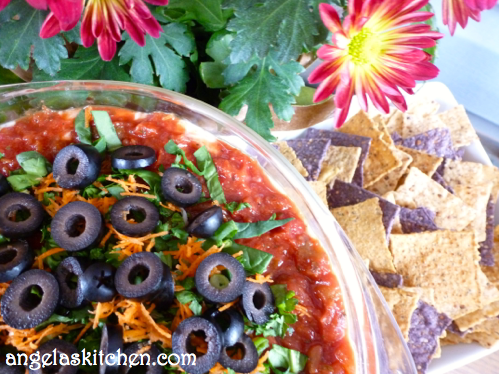 For a main dish I made a Ground Turkey and Veggie Tortilla Casserole. I love this dish because, while it has lots of healthy ingredients like summer squash, tomatoes, spinach and ground turkey it still tastes a bit naughty. Topping the dish with crushed Simply Beyond Black Bean and Simply Sunny Multi-Grain Tortilla Chips and a bit of dairy free cheese substitute (or use real cheese, if that is how you roll) got rave reviews from the teens in the house. This dish can also be made ahead of time and frozen so it is ready for when you need it. View the Ground Turkey and Veggie Tortilla Casserole Recipe.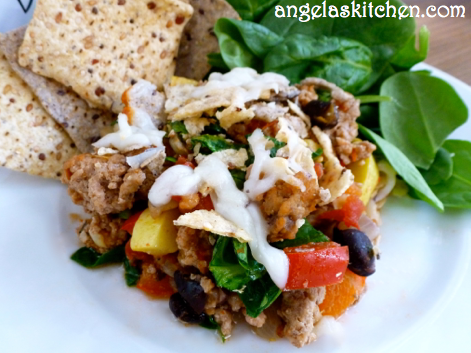 You can't have a game day without dessert. You might wonder if chips and dessert go together? They sure do when you make an Apple Pie Dip to serve with the Simply Sweet Potato and the Naked Blues Tortilla Chips. Apple and sweet potato are fall flavors that naturally pair well together. You can make this yummy Apple Pie Dip up to three days before your event. I like to put the apple pie dip into a cute jar if I am bringing it over to a friend's house. When you arrive, place the jar in the center of a plate or basket and arrange the sweet potato chips around it. It's perfect for desert or as an appetizer. Yum!
Heading over to someone else's house? Bring over one of the above dishes to share, but be sure not to forget a bag of the Way Better Snacks Chips! Maybe it is just me, but the other thing I adore is the packaging. The beautiful bag designs wrapped around their delicious chips makes these a no brainer to pair with a homemade dip as a hostess gift or to bring to a pot luck. I might be a sucker for a pretty label, but a pretty label wrapped around a healthier snack? That is something I get excited about. View the Apple Pie Dip Recipe.
Disclosure: Angela provided this review to Stockpiling Moms – Way Better Snacks provided the product for review however all options are 100% Angela's.

Read this post on How To Save Money Gluten Free.
Other posts you may enjoy:
Melissa is a football and soccer mom who has been married to her best friend for 24 years. She loves sharing recipes, travel reviews and tips that focus on helping busy families make memories.