If you are like me and absolutely love fairy gardens, then you are going to adore this cute little Teacup Fairy Garden Gift idea! It's a great way to use up those teacups that don't have mates. I grabbed some items from my craft stash to make this, but you can also find most if not all of these items at a craft store or even Dollar Tree online.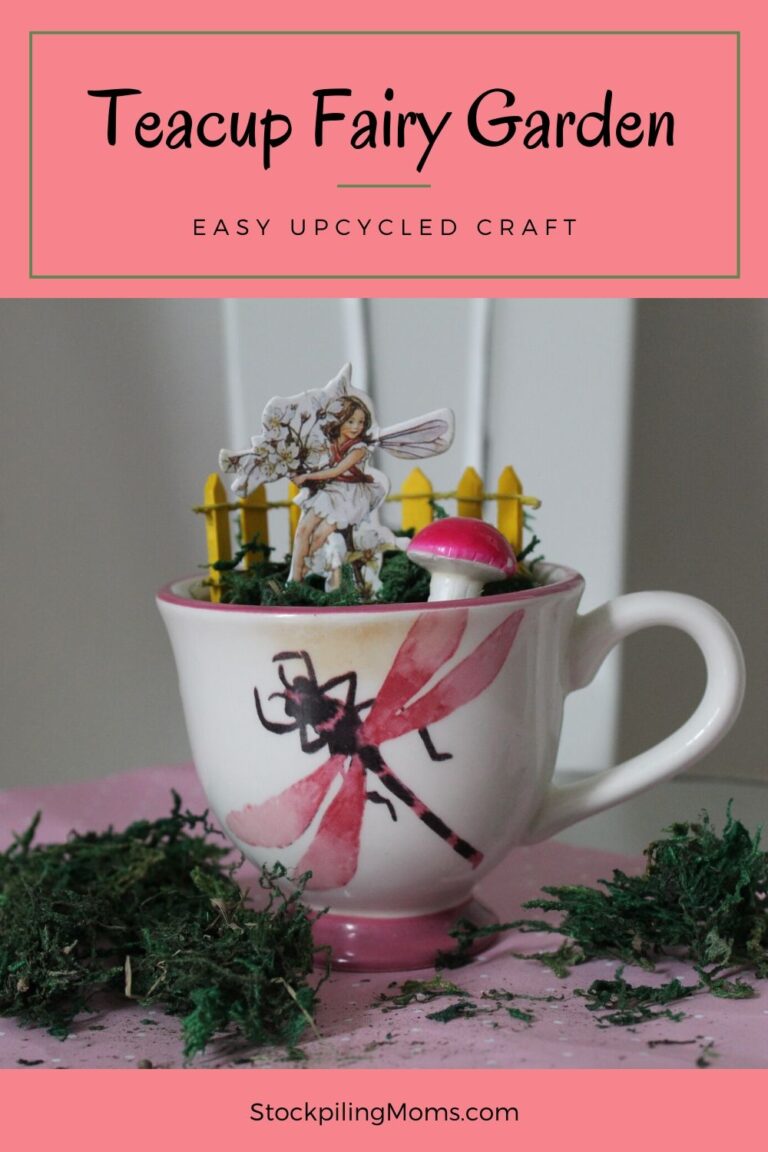 Teacup Fairy Garden
Fairy gardens are a beautiful addition to your flower garden, vegetable garden, or landscaping. Even if you don't have kids at home, this is still a fun and cute addition to your garden. I find projects like this to be super soothing and a great part of self-care. Sometimes, we just need to feel a bit like a kid again.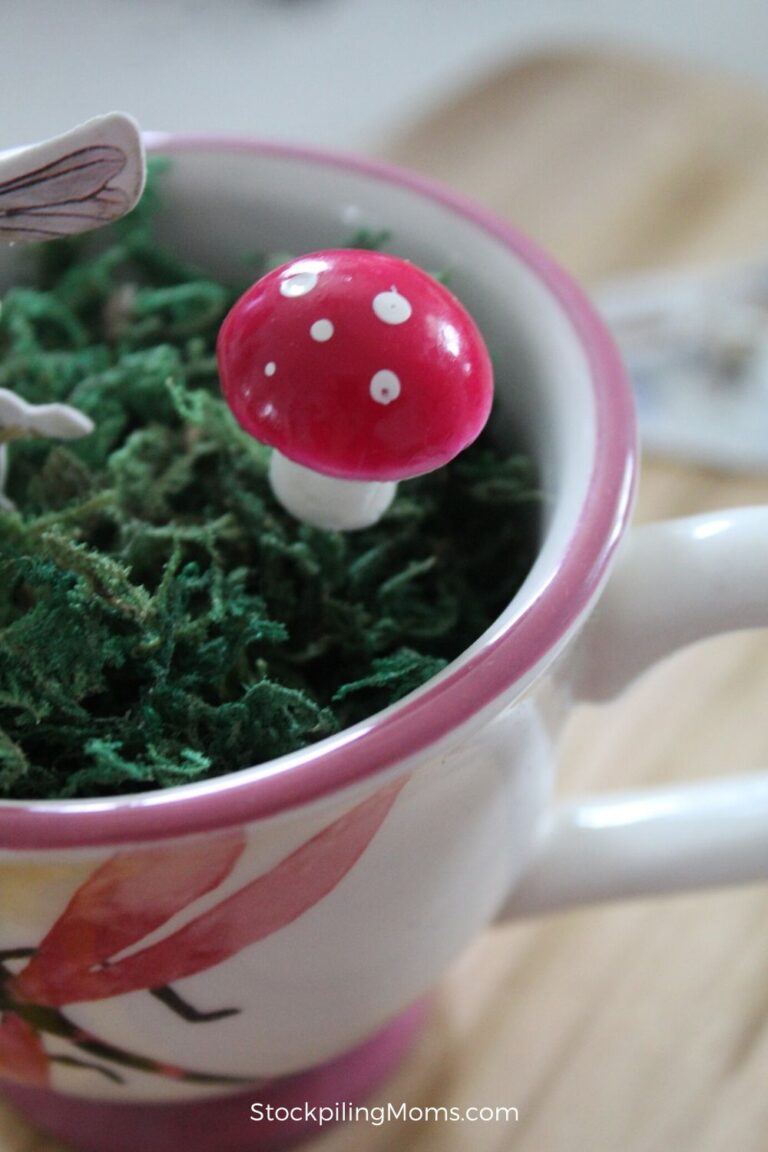 What Can I Use if I Can't Find Fairy Garden Toys?
Currently, as I write this, the world is definitely in a bit of chaos. With the COVID-19 pandemic, supplies are hard to find for many things, and if your state is under lock down, you may not be able to go shopping. That means some items needed may be tough to find. Prior to this I found all types of supplies at the Dollar Tree.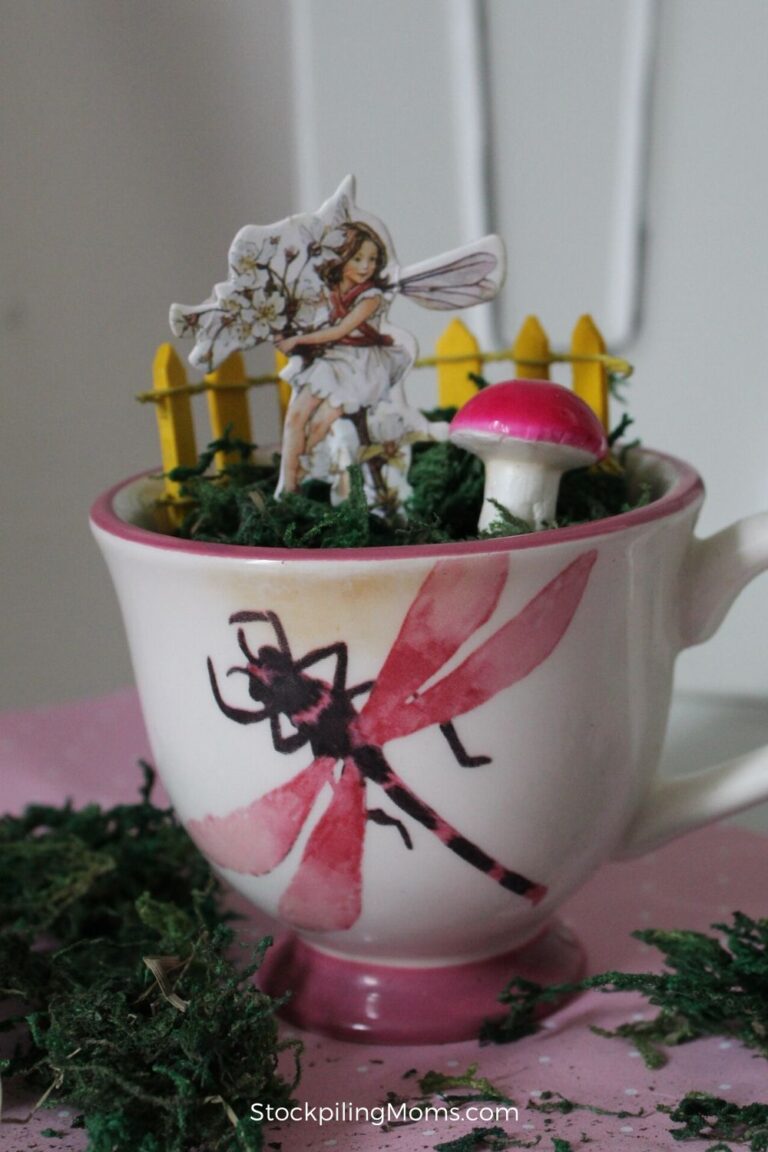 If you can't find traditional fairy garden toys or additions, get creative! Below are some ideas of things you can use from around the house to add to your fairy garden teacup.
Thimbles
Spool of thread
Printed paper fairies on toothpicks
Buttons
Beads
Used empty k-cups
Leftover Easter grass
Shredded paper
Dyed rice or pasta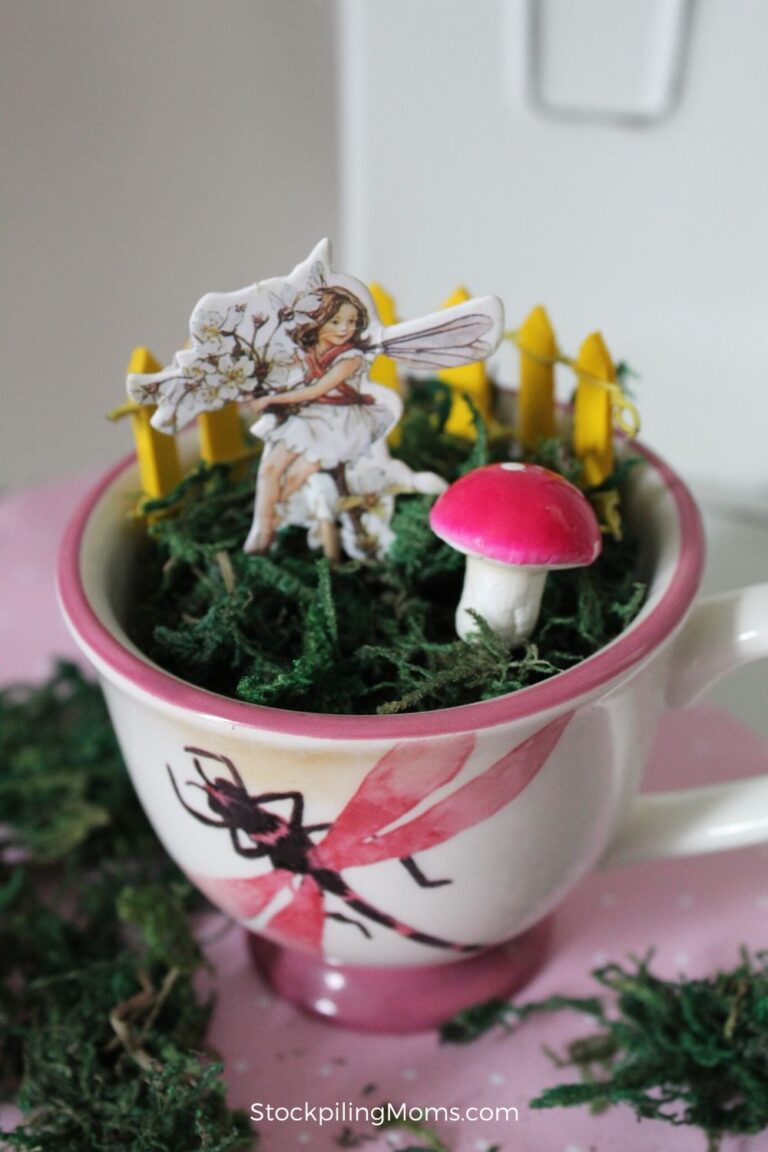 Does This Have to Go in My Garden?
No! You can add this to a bookcase, on your mantle, in a garden, or even on top of a dresser in your bedroom. It's just a fun little decoration and addition to your home that brings a bit of extra joy!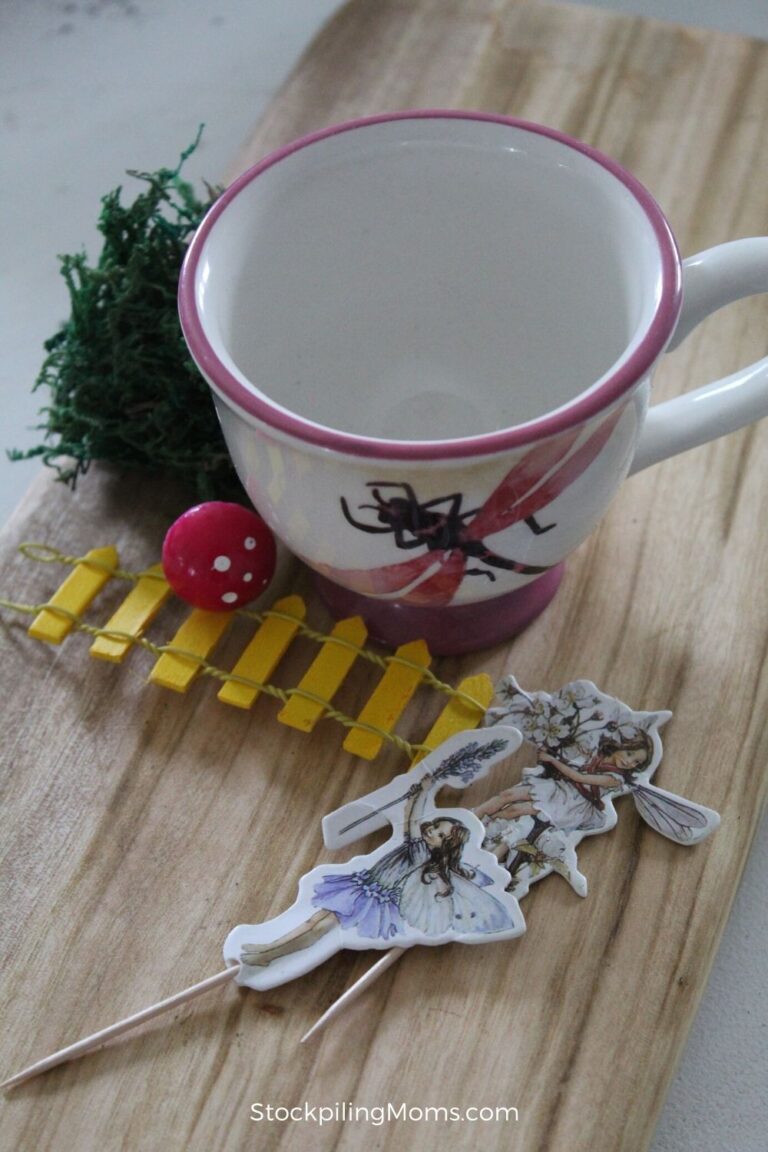 Supplies Needed
Teacup
Crafting moss
Mini fairy garden fence
Crafting mushrooms
Fairy cutout or fairy cupcake pick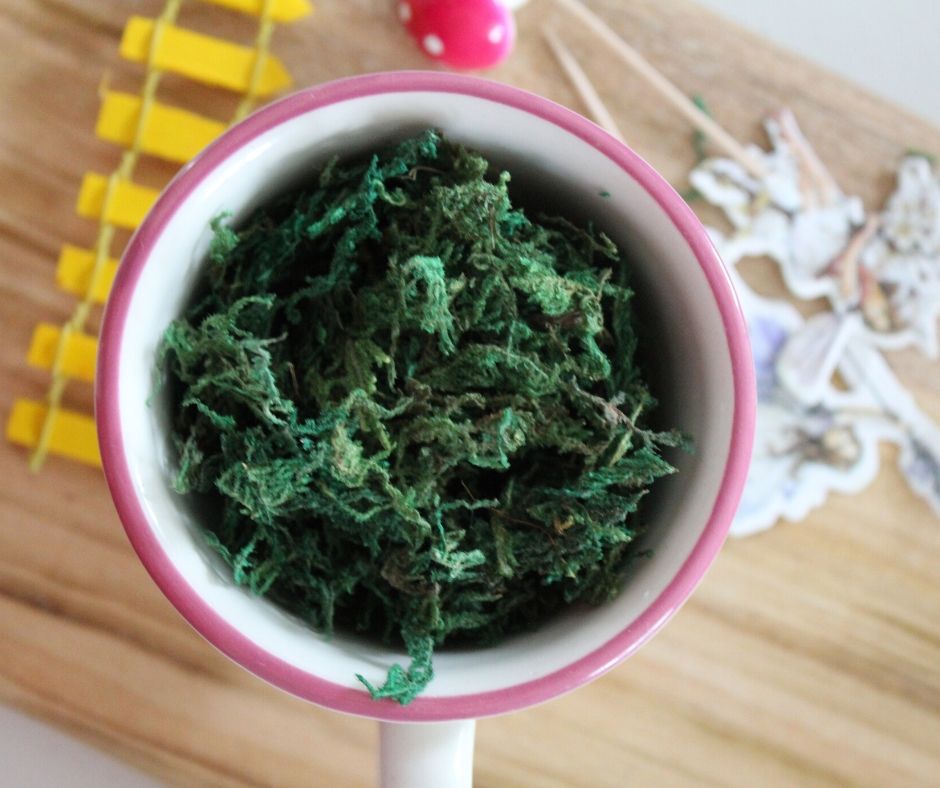 How to Make a Fairy Garden Teacup
Fill the cup with your crafting moss. Since the decor pieces are so light and you won't be using real plants, there is no need for adding soil in the cup first.
Fluff the moss to fit the cup, and then add in the crafting mushrooms. You don't need to glue these in place as they usually have picks on the end of them. Press them into the moss until snug.
Add your fairy to the moss. If using a cupcake pick, you just press it into the moss until snug.
Finish the teacup fairy garden by adding a small piece of fence to the back of the cup.
You can add other embellishments if you like. Things like ribbons, thimbles, and bits of crafting supplies will look great.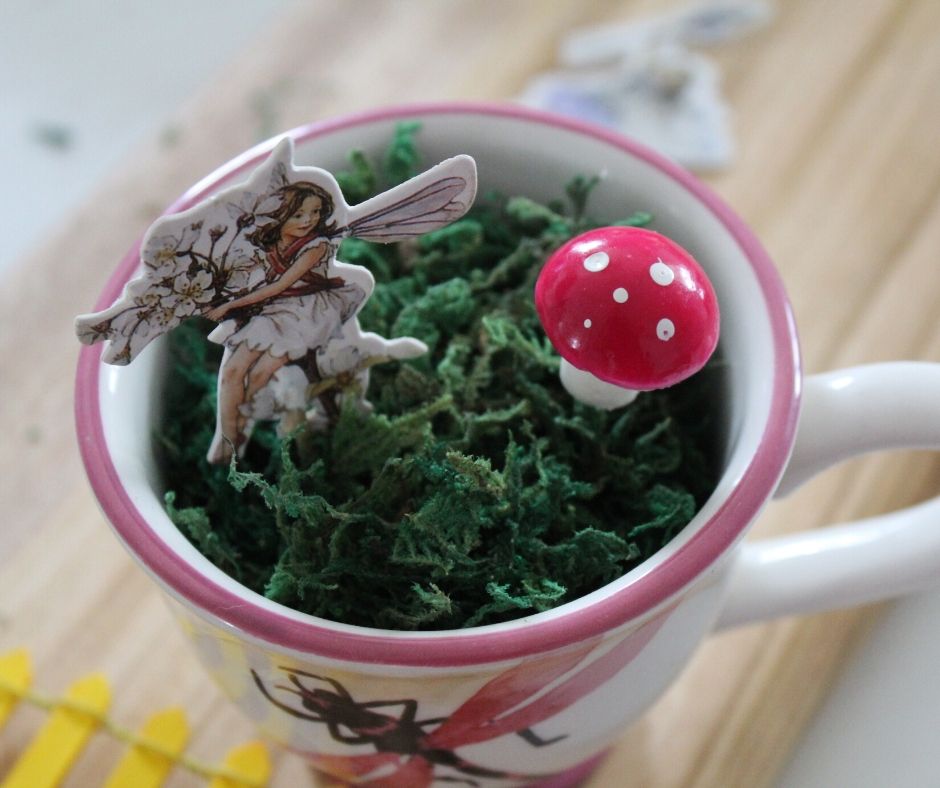 More Fun Crafts
Melissa is a football and soccer mom who has been married to her best friend for 24 years. She loves sharing recipes, travel reviews and tips that focus on helping busy families make memories.