Self Care Ideas Moms Can Use
Self Care Ideas Moms Can Use While Quarantining. Covid has changed the way we live, especially moms. If you have to quarantine, you may be wondering how you can care for yourself, as a mom. For all of you moms out there that are staying home with their kids during this uncertain season of life, your sanity, as well as your physical health, can take a beating.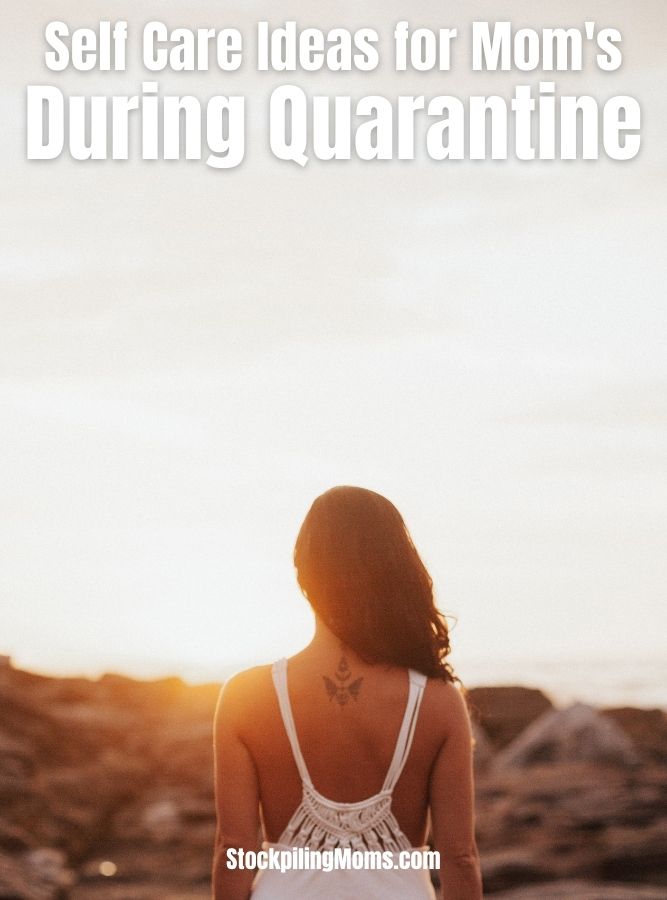 Self Care Ideas Moms Can Use:
Maybe you or one of your family members is currently dealing with symptoms of Covid and you're forced to stay home and quarantine. It's still important that you take care of both your mental and physical health in the meantime. Here are several self-care ideas that moms can use while quarantining.
Take a Shower
Even though you're currently at home quarantining, make a practice of setting an alarm so that you can wake up gradually. That way you're not being rudely awoken by a sibling morning rivalry or a child in your room asking, "what's for breakfast?" Having a morning routine not only creates a structure for mom's every day, it helps with our moods while providing a few extra minutes of "me-time" to re-energize before wrestling with kids all day long.
Get Dressed
Give yourself enough time for a shower and an opportunity to get dressed just before your kids wake up. I know that after I've taken a shower and gotten dressed, I feel much better about myself. If you decide after you hop out of the shower that you want to stay cozy all day, throw on some loungewear instead. If putting on a little makeup each morning makes you feel more eager to face the day's challenges, don't hesitate to do it.
Step Away From the Phone
When you're not able to escape the depressing news, along with the negative comments that you find on social media, it takes more of a toll on you than you may realize. Make it a daily habit at some point throughout the day to put your phone down and walk away from it. You'd be amazed at how much freedom you feel without having it attached to your hip.
Exercise or Meditate
Exercising and meditating are two great ways of relaxing and helping you feel better about yourself. And no, you don't have to have dumbbells or an expensive treadmill, or even risk a trip to the gym to do it. Keep it simple.
Listen to Music
Listening to music is another outlet that you can enjoy and take your mind off your situation. You may even find yourself singing along and dancing to the beat. And who cares if the kids think you've lost your marbles. They've probably already done their fair share in pushing you to that point as it is.
Pick Up an Old or New Hobby
Now that you have a little more time on your hands, why not enjoy something that you haven't done for a long time now, or maybe even pick up a new hobby? How about that book that you've been dying to read? This is one way you can keep your mind preoccupied while you have fun doing it.
Call A Friend
Simply picking up the phone and calling a friend or long-distance family member can be uplifting. Just hearing their voice can reenergize you and lift your spirit back up again. They may even have the right words that you need to hear to get you through this time.
It's easy to see why moms can go absolutely bonkers when cooped up with their kids at home while quarantined. I'd encourage you to maintain a daily routine and also to pamper yourself every once in a while so that you don't become sluggish and discouraged. I hope that at least one or two of these self-care ideas should be of some interest to you and that you'll find helpful.
More Self Care Tips:
Stockpiling Moms can be found in all your favorite places. Hop on over to Instagram and follow the fun. We love posting memes, family fun, travel, and whatever we are feeling that day. Pinterest is also an amazing place to visit Stockpiling Moms. This is where you can pin all your favorite articles from our Food, Travel & Lifestyle Blog.
Melissa is a football and soccer mom who has been married to her best friend for 24 years. She loves sharing recipes, travel reviews and tips that focus on helping busy families make memories.