SanDisk iXpand Flash Drive Is a Game Changer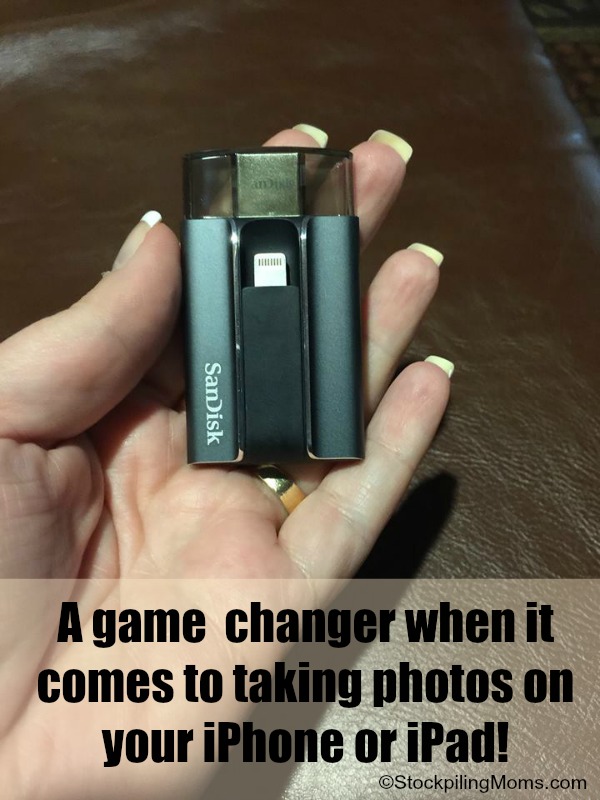 The SanDisk iXpand Flash Drive Is a Game Changer when it comes to transferring your photos from your iPhone. We live in a generation where point and shoot cameras are almost nonexistent and there is no way I am going to lug a DSL camera with me. I honestly can't remember the last time I took mine with me ANYWHERE – including a vacation. I take all of my pictures with my iPhone. I recently got the iPhone 6+ and I have to say it is a total game changer for me. Not only as a blogger but also as a mom. My pictures are better quality and I honestly now have no desire to carry a camera along with me when we are on the go.
SanDisk iXpand Flash Drive Is a Game Changer:
I use my iPhone camera for every picture I take (even for the blog). Now that I am strictly using my iPhone camera, I find that I am constantly trying to transfer pictures and delete off of my camera roll. ACK! The most annoying problem for me is trying to figure out how to how to transfer, backup and share content. Did you know that 71% of all digital images today are captured on mobile devices? Are you in the same boat as me?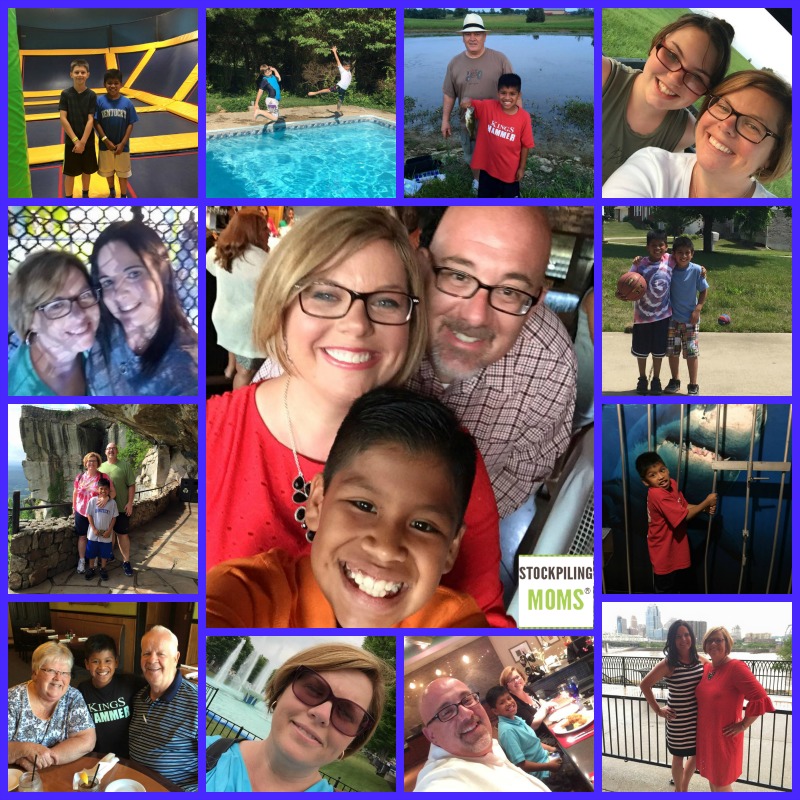 Mobile users are still struggling with how to transfer content between devices for safe storage or free up space on their phones for more photos, videos, and other files. A survey SanDisk conducted among 1,000 active smartphone users emphasized the magnitude of this matter – transferring content is extremely or very important to 82% of users – and within this group, 67% of users are frustrated with their content transfer experience, reporting issues ranging from slow transfer speed to file size limitations and compatibility issues between devices.
They found that of those surveyed, 88% reported that they resort to e-mailing or texting content to themselves because its less frustrating. A strange system that I use is uploading my pictures to Facebook and then saving those to my computer. It is a HUGE pain and I feel that as a result I am not taking the next step to actually get them printed. This is a clunky user experience which, due to the compression required to transmit large files, also degrades the quality of their memories. Cloud storage isn't a silver bullet for the mainstream because of its many limitations including: Wi-Fi availability, data plan fees, and slow transfer rates which is particularly painful for large files and videos. I am so excited to share the iXpand Flash Drive with you because it is true game changer for me!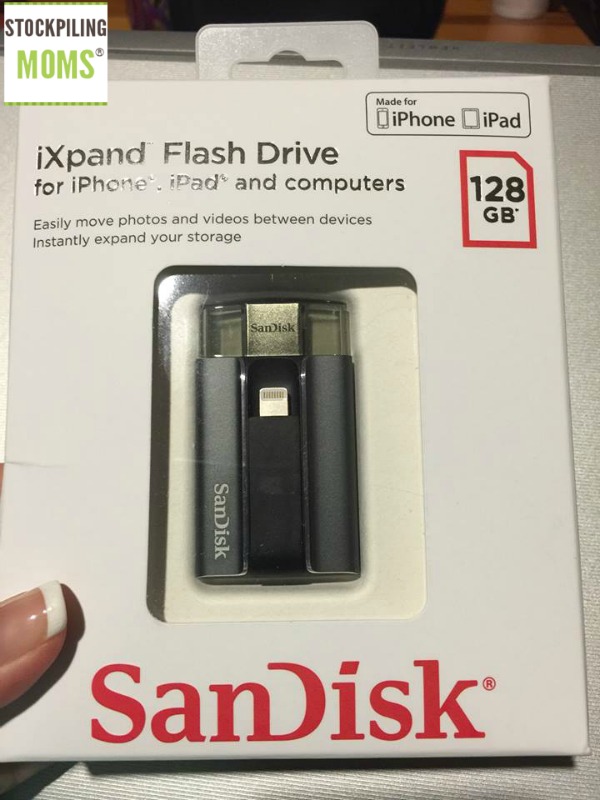 We are so busy as Moms, and we deserve a simpler solution. I was recently introduced to the SanDisk iXpand Flash Drive, and I am so thankful that I was. It is a true game changer for me. iXpand Flash Drive is the easiest way to transfer photos & videos between iPhones, iPads, PCs and Mac computers. You can automatically sync photos and videos from the camera roll when connected and also auto delete the transferred content to free up space.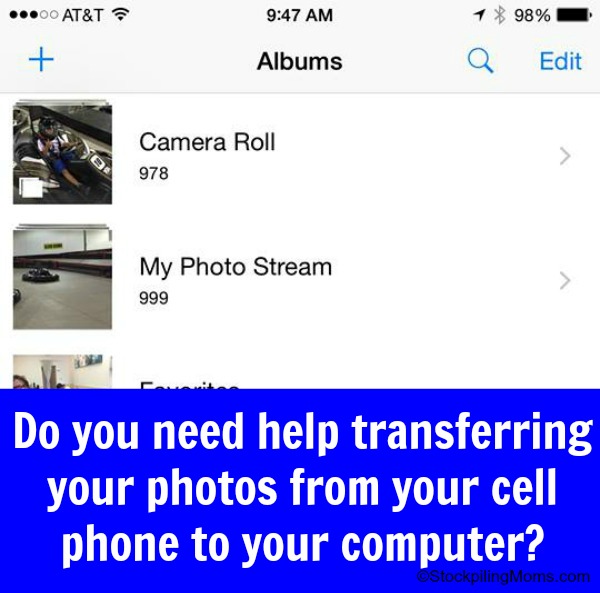 There are so many amazing features:
Automatically sync photos and videos
Free up space for more photos and videos
Watch all popular-format videos
Durable, flexible connector works with most cases
High-speed transfer to and from iPhone and iPad.
Encrypt files across iPhone, iPad and PC or Mac computers.
Pre-charged, ready to use.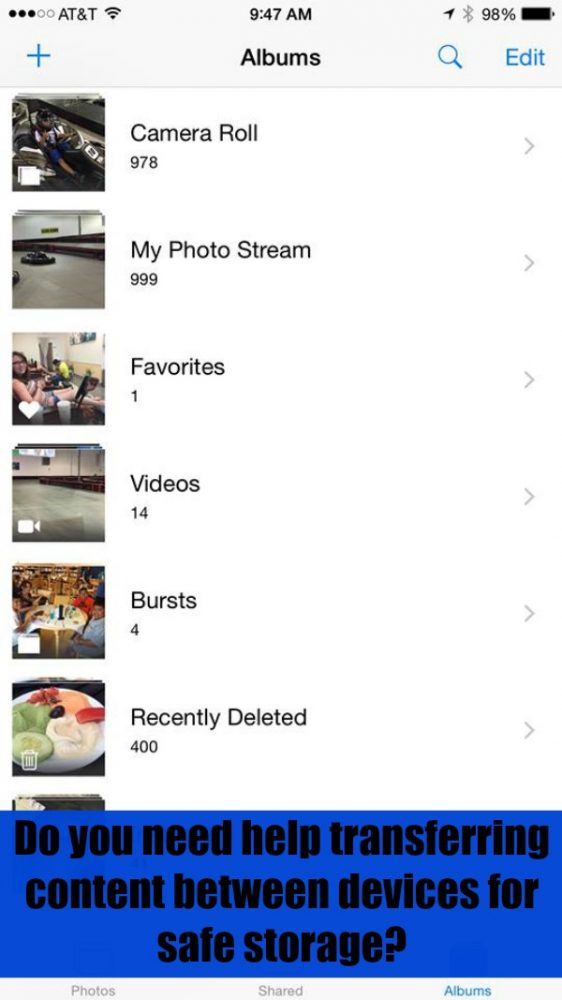 I tested the 128GB SanDisk iXpand Drive that works with both my iPhone and iPad. What I love most is that the iXpand helps me in my everyday life. I easily take 20 or more photos a day of my son and our dogs and that doesn't even include images for the blog! If you are taking photos with your iPhone or iPad you are going to LOVE how easy the iXpand is to transfer, backup or free up memory from your device. It is also the perfect travel accessory! Each evening you can transfer your images to the iXpand so you are sure not to take up all of the memory on your phone while you are on the road. Best of all there is no concern that you will have to delete an image on accident. It is the best way to back up your images. You can automatically sync photos and videos from the camera roll when connected and also auto delete the transferred content to free up space.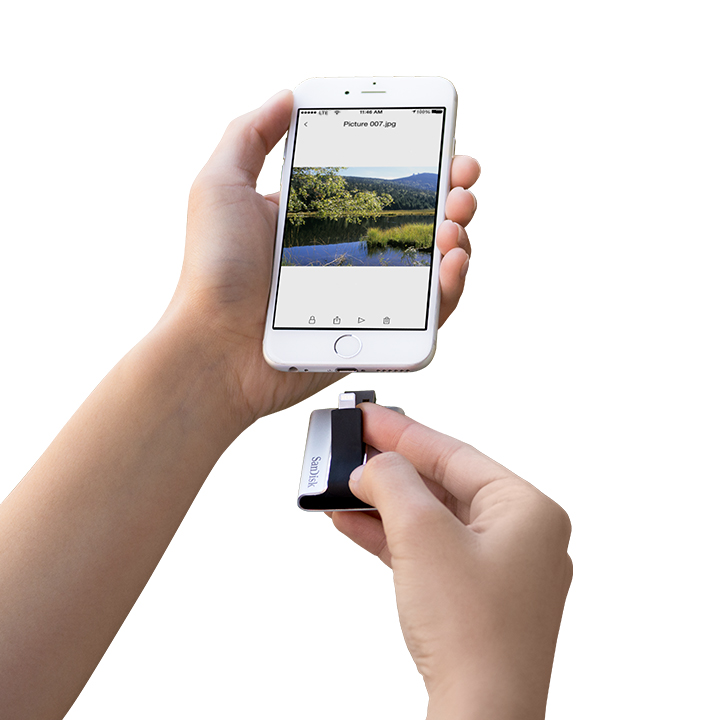 Easily free up space on your iPhone or move files between your iPhone and computer
Easiest way to transfer photos & videos between iPhones, iPads, PCs and Mac computers
Transfer and store iPhone and iPad content without cloud, cables or Internet connections
Quickly free up memory on your iPhone and iPad
Automatically sync photos and videos from the camera roll when connected and option to delete the transferred content
Watch all popular-format movies3 directly from the drive
Contacts backup and restore
Available in 16GB, 32GB, 64GB* and now also at 128GB capacities
Durable design with flexible connector works with all iPhone/iPad cases
The SanDisk iXpand™ Flash Drive is compatible with
iPhone and iPad models with a lightning connector and iOS 7.1 or higher.
PC and Mac computers, Windows XP, Windows 7, Windows 8, Mac OS X v10.5+ – no drivers are needed.
It is so easy to get started! It literally took me less than 5 minutes!
On the iXpand Flash Drive, pull the Lightning connector slightly upward from inside the metal channel
Plug the Lightning connector into your iPhone or iPad
The drive will be automatically detected by your iPhone or iPad.
When connected for the first time, you will be automatically guided to download and install the free app from the App Store.
Once app is downloaded, you can immediately start using the drive to transfer photos and files or watch movies directly from the drive.
Right now you can save $50 when you purchase the SanDisk iXpand 64 GB with this $50 Off Coupon! If you are not ready to purchase, be sure to sign up for the email list to get special offers in the future. This is the perfect gadget for gift giving! I think it would be the ultimate stocking stuffer!
Disclosure: This is a sponsored conversation written by me on behalf of SanDisk. The opinions and text are all mine.
Melissa is a football and soccer mom who has been married to her best friend for 24 years. She loves sharing recipes, travel reviews and tips that focus on helping busy families make memories.