Our Frugal Gingerbread House
Every year we decorate a gingerbread house. It is a family tradition that we started with my son and it is something he REALLY looks forward too. We hope you enjoy our frugal gingerbread house.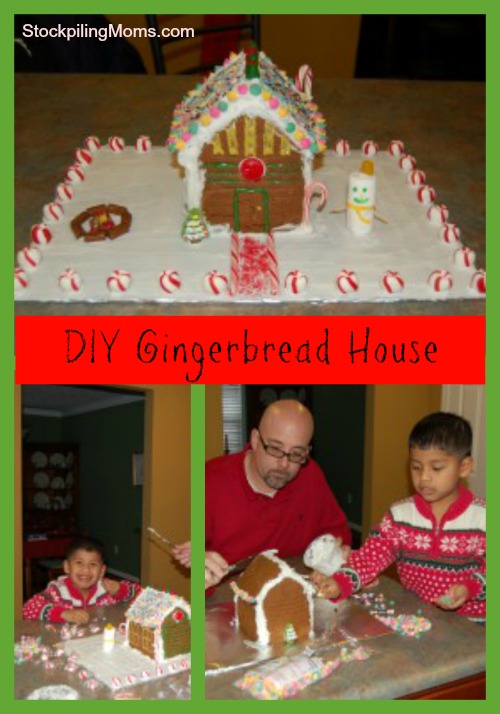 This past weekend we made our gingerbread house. Since we don't "EAT" our house and it is for decoration only it is not something I want to spend much money on. This year I decided to use a Betty Crocker Gingerbread Cookie Mix instead of spending the money on all the ingredients to make my traditional recipe from scratch. It was a huge savings! I was able to pick up the cookies mixes for $1.99 – $.40/1 coupon that doubled to $.80/1 bringing it down to $1.19 per package. I used 2 packages total.
In an effort to save money we saved our Halloween Candy and Christmas Candy from last year. I know that sounds strange but we decided that since we won't be eating the house that using stale candy would not be an issue. This worked out perfect! I was able to get some smooth and melty mints for less than $1.00 after Christmas last year as well as candy canes for nearly free!
I did pick up frosting from our local bakery because we like the consistency ant it is perfect for decorating a gingerbread house with or you can make your own with this recipe – Homemade Whipped Cream Cheese Icing. Our total out of pocket expense for our house was less than $8.00. Years ago I purchased Longaberger gingerbread house molds to use in my classroom and now we are using them each year for our family! This is a family tradition that we all love. It is something that I plan to pass onto Peyton's children one day too.
This is a very frugal Christmas project and a family tradition and we all enjoy! If you have never tried decorating gingerbread houses because you think it is too much work you should reconsider. This is Peyton's favorite family project during the holidays.
Gingerbread House:
Gingerbread House Decorating Party
Our Frugal Gingerbread House 2013
Our Frugal Gingerbread House 2012
Our Frugal Gingerbread House 2011
How To Create Meaningful Christmas Traditions
CHRISTMAS RECIPES:
2 Ingredient Slow Cooker Turkey Breast
How to cook a Ham in your Slow Cooker
Gluten Free Green Bean Casserole
Easy Italian Chicken Dinner Meal
Melissa is a football and soccer mom who has been married to her best friend for 24 years. She loves sharing recipes, travel reviews and tips that focus on helping busy families make memories.