Stores That Price Match for the Holidays
If you haven't already started your Holiday shopping, the time is soon approaching. To help you get started this year and save the most money, I am sharing a list of stores that Price Match for the Holidays. This list is for the 2019 Christmas season, so if seeing this at a later date, please verify prior to heading out to shop.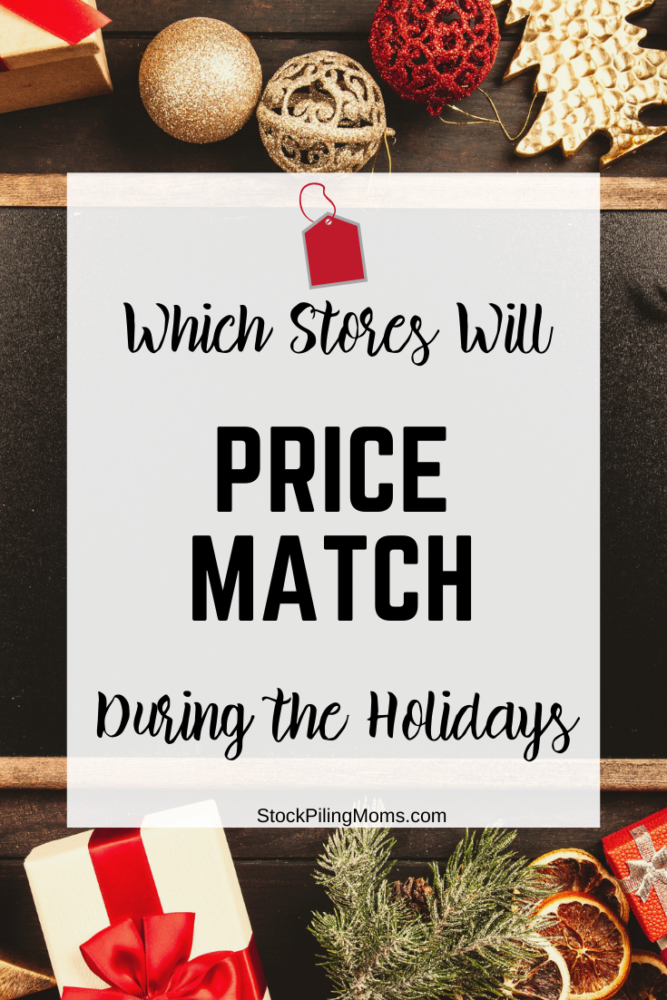 Stores That Price Match for the Holidays
If you are anything like me you want to get the best deal on the items you are buying (I mean really why pay more?). Hours can be spent researching and comparing trying to find the best price so you purchase the item. Once you find a price you are happy with you purchase it. Next thing you know, you see a lower price advertised for somewhere you probably didn't look. Instead of going to several places or driving further for a specific store, take advantage of stores that will price match.
What is Price Matching?
When a store price matches it means that they are willing to lower the price of their product or item to match or beat a competitor's price.
Types of Price Matching
There are a couple different ways that a store may offer a price match. They can do an instant price match or they can give a refund by doing a post-purchase price match. Some stores offer both and others will only offer the instant price match. There are a very select few who will only offer post-purchase price matching. Be sure to know the store's price matching policy before you go.
Instant Price Match
This type of price match happens right in the store at the time of purchasing the item.
Post Purchase Price Match
When a store offers a post-purchase price match they are offering to give you a partial refund based on a sale that happens within a set window of days after the purchase.
Which Stores Offer Price Matching?
This list isn't a complete list but are some of the bigger chains that allow price matching. By clicking the store's name it will take you to their price matching policy so you can be completely informed this Holiday shopping season.
The Catch When Price Matching
Usually, there isn't a catch but, during the Holiday season retailers change their price matching policy for items bought on Black Friday and Cyber Monday (some even extend this into the beginning of December). For many stores this also means that you cannot buy an item before Black Friday or Cyber Monday and expect to use their post purchase price matching service.
General Rules of Price Matching
The items must be identical. This means that the model number and manufacturer need to be the same. Some stores even require that the colors are the same.

Bundled deals don't qualify.

'Deal of the Day' prices such as those found on Amazon and Best Buy are usually not honored.

Items need to be in stock at the competitor's store as well as your current store.

Rain checks aren't given out.
Credit Cards
Stores aren't the only way to use the price matching feature. Many credit cards are now offering a 'price protection' program.
How Does This Work?
You do your typical Holiday shopping and put everything on your credit card. If a lower price is found the credit card company will issue you a refund if the price drops within a set time frame. Some credit card companies require you to submit the price difference and others will monitor for you.
The Perks of Using the Credit Card
Unlike many stores, the credit card companies will price match Black Friday and Cyber Monday deals.
The Downside of Using the Credit Card
There are only certain items that qualify for this automatic price protection. Each credit card company sets their own lists of accepted items. Many also place caps per item and per account.
Another big issue is the ease of charging things. If you choose to use the credit cards price matching services then be sure that you can spend wisely.
Which Credit Cards Offer This?
Discover

Citi

Chase

Mastercard
While they are a few extra hoops to jump through during the Holiday season you can still manage to use the price matching in your favor. Check your local stores' policies before you head out to do your shopping. The more prepared you are the better your experience will be.
More Holiday Shopping Tips
Melissa is a football and soccer mom who has been married to her best friend for 24 years. She loves sharing recipes, travel reviews and tips that focus on helping busy families make memories.