How to rid your garden from bunnies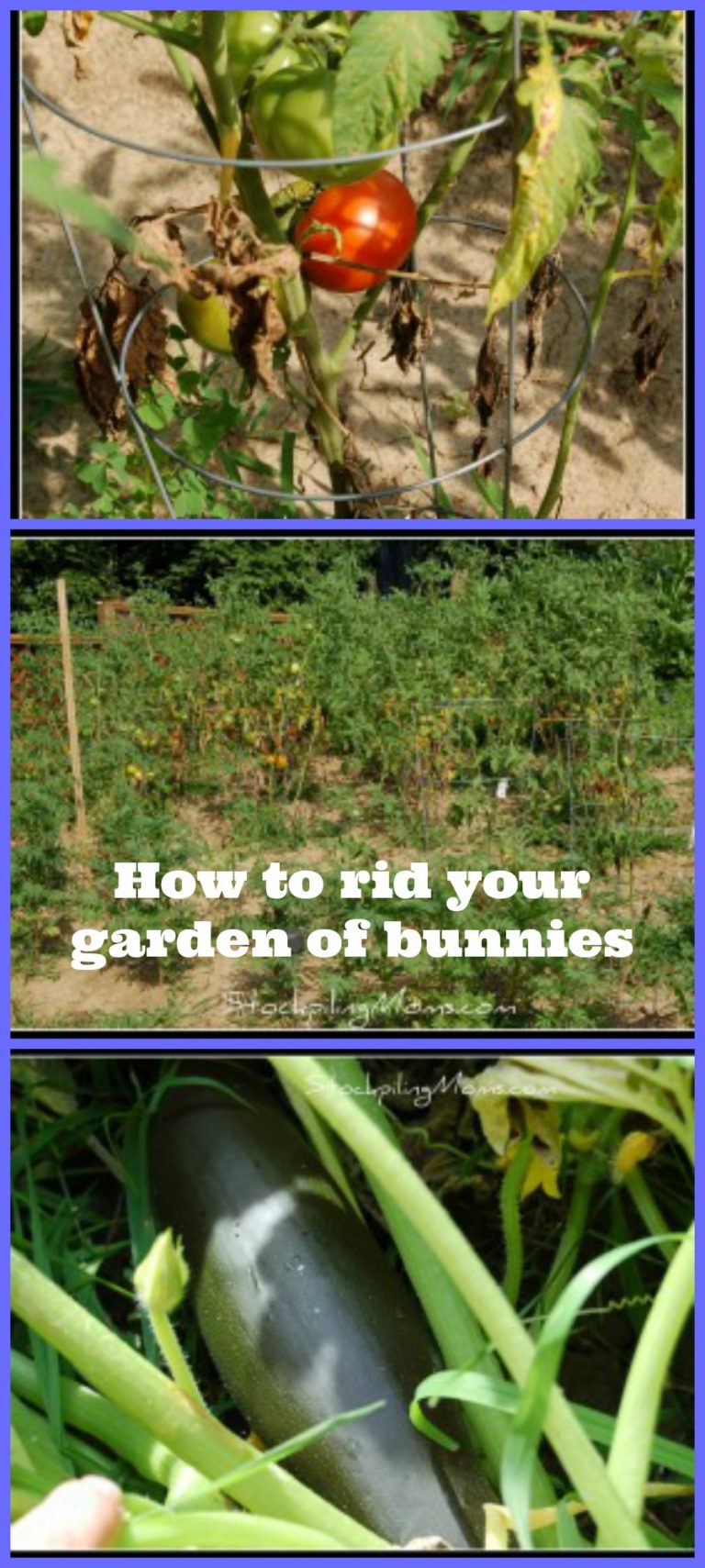 How to rid your garden from bunnies. This summer has been so much fun with our garden. We have been watching it grow, watering it when needed, and organically trying to keep the pests away.
We have had so many tomatoes, zucchini and cucumbers! I made homemade marinara, fried zucchini, grilled zucchini and tonight I am planning to make our favorite, zucchini pie!
So far, we have not eaten any corn (as the birds have gotten to it before it was ready) but we have about 10-12 ears on. Something or should I say Some-Bunny damaged my squash…We have tons more tomatoes, zucchini and cucumbers on the vines, and we still have to harvest our potatoes too!
How to rid your garden from bunnies
In regard to the bunnies, I did a little research and I am going to try this tonight:
Gather the following:
A good quality spray bottle (because you will be spraying a quart of liquid each evening, you'll want to invest in a commercial spray bottle from the hardware store. They cost around $4 dollars.)
A large bottle of Tabasco sauce from the grocery store (it doesn't have to be an expensive brand name, but buy the hottest, cheapest Tabasco you can find!)
An empty gallon water or milk container.
Mix 1 Tablespoon of Tabasco in one gallon of water and shake well.
This will give you 4 quarts of what I call 'Bad Bunny' spray. In fact, label your gallon of mixed solution clearly so no one gets a surprise – this stuff is HOT, even at a Tablespoon per gallon dilution!
Spray in early evening before the rabbits arrive to feed.
Spray the entire grass area around your garden, especially any area where you've seen them enter your garden area (they tend to be creatures of habit. If you let the grass grow a little higher, they'll stop and feed before entering your garden.
Bunnies do NOT like the taste of hot pepper on their breakfast! They run away from the area, and if you spray over several evenings (especially important if rain or dew has washed away the spray) you will discourage them from returning.
Do you have bunny problems? I would love to know what you are doing organically/naturally to rid your garden of pests!
Other ideas you may like:
Why buy canned tomatoes when you can can them yourself?
Mini-Greenhouse – Made with Eggland's Best Carton
Tips for keeping out the pests
How to build an outdoor compost bin
Garden Update :: How to get "rid" of the bunnies
Planting a Moonflower = Hours of Frugal Family Fun
Gardening Tips :: A Frugal Alternative
Do you love the Farmer's Market?
Tips for success with Raspberries, Blackberries and Currants
Melissa is a football and soccer mom who has been married to her best friend for 24 years. She loves sharing recipes, travel reviews and tips that focus on helping busy families make memories.