Mother's Day Wish List from Sears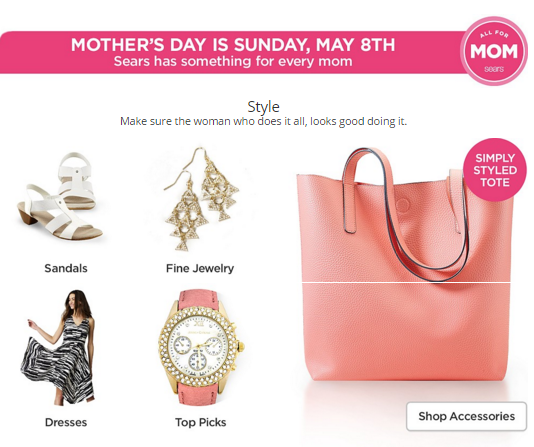 Check out our Mother's Day Wish List from Sears. Mother's Day is this Sunday! I repeat Mother's Day is this Sunday! Don't wait too long to shop because Mom deserves to be celebrated. In fact, Mother's Day is one of my favorite days of the year! It is a time to celebrate ME! 🙂 This is holiday that my boys go all out for! They pamper and spoil me all day long. They do this because they know how hard I work for them all year long, so it is the day that they like to make sure I am appreciated.
Mother's Day Wish List from Sears:
This past weekend we spent the entire weekend driving back and forth to a soccer tournament. One of the dads mentioned that we have a game next Sunday (on Mother's Day) and when I casually mentioned it was Mother's Day you could see the look of shock on many of the dad's faces. So they all have ONE WEEK to get it together! They could easily do all their shopping at Sears and utilize the free in-vehicle pick up service too!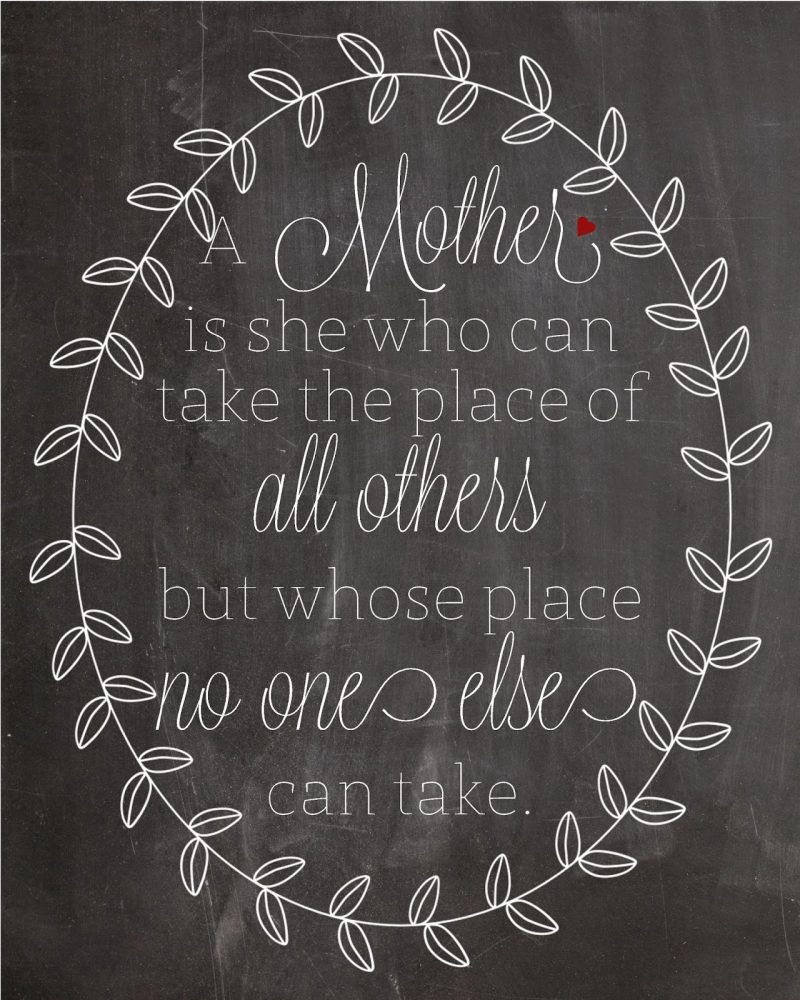 The reality is that some Moms may not get all of the "right gifts" or what they are dreaming of from their families so there is no shame in dreaming about what you really want on this special day – or if you are like me, treating yourself (or another Mom in your life) to what you want.
This year Mother's Day is early so we don't have to have any disappointed Moms out there! There are great Mothers Day gifts that families can find at Sears for the moms in their life, even at the last minute. Find a great gift for your wife or Mom at www.sears.com/allformom. As a bonus, shoppers that use Sears In-Vehicle Pickup for their online purchases between Tuesday, May 3 and Saturday, May 7 are automatically entered for a chance to win a $5,000 Sears gift card! Alternatively, you can also click on and enter the Shop Your Way All For Mom Sweepstakes at www.sears.com/allformom. In fact I did some Mothers Day shopping for myself and this is what I purchased.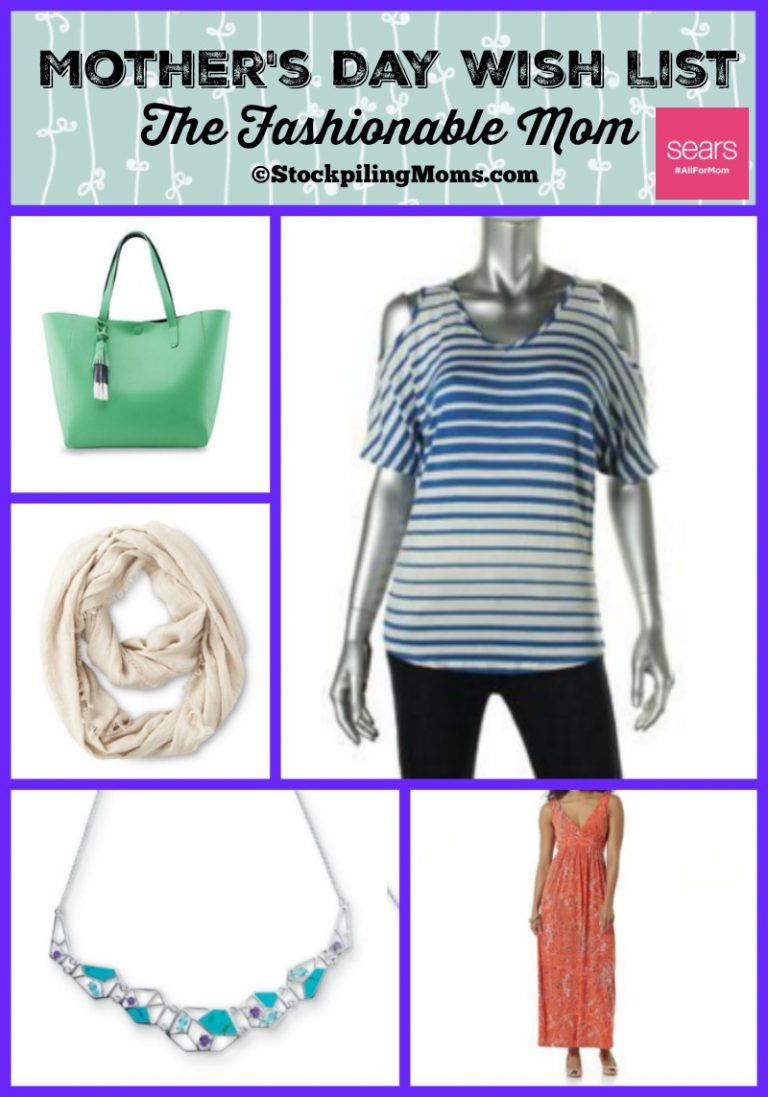 Mother's Day Wish List:
1. New Purse – I am in love with this affordable reversable purse!
2. New Shirt – These open shoulder shirts are popular this season and I like the wide shoulder on this one.
3. New Dress – Maxi Dresses are perfect for summer! This is a pretty floral style that is trendy this season.
4. New Statement Necklace – You can not go wrong with a nice statement necklace for Mom. This is my favorite of course in silver, turquoise and purple!
5. New Scarf – I love infinity scarves. In fact you can pair them with a long necklace and layer the effect for a trendy look that is in style this season.
As you can see I am definitely a fashionable Mom based on my wish list.
Below are some category options to choose from based on your Moms personality:
The Fashionable Mom: apparel, footwear, accessories, beauty and fragrances
The Outdoor Mom: patio decor & furniture, lawn & garden equipment, bikes, swimwear, sandals, luggage, digital cameras and camping gear
The Fitness-Focused Mom: activewear, fit bit, fitness equipment, headphones, juicer/small kitchen appliances
Master Chef Mom: Kenmore appliances, cookware, plate ware, cutlery
The Techie Mom: smart technology, tablets, cameras, TV's
To make your shopping experience more convenient, simply use Sears' In-Vehicle Pickup service.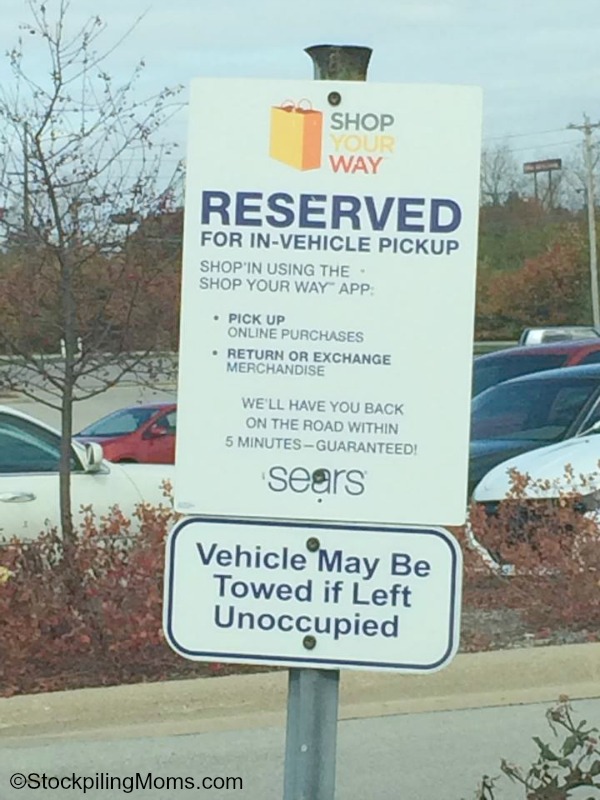 SEARS IN-VEHICLE PICKUP SHOPPING SERVICE:
A service which helps me save time is using the In-Vehicle Pickup shopping service. This free service is available on the Sears app and lets members pick up, return or exchange their purchases in under five minutes guaranteed without ever leaving their car. Sears In-Vehicle Pickup service allows shoppers who use the Sears app to pull into a designated parking spot, while a Sears associate delivers and loads their online purchases into their car in five minutes or less, with no additional cost!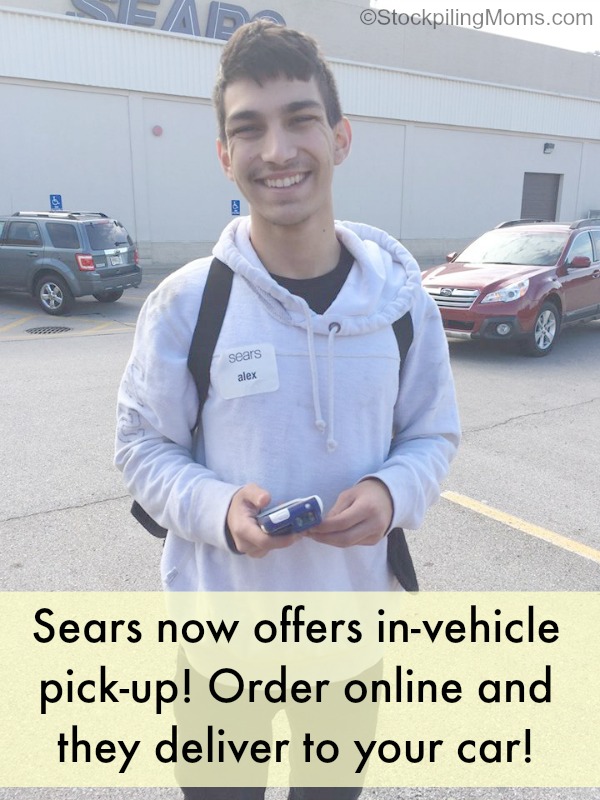 In-Vehicle Pickup is one of the several shopping conveniences offered by Sears in an attempt to make shopping as convenient as possible. There is no need to unpack the kids or spend the same amount of time walking to and from your car in a packed parking lot. This is a winner! I multi-task by using the app while I am waiting for Peyton at soccer practice and then I use the in-vehicle pickup and in less than 5 minutes I have the item I ordered and I am on my way. This gives me more time to get my errands run and time for ME.
Sears is giving away an amazing $5,000 gift card to one lucky shopper who uses the In-Vehicle pickup service 5/3-5/7! I hope it is YOU! This is a great incentive to treat yourself this Mother's Day or shop for your Mom at Sears using In-Vehicle Pickup to make their shopping easy and convenient. Shoppers can also register online.
Disclosure: This is a sponsored post however all opinions are 100% my own.
Melissa is a football and soccer mom who has been married to her best friend for 24 years. She loves sharing recipes, travel reviews and tips that focus on helping busy families make memories.