Check out this recipe for Lemon Vinegar Cleaner. I love the effectiveness of cleaning with vinegar and that it is a natural cleaner. My husband is not a huge fan of the smell of vinegar so when Stephanie posted the idea to steep orange peels in vinegar to make it smell better — I couldn't resist trying it too.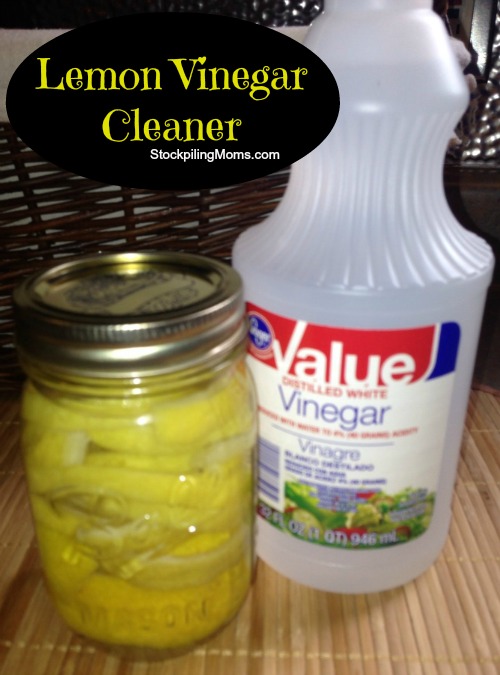 After trying the Grapefruit Vinegar Cleaner I thought why not try lemon.
It is our personal favorite. I can spray areas and know that it is not harmful to my children. I clean the bathrooms, doorknobs and kitchen counters. There is always a bottle under my sink with vinegar in it. After two weeks of steeping the peels in the vinegar, the lemon peels did work. It turned the vinegar into a sweet smelling cleaner.
Lemon Vinegar Cleaner:
1, 16-ounce canning jar
2 lemons, peels only
vinegar to cover
Put the lemon peels inside the jar. Pour vinegar in the jar to cover the peels and put the lid on tightly. Store in the pantry for two weeks, then transfer the vinegar to a spray bottle and use for all your cleaning purposes!
Be sure to check out these other Frugal posts:
Going Green Saves You Green
How to make your own laundry detergent
How to make your own dryer sheets
Reusing Fabric Softener Sheets
Orange Vinegar Cleaner
Grapefruit Vinegar Cleaner
Melissa is a football and soccer mom who has been married to her best friend for 24 years. She loves sharing recipes, travel reviews and tips that focus on helping busy families make memories.