How to Plan a Super Bowl Party
How to Plan a Super Bowl Party. We're just days away from the Super Bowl! With all of the enthusiasm and media hype about the game your kids are bound to have caught some of the excitement; how about hosting a Super Bowl party?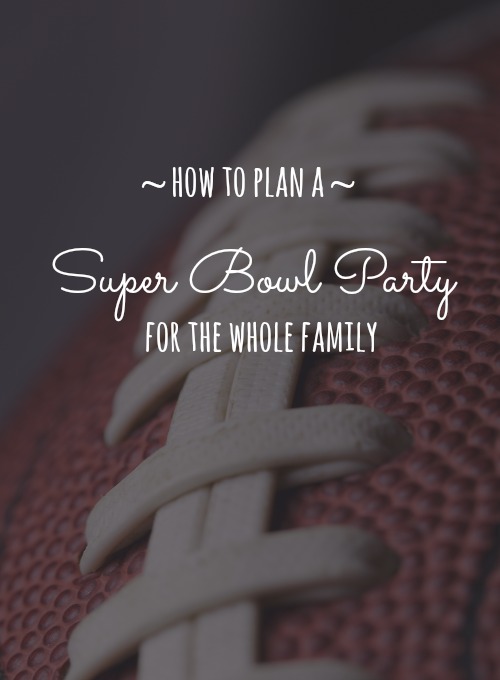 You still have time to pull decorations and game party treats together. Whether you opt for an adult and kid version under the same roof (but mainly in different rooms) or simply have some fun planned for the kids, a Super Bowl party is a super idea!
Getting your Super Bowl Party Ready
Once you've extended invitations to guests, you have four party components to consider: decorations; food; activities; and favors.
Decorations for a Super Bowl party are fairly straightforward: include anything that has to do with football! You might include colorful pennants, megaphones, cheerleader poms, footballs, helmets, trophies or these free super bowl party printable. Now that we know the teams for this year's game you can include their colors (orange, blue, white) and mascots, too (either Thunder or Miles the Bronco and Blitz the Seahawk). Black and white referee stripes add dimension too. It's a great idea for the party atmosphere to entice your guests as soon as they approach your house so use football paraphernalia at the entrance, too.
Super Bowl Party Food Ideas
There are so many food options for a game day party—more than I can list here—but a general rule is to make the food kid-friendly (nothing too exotic!) and easy to eat. Handheld food is popular with the younger set. A casual buffet is a great idea, and it allows the kids to choose what they'll enjoy. Extra kudos for you when you include football shaped treats like brownie footballs, football pie pops or jersey shaped cookies. We love this Peanut Butter Chocolate Chip Cheese Ball or this Best Ever Cheese Ball shaped it footballs here at Stockpiling Moms!
Super Bowl Party Activities
A terrific ice breaker to start the party is a photo booth. Have some fun props ready (shoulder pads, ref whistle, game face masks, cheerleader poms, helmets, etc.) and let the kids take turns posing as the "characters". This will also give you a great visual reminder of the party to send home with them.
Most kids will tire of the actual football game just a few minutes into it so although it might be on the big screen in the background, be sure to have several other activities ready. A few suggestions that can be made age appropriate include:
Football word scrambles, board games or puzzles
Games such as pin the football on the goalpost, football (bean bag) toss or football (balloon) relays
Craft stations with all things football, including football and helmet lace-up projects; coloring pages of team jerseys, etc.; making cheerleader poms; noise makers
Compose silly cheers for the teams
Make up products and "produce" commercials for between the games that are played
At the end of the party, send the kids home with some tangible reminder of the fun they had at your house. Specially shaped cookies are always popular, but you can also include a mini goalpost and football game, a Nerf style football, or other football themed paraphernalia. Of course, craft projects you've worked on during the party can also be part of the take home fun.
For more specifics and visual inspiration, check out the Super Bowl and football party posts on my blog, Spaceships and Laser Beams. We have tons of ideas!
Even though kids might not have the attention span to watch an entire Super Bowl game, with a bit of planning they can sure enjoy a super Super Bowl party!
This post was written by Stephanie Keeping is mom to a boy named Sam, a blogger, and an Etsy-preneur. She celebrates boyish charm at Spaceships and Laser Beams, where she talks about all thing's boy and birthday party.
Super Bowl Party Ideas:
Peanut Butter Chocolate Chip Football Cheeseball
Stockpiling Moms can be found in all your favorite places. Hop on over to Instagram and follow the fun. We love posting memes, family fun, travel, and whatever we are feeling that day. Pinterest is also an amazing place to visit Stockpiling Moms. This is where you can pin all your favorite articles from our Food, Travel & Lifestyle Blog.
Melissa is a football and soccer mom who has been married to her best friend for 24 years. She loves sharing recipes, travel reviews and tips that focus on helping busy families make memories.