Angry Birds Birthday Party Ideas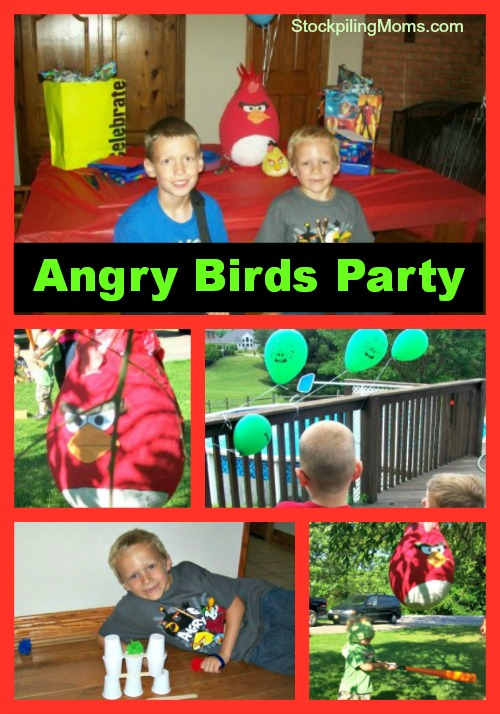 I am so excited to share this Angry Birds Birthday Party Ideas with you! Honestly, I like playing Angry Birds, so I wasn't surprised when my two oldest boys, about to celebrate their 8th and 10th birthday wanted an Angry Birds theme for their birthday. However, I was a little concerned. I try to plan parties with themes that are more general because the supplies are usually less expensive and I can be more creative with the items I already have in my BIRTHDAY BOX, a box where I store clearance and seasonal items that I plan to use for parties.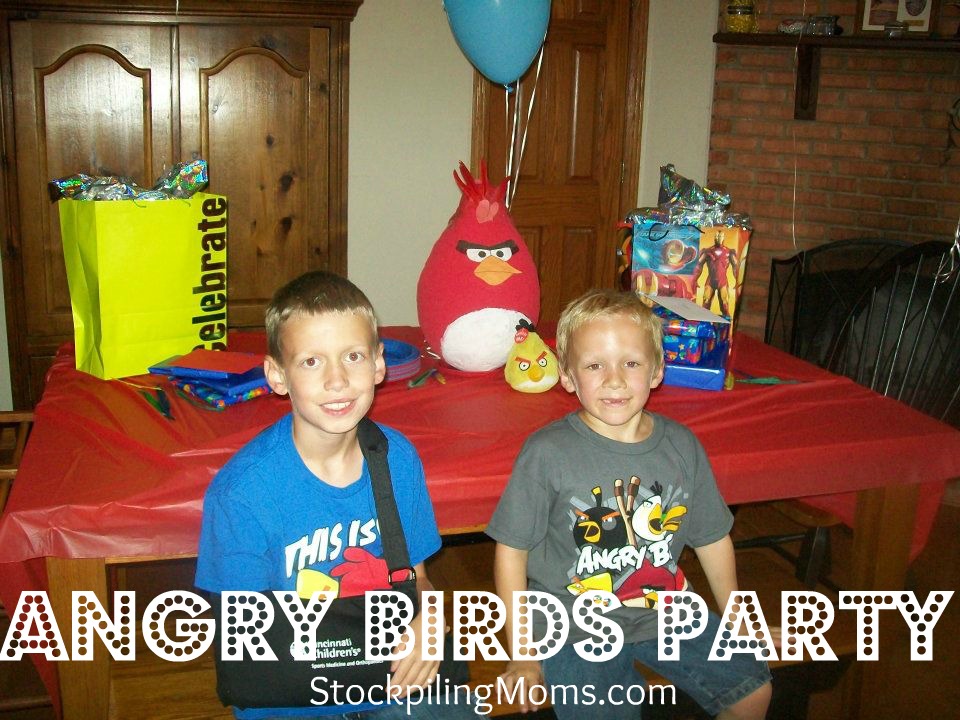 Angry Birds Birthday Party Ideas:
When I started planning the boys' Angry Birds party, I first looked around out house to find anything that I could use for decorations or supplies. Once I used to dump trucks, washed out well, to hold chips and silver wear for my son's construction party. I was able to use plush Angry Birds and craft feathers from my craft box to decorate the table and added solid color the plates, cups and a tablecloth from the Birthday Box.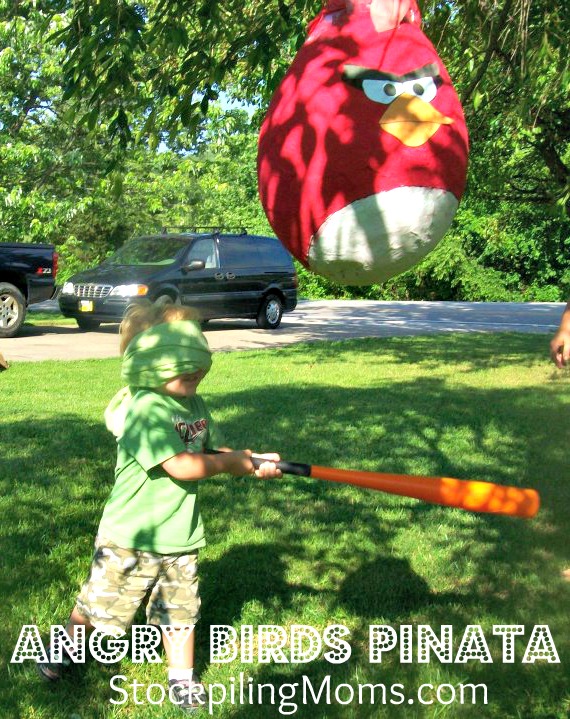 At the center of the table was my homemade pinata shaped and painted like a red Angry Bird. A homemade pinata is fun and easy to make and can be made into almost anything. We have made them look like alien faces, pumpkins, and planet earth just to name a few. Ready to make a homemade pinata. Here's what you will need….Equal parts flour and water, recycled newspaper torn into strips, and a balloon. Blow up your balloon to the size you need for your pinata.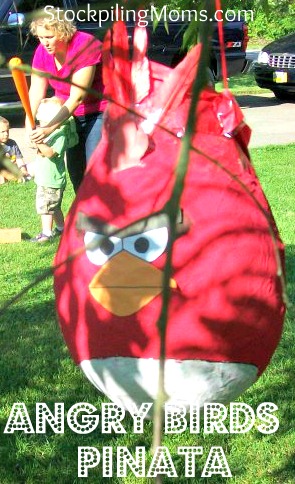 Now dip the strips of newspaper into the flour and water mixture and lay in on the balloon. You continue to do this until you have covered the whole balloon. After letting the flour and water dry, I do two more layers for strength, my boys are baseball players and know how to swing a bat. Now just pop the balloon and remove through the hole at the top and you're ready to decorate. Fill your finished pinata with small toys and candy from your birthday box.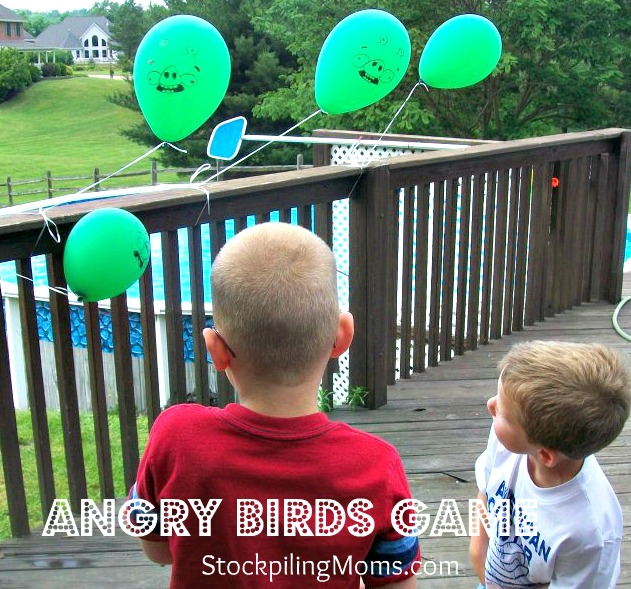 Another part of birthday parties that is always fun is the games. At our Angry Birds birthday party we played several games that brought the computer game to life. First we played knock down the pigs by throwing beanbags at green helium balloons with pig faces drawn on. Next we used some very simple items to make our own Angry Birds game that each guest took home with them. We used small cups, thick craft sticks, and yarn to make Angry Birds, Pigs and their towers.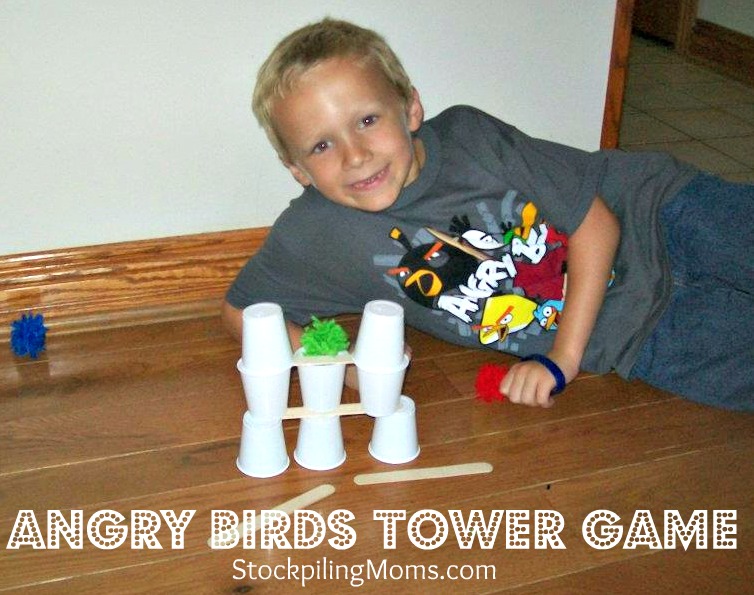 The children were so creative with their structures and knocked them down over and over again. Next we played hot potato with a plush Angry Bird. I know this sounds silly but this game is great, and everyone, even the adults join in the fun for this game. Lastly, we took turns swinging away at our Angry Birds pinata.
I hope this helps if you have someone in your house who wants a Happy Birthday with Angry Birds.
Party Theme Ideas:
How to plan a Lego Party Part 1 and How to plan a Lego Party Part 2
DIY Equestrian Ribbon Invitation – Derby Party
How to plan a birthday party on a budget
How to plan an owl Pajama Party
How to plan the perfect sleepover
Summer party planning ideas for kids
Mardi Gras Party Planning Ideas
Melissa is a football and soccer mom who has been married to her best friend for 24 years. She loves sharing recipes, travel reviews and tips that focus on helping busy families make memories.