How to Know What to Prep for Emergencies
How to Know What to Prep for Emergencies. If a disaster were to come out of nowhere and wind up demolishing your entire community, would you have the appropriate supplies and rations for your family to survive for several days? If not, then it's time that you know what items you will need for those emergencies. Here is a look at what to prep for emergencies in order to create your very own disaster kit.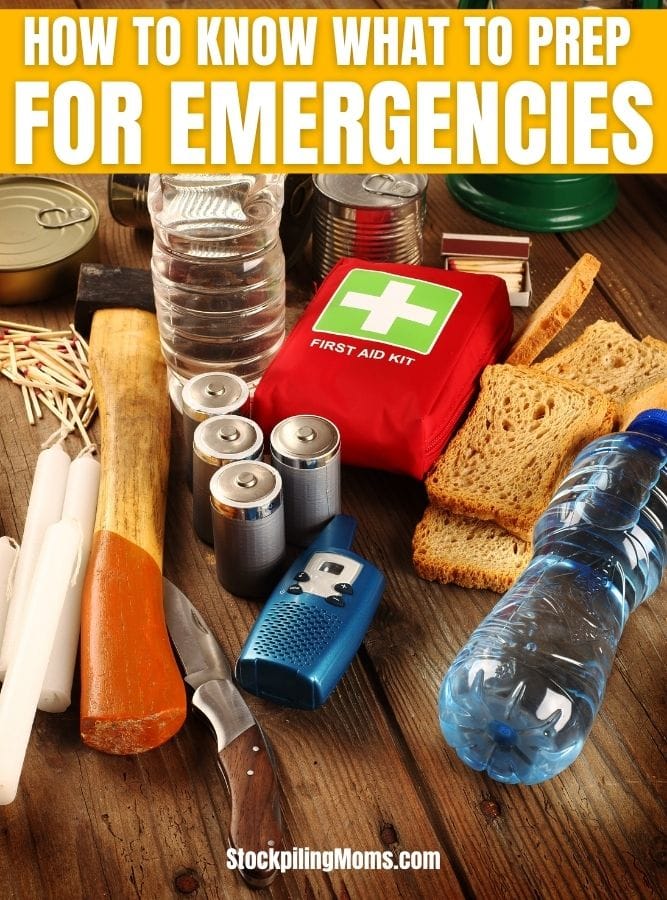 How to Know What to Prep for Emergencies
Remember that this list of tips will depend upon the size of your family and your own location. This is a generic list that can be adjusted to suit your personal and family needs. Make sure to think outside the box and add more to this list to personalize it for your family and circumstances.
Food & Plenty of It
You're going to need to establish a food pantry somewhere in your home that can feed everyone in your family for a minimum of 3 days.
Consider gathering non-perishable food items such as canned meats, veggies, and fruits, as well as rice, that can last for a long period of time.

Protein bars and beef sticks are also good little snacks to have that can provide you with energy.

For those of you who have kids, think about also having a few comfort foods along with some of their favorite snacks to keep their minds off of the situation.
Don't Forget Drinking Water
Drinking water is another essential that you'll certainly be needing. Chances are pretty good that your tap water may no longer be running, or it may even be contaminated following a disaster, so you'll need another way to get your water.
Again, you're going to need at least a 3 day supply of drinking water for everyone in your family. On average, this equates to one gallon of water per person, per day, that will take care of your drinking and sanitation purposes. So, if you're a family of 4, you're going to need a minimum of 12 gallons of drinking water.

While you can buy several cases of bottled water, you can also purchase gallons of water at the store to hold you over.

If you're forced to evacuate your home in a hurry, you may not have enough time to gather everything. For that, you'll need a few portable water filters that can be used directly from any water source.
First Aid Kit
A first aid kit is a must following an emergency. That way you're able to bandage up any wounds or deal with any medical issues that pop up! Here is a list to get you started on what you may want to put in your first aid kit.
Bandages

Gloves

Eye protection

Gauze

Gauze pads

Antibacterial cream

Pocket mask

Suture kit
Can Opener
A manual can opener will be useful for all those cans of food that you've stored for situations such as this. This is one of those items that you won't think is absolutely needed until you sit down to open a can!
Wrench and Pliers
You may face an emergency situation where you need to turn off all your utilities before you evacuate your home. Be sure to have a wrench and pliers handy to handle the job.
Entertainment
When your kids are left with nothing to do, they'll end up antsy and then drive you crazy. Make sure that you have board games, puzzles, coloring books, playing cards, and other fun entertainment to keep them preoccupied.
Important Documents and Information
Get yourself a waterproof safe or container that can hold all of your family's information along with important documents that you don't want to be damaged or missing. This includes birth certificates, marriage certificates, insurance policies, identification, and so on. Keep them all close by your emergency kit for convenience.
Of course, this isn't everything you need to prep for an emergency, but it's a good start. What do you like to prep for emergencies? Leave a comment below to let me know!
More Tips for Emergencies:
Stockpiling Moms can be found in all your favorite places. Hop on over to Instagram and follow the fun. We love posting memes, family fun, travel, and whatever we are feeling that day. Pinterest is also an amazing place to visit Stockpiling Moms. This is where you can pin all your favorite articles from our Food, Travel & Lifestyle Blog.
Melissa is a football and soccer mom who has been married to her best friend for 24 years. She loves sharing recipes, travel reviews and tips that focus on helping busy families make memories.