How To Keep Education Focus with Fall Sports Schedules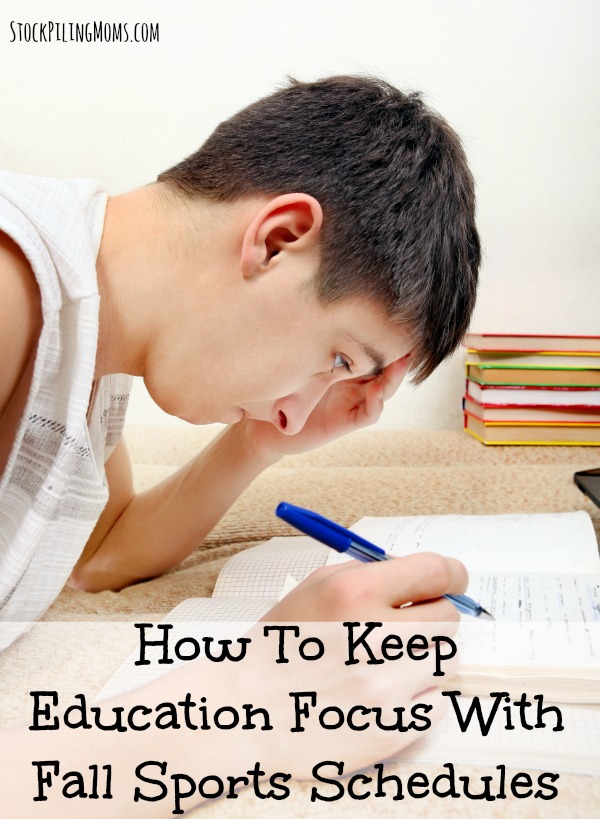 With the return of fall sports schedules, many kids will struggle to keep up with all of their obligations and schoolwork. With a little prep work and organization, you can easily help your kids learn How to Keep Education Focus with Fall Sports Schedules. While it can be tough, you don't want to deny them the chance to bond with their teammates and enjoy the thrill of winning their first game.
HOW TO KEEP EDUCATION FOCUS WITH FALL SPORTS SCHEDULES
Create A Homework Station: We did a great post when school started about fun ideas for homework stations. These not only help your kids to stay focused and keep organized, but they will keep you in the know too. Using bins, folders and specific areas for homework and assignments will keep everyone from being distracted, thus making better use of their time.
Don't Overbook: That can mean fewer friends over on the weekends, or even dropping another extracurricular activity. Think through any obligations you have made and realize they may cause issues for your kids. Work to keep their schedules to a minimum so all academics are completed too.
Don't Put Things Off: Many times, kids will receive assignments several weeks or days in advance. Encourage them to always work as soon as possible instead of leaving things to the last minute. Often waiting until there is minimal time left creates not only undue stress on everyone, but poorly done work.
Turn Off Electronics: TV time, video games, cell phones and even computers an all be distractions to kids in their free time. Set standards that homework will be completed before any electronics use is allowed. Make exceptions for necessary research, typing or similar.
The main thing to remember when trying to keep education focus with fall sports schedules is to plan accordingly. Keep your family on a schedule and routine. Don't expect kids to remind themselves to do homework. You, as the parent need to hold them accountable. Yes, even the teenagers need accountability and reminders. If those fail, it will be their own fault they lose the chance to play on the team. Keep your family focus and work along with them to make sure their education is always the most important thing.
Sports Ideas:
Check out these Game Day DIY Projects:
Melissa is a football and soccer mom who has been married to her best friend for 24 years. She loves sharing recipes, travel reviews and tips that focus on helping busy families make memories.