Holiday Gift Guide for Kids 2017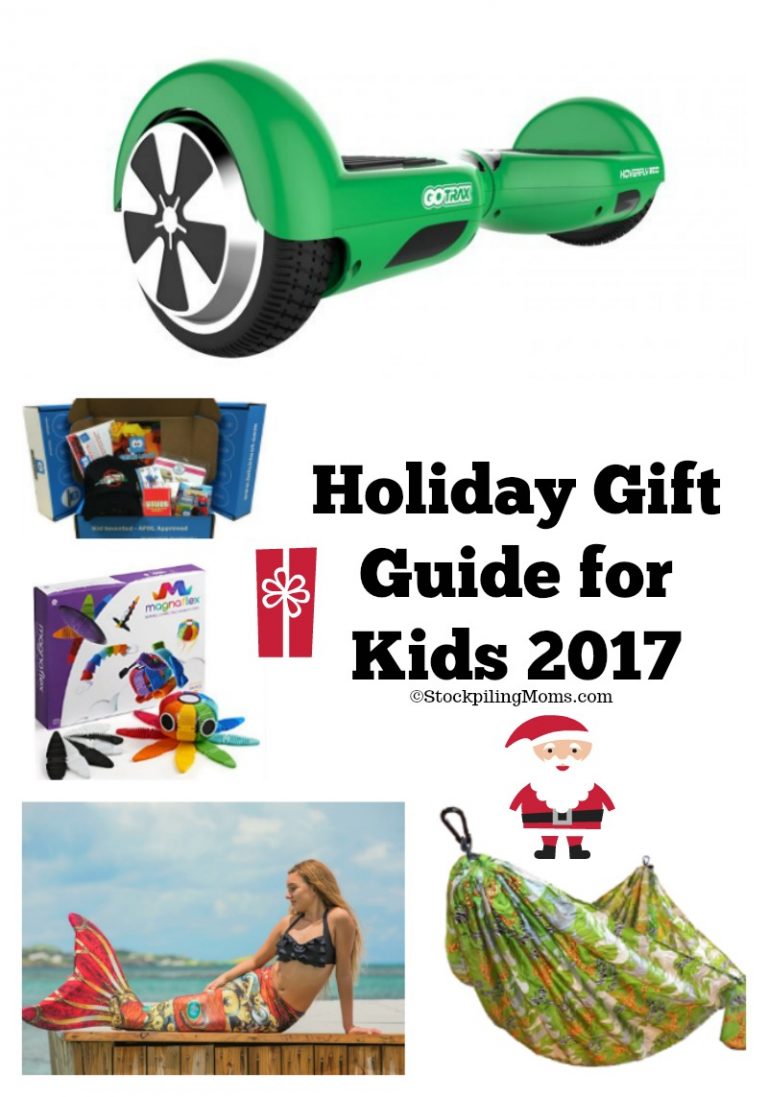 Check out our Holiday Gift Guide for Kids 2017. Christmas is right around the corner and if you are having a difficult time coming up with creative Christmas Gift Ideas for the Kids on your list we are here to help you! We are sharing our annual Holiday Gift Guide For Kids. There is nothing worse than striking out when it comes to gift giving. Don't find yourself out wandering around on Christmas Eve shopping for a last minute gift. Don't go for the same old same old. Take a few minutes to shop throughout the season and it will keep you stress free and able to enjoy the holiday. We have a list of kid approved gift ideas.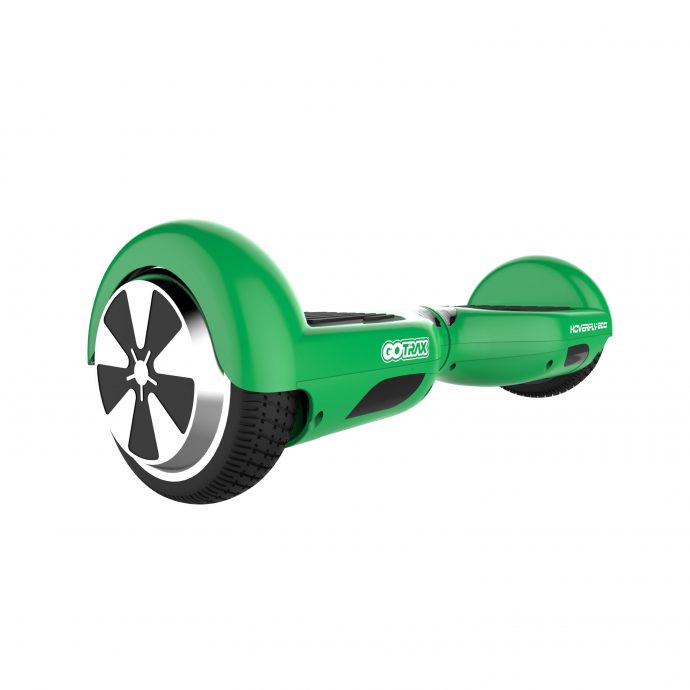 GOTRAX Hoverboard – Seriously what kid wouldn't be happy to find this under the tree on Christmas morning! Our kids have been begging for a hoverboard! However our big concern was they are so expensive. The HOVERFLY ECO is the most affordable hoverboard yet! Available in alien green, mars red, nebula black, neptune blue and pulsar pink. This is the perfect board for the kids on your shopping list this year for Christmas! Right now it is on sale for only $147 and offers free shipping! That is an unbelievable price! They offer a 30 day no hassle return policy and this brand is guaranteed for 90 days!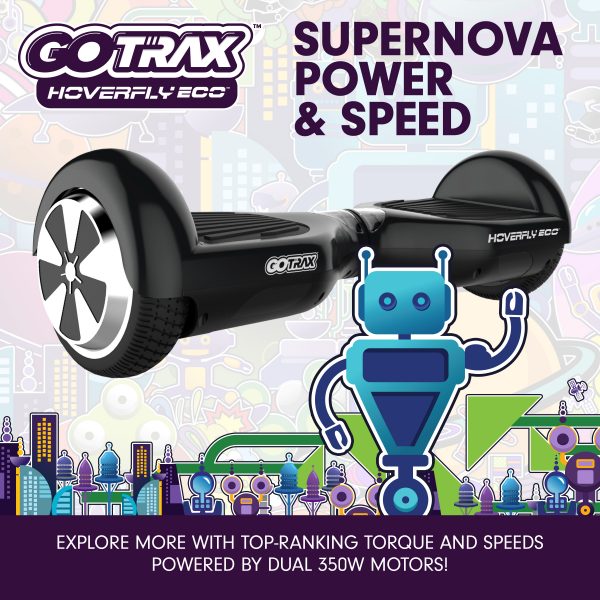 Your kids will light up the Galaxy as they glide on their UL 2272 safety certified GOTRAX HOVERFLY ECO. A hoverboard that's easier to afford, this self-balancing scooter has all of the supernova features of the HOVERFLY but at a super stellar small price! Seriously a gift that won't break the budget but that the kids will flip over! Safety is the key to GOTRAX. It features an all electrical battery and charger systems are tested and certified to UL 2272 safety standard guides. Become a hoverboard master faster! This self-balancing scooter aka hoverboard was designed for intergalactic expeditions, but operating the GOTRAX HOVERFLY ECO is not rocket science. This is a gift that you are guaranteed that the kids are going to LOVE. I love how affordable it is and it is sure to be a huge Mom win on Christmas morning.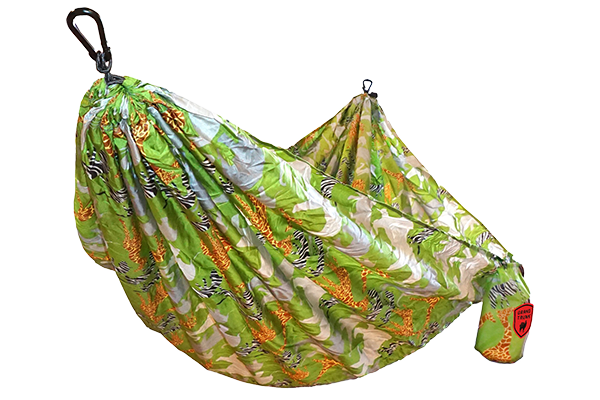 Grand Trunk's new Junior Hammocks are perfect for your younger kids. They have three to opens to choose from including Rising Stars, Elefunks and Safari. They are so cute, easy to hang and comfy! The perfect Christmas gift. If you purchase a hammock for your teens (which we recommend) you will need to be sure to purchase for your little kids too! So easy to hang and use and then store away when not in use.

Strong Self(ie) is a quarterly subscription box to help build up a community of STRONG girls by delivering handpicked items that are purposeful, positive and powerful. There are two boxes – Bloom (for 8-12 year old) and Burst (for 12-17 year old) – that feature trendy products that represent the four corners of self(ie) strength: Health(ie), Smart(ie), Funn(ie) and Beaut(ie).
The company was founded by two moms who have girls themselves, that wanted to inspire this demographic to be strong and positive and to also encourage them to pay it forward. The boxes feature high quality items (for example, one of the items in the December box is a Mermaid Pillow!) that many girls are looking to buy anyway. Now they are packaged in one easy shipment, cost a fraction of what they would pay for each item individually and mailed to their home with a positive message every three months. We LOVE this gift of esteem and empowerment to girls and pre-teens!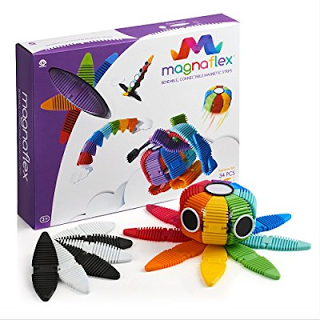 Magnaflex by WowWee – A creative construction kit that's turning magnetic play upside down! Its exclusive flexibility allows kids to build up, out, and even down to form ​any ​2D and 3D ​figure​ they can imagine​ ​- from balls and crowns to spiders and snakes! All strips are bendable, zippable, snappable​, and stackable – and they're all interchangeable so kids will never run out of ideas!
Not only will parents love how this toy promotes creativity, visualization and fine motor skills without batteries; when playtime is done, cleanup is easy and fast with pieces that stack in seconds!
From entry price points ($19.99) to the top of the line collections ($49.99), there are options for everyone! This is perfect for the kids on your shopping list!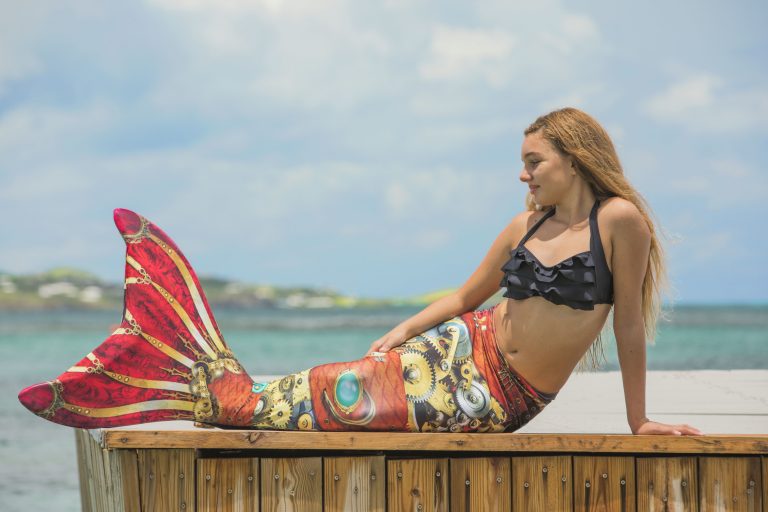 Mermaid Tail by Fin Fun – If you have a child who dreams of being a mermaid this is the dream come true for her. Each and every swimmable mermaid tail from Fin Fun is designed for the ideal blend of smashing style, comfort and safety. They make the safest mermaid tails on the market with the highest quality materials. To ensure that you're comfortable and flexible while swimming, their exclusive, patented monofin provides you with next-level mermaid power. Glide through the water with ease when you sport these snug yet easy-to-remove monofins! Plus, the mermaid's tails feature their reinforced tail tips that provide extra strength and durability. In other words, you can sport these magnificent mermaid tails all day, every day! Perfect for any child who dreams of being a mermaid. This gift sparks creativity, exercise and fun! It is sure to be a HUGE hit with the little girls and pre-teens on your list. (It is available for teens and adults too).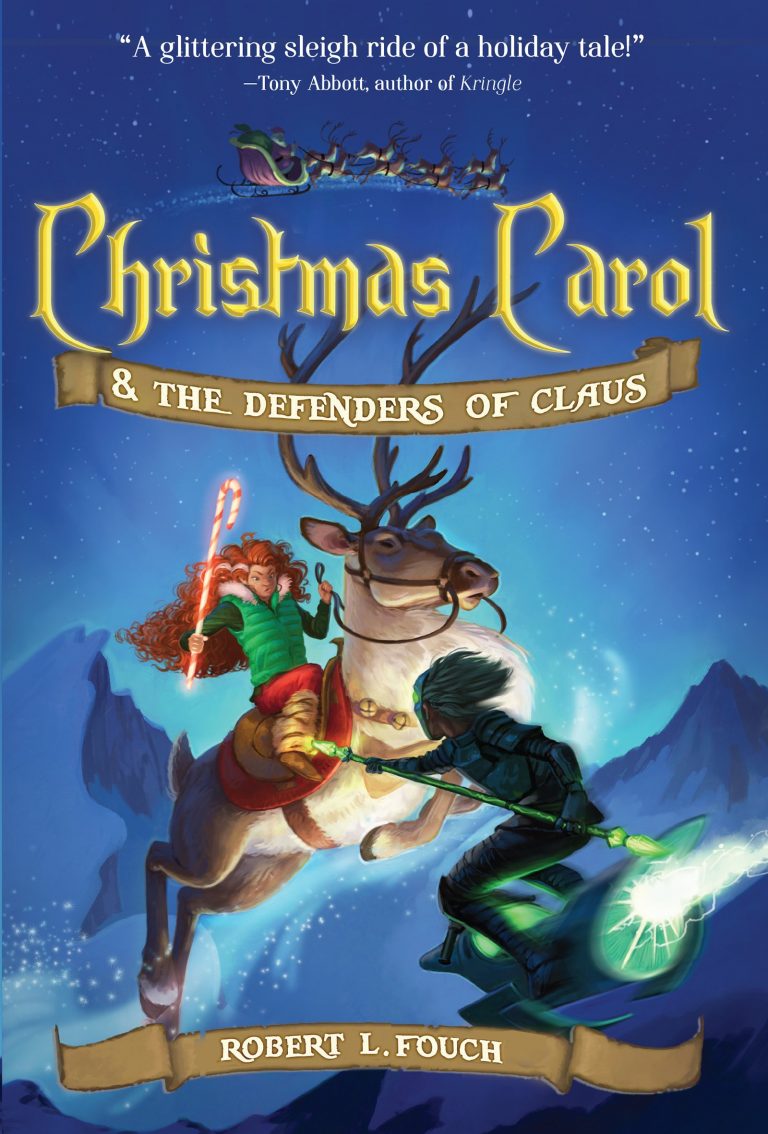 Christmas Carol & the Defenders of Claus is an action-packed adventure about a Christmas-crazy girl named Carol and her legacy as a protector of Santa Claus. Carol really loves Christmas. On a magical December trip to NYC, she meets Santa at the top of Rockefeller Center and explains that Carol is descended from a long line of Defenders of Claus—those who protect and serve Santa. Carol's dad was a Defender before he disappeared, and now Carol needs to fulfill his legacy. She is whisked off to the North Pole to find out who is out to hurt Santa and destroy Christmas. If you are looking for a fun book idea to give this Christmas this is it!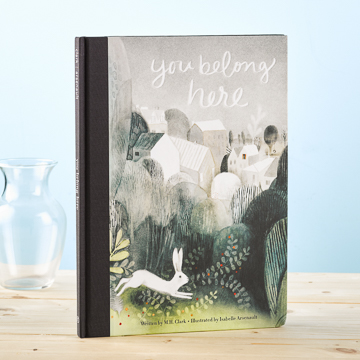 You Belong Here Book – Perfect for babies and adoptive families, this beautifully illustrated children's book, "You Belong Here," reminds children they are right where they belong. Of course this speaks directly to our hearts. What a lovely gift idea for any age. For only $18.95 this is the perfect heartfelt gift.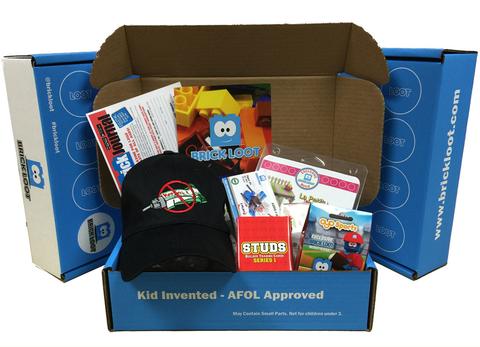 Brick Loot – If you have a kid who loves LEGO this is the perfect gift idea for you! Brick Loot is a box subscription company for LEGO and Brick fanatics! Our subscribers will receive a monthly box filled with unique, custom and never-before-seen items that work with LEGO bricks and custom building. Each month your Brick Loot box is filled with 4-8 items that were hand picked by Brick specialists who scour the world for the newest and coolest products for you to collect.
MORE CHRISTMAS GIFT IDEAS:
101 Stocking Stuffer Ideas for Girls
101 Stocking Stuffer Ideas for Boys
50 Stocking Stuffer Ideas for Teens
50 $1 or Less Stocking Stuffer Ideas
50 Stocking Stuffer Ideas for Baby
15 Handmade Stocking Stuffer Ideas
50 Stocking Stuffer Ideas for your Pet
Disclosure: This is not a sponsored post but it does contain some affiliate links. Regardless these items are 100% our own opinion.
Melissa is a football and soccer mom who has been married to her best friend for 24 years. She loves sharing recipes, travel reviews and tips that focus on helping busy families make memories.