Health & Fitness Holiday Gift Guide
This year, you can easily give the best presents from our Health & Fitness Holiday Gift Guide! While most people who are working out, trying to get fit and make good choices with their health would welcome these gifts, there are some individuals who might feel bad if you gifted them a "weight loss product". Make sure these gifts are going to the person who will truly need, appreciate and use them. This list gives you something for every budget and all excellent high-quality options.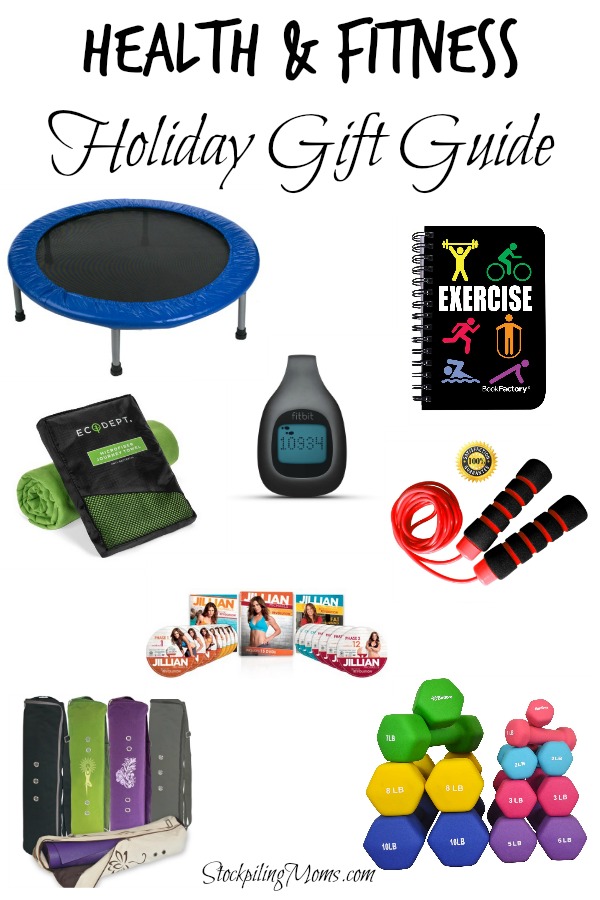 Health & Fitness Holiday Gift Guide
Jillian Michaels Body Revolution DVD Set: This set of DVD's is a great choice for a total body workout. There are multiple options for every need you might have physically.
Microfiber Sports Towel: If you haven't tried these out, you are missing out on one of the best items ever in sports equipment. The microfiber towel wicks away moisture (sweat) easily and dries super fast. We also love the antibacterial quality!
Adjustable Jump Rope: Jumping rope is one of the oldest and best forms of exercise This adjustable jump rope makes it easy to fit your height, and is great for fast and quick super fat burning cardio workouts in your own home.
Mini Fitness Trampoline: This really is the ultimate fun health & fitness gift for the at home get fit king or queen. A mini trampoline is a great compact way to have some fun and get easy exercise!
Yoga Mat with Carry Bag: Even if you have a plush carpet in your home, the at home workouts are much easier to manage with a yoga mat. Not only is this a quality yoga mat, but the simple carrying case makes it super easy to store between workout sessions.
Fitbit Wireless Activity Tracker: This is such an awesome tool that everyone loves these days! The Fitbit gives you great options for tracking your steps, heart rate and more. Add this to the list and keep them on track all day long!
Non-Slip Grip Dumbbells: Choose a full set, or get just a few weights to begin with, but these are great high-quality dumbbells for those at home strength training moves.
Exercise & Fitness Journal: To track your progress with reaching fitness goals, inches and pounds lost, this handy journal is a great addition. It's perfect for the stockings or a simple gift under the tree!
Hurom HH Elite Series Juicer: Revolutionizes the juicing process by using pestle and mortar technology. This gentle press process helps retain the vitamins and minerals in your fruits and veggies by producing less friction and heat. The latest models produces 70% more juice from leafy greens and can handle nuts, soy and wheatgrass. It can also be used to make jam, nut milks and nut butters!
Melissa is a football and soccer mom who has been married to her best friend for 24 years. She loves sharing recipes, travel reviews and tips that focus on helping busy families make memories.