Low Fat High Protein Snacks
This week in our 52 Weeks to Wellness, we are going to look at ideas for great Low Fat High Protein Snacks you can incorporate into your diet. When you are counting calories, doing Weight Watchers or even working on a low carb diet, you need plenty of snack choices that will fuel your body without adding too much to your total at the end of the day. We love these items because they are both tasty and satiating. Feeling full and satisfied is a big part of being able to stay on track.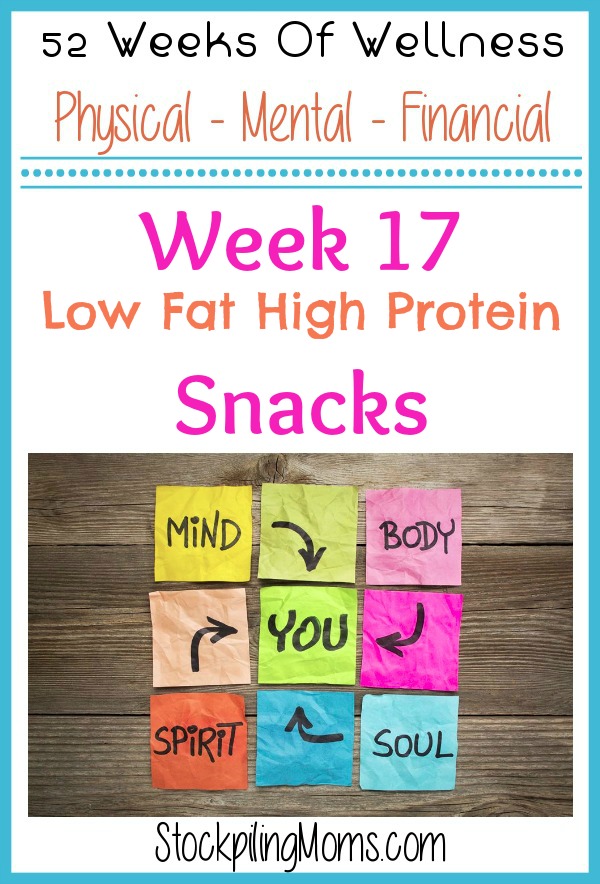 Great Low Fat High Protein Snacks
Edamame: This little pea like veggie has gained popularity in the last few years a a great snack and protein source. Cooked or raw they make an excellent addition to your snacking routine. We love them dipped in a bit of Greek Yogurt mixed with ranch seasoning. So delicious and healthy!
Kale: Baked kale chips as well as kale salads are great choices. Kale like many leafy greens are actually excellent sources of protein.
Eggs Whites: Scramble with some veggies and low fat cheese for a yummy snack.
Beans: Beans and lentils are great low fat high protein snacks. Chickpeas are awesome for roasting and snacking on like a roasted nut, but any beans cooked and seasoned well can make a yummy and simple snack.
Hummus: Hummus is a wonderful low fat high protein snack that is perfect for using with fresh vegetables for dipping.
Greek Yogurt: Low fat or fat free Greek yogurt is a great choice that is full of not only calcium, but tons of protein.
Grilled Chicken or Turkey: Grill up chicken or turkey cutlets and portion into 1-3 ounce servings. This is a great lean but healthy protein choice that will satisfy your cravings easily.
Turkey Jerky: Turkey jerky is a great low fat snack options. Look for quality brands that have fewer preservatives but pack great flavor.
Cottage Cheese: Low fat or fat free cottage cheese is a great choice. not only do you calcium, you get protein in this snack. Eat alone with a smidge of salt and pepper, or alongside some fresh fruit.
String Cheese: This is a classic low fat high protein snack that everyone loves. Not just for kids anymore, string cheese is a staple item in most dieters refrigerators.
Grab these great snack items and stock your fridge with delicious treats that both satisfy as well as keep you in your food budget for the day.
Healthy Living Tips:
How To Do Weight Watchers For Free – Check this out!
Healthy Cucumber Snack – My favorite snack when I am trying to flush toxins.
20 Calorie Sugar Free Hot Cocoa Recipe – A little sweet treat without increasing your calorie intake.
Healthy Palm Tree Snack Idea For Kids – Love this healthy snack for kids and adults!
Healthy Peanut Butter Chocolate Chip Apple Snack – My go to snack when I am craving something sweet.
Stockpiling Moms can be found in all your favorite places! Hop on over to Instagram and follow the fun! We love posting memes, family fun, travel, and whatever we are feeling that day! Pinterest is also an amazing place to visit Stockpiling Moms. This is where you can pin all your favorite articles from our Food, Travel & Lifestyle Blog!
Melissa is a football and soccer mom who has been married to her best friend for 24 years. She loves sharing recipes, travel reviews and tips that focus on helping busy families make memories.