Gluten Free Menu at Red Robin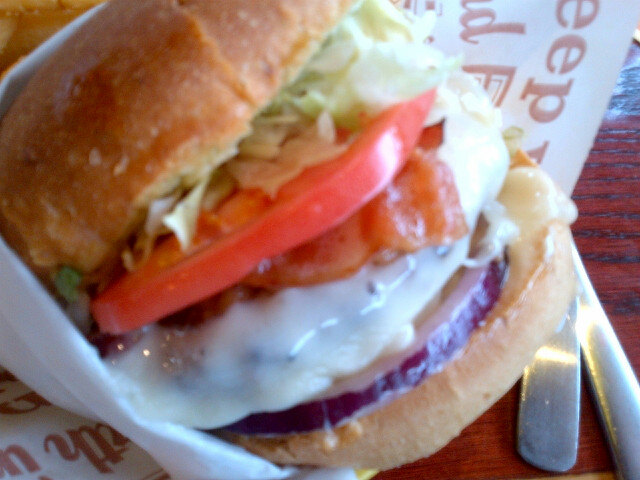 Check out the Gluten Free Menu at Red Robin. One of our favorite places to eat is Red Robin. After I found out that I was Gluten Free I was so worried I would not be able to eat there. I was thrilled to find out that not only does Red Robin offer a Gluten Free and Allergen Menu that they take strict precautions when it comes to keeping you safe when you dine there.
Gluten Free Menu at Red Robin:
They serve their Gluten Free and Allergen meals in a yellow basket instead of a red basket. Not only that but the manager delivers your food to you when you have an allergen. We often chose to dine out at Red Robin because only do they accommodate me they also offer Gluten Free buns so it so much more than just offering you a burger with no bun. The gluten free buns taste great too! I hope this helps give you a Gluten Free dining out option. You can of course choose them in a lettuce wrap too if you prefer.
Always be sure to ask if the fries are being fried in a separate fryer. This can be a huge source of cross contamination and it is important that you clarify with the specific restaurant. They also have a great interactive menu online that will help you as you are making your menu selections. You can simply use that on your phone to help you place your order. They even show modifications that will help you in making choices.
I typically always enjoy a delicious burger however they have a yummy chicken sandwich, salads, salmon and more. Even a kid's sundae is on the menu! Be sure to give Red Robin a try if you are gluten free or Celiac. I find the food to be delicious and the service too! They also have a great loyalty program and you get a free burger on your birthday! You can't go wrong with that!
When you dine at Red Robin be sure to sign up for their Loyalty Card and their Kids Birthday eClub too! You can check out the Red Robin Gluten Free Menu Online.
Here are our Gluten Free Dining Reviews. Hopefully it will help you on your gluten free journey. Visit this extensive list of Gluten Free Restaurant Menus.
Melissa is a football and soccer mom who has been married to her best friend for 24 years. She loves sharing recipes, travel reviews and tips that focus on helping busy families make memories.