Udis Gluten Free Products Review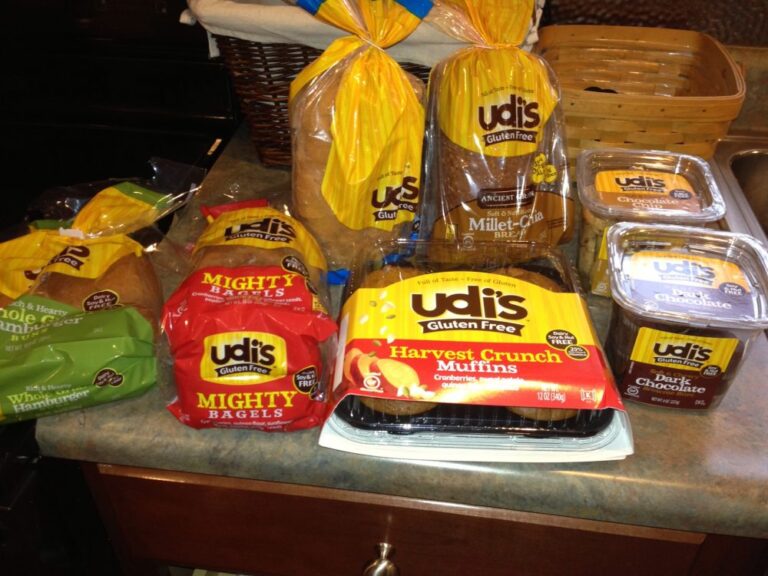 Udi's Gluten Free sent me some of their new products to sample and review. Whenever I get a box of Udi's products I do a happy dance. I was really thrilled to see so many products on my door step.
It would be hard to select my favorite out of the box so instead I will just share them all with you. What I love is the new packaging – a fresh look and in my opinion better taste. The packages were all labeled Gluten Free, Dairy Free, Soy Free and Nut Free.
Here are the products I tasted. In no particular order 🙂
Dark Chocolate Brownies – AMAZING – Just 1 (or 2) filled my sweet tooth. I give these two thumbs up.
Harvest Crunch Muffins – AMAZING – I LOVED THESE! They had cranberries, 3 grams of protein and 4 grams of fiber per muffin. They would be a perfect breakfast or afternoon treat (I will admit they were both for me).
Mighty Bagel – Delicious! They had cranberries, QUINOA flour, flax seed, sunflower seeds and pumpkin seeds plus 8 grams of protein and 3 grams fiber per bagel. I topped mine with Apple Butter and I have to say it really made for a great breakfast!
Chocolate Chip Cookie – Good – They are not my favorite gluten free chocolate chip cookie because I like a more chewy cookie but they were good.
Whole Grain Hamburger Buns -LOVE – These buns would make the perfect addition to your next BBQ. Check out y recipe for Pimento Cheeseburger served on a Udi's Gluten Free Bun. I enjoyed mine with turkey and avocado. They were really tasty toasted.
Millet – Chia Sandwich Bread – I really like this bread. I love that I am able to eat Chia Seeds in my bread 🙂 That makes me happy. I thought the texture of the bread was improved and it really made a great sandwich. This will be great for my Ultimate Grilled Cheese recipe.
White Sandwich Bread – A classic – I thought that the texture of the bread was great! I was able to pass this bread off to my gluten eating son and he never knew it. This product would be great in my French Toast Casserole Recipe.
Next on my wishlist to try are the dinner rolls, granola bars, tortillas and pizza.
Be sure to follow Udi's:
Facebook: Udi's Gluten Free
Twitter: Udi's Gluten Free
Udi's provided these products to me to review however all opinions are 100% my own.
Melissa is a football and soccer mom who has been married to her best friend for 24 years. She loves sharing recipes, travel reviews and tips that focus on helping busy families make memories.