Gluten Free, Casein Free Creamy Potato Soup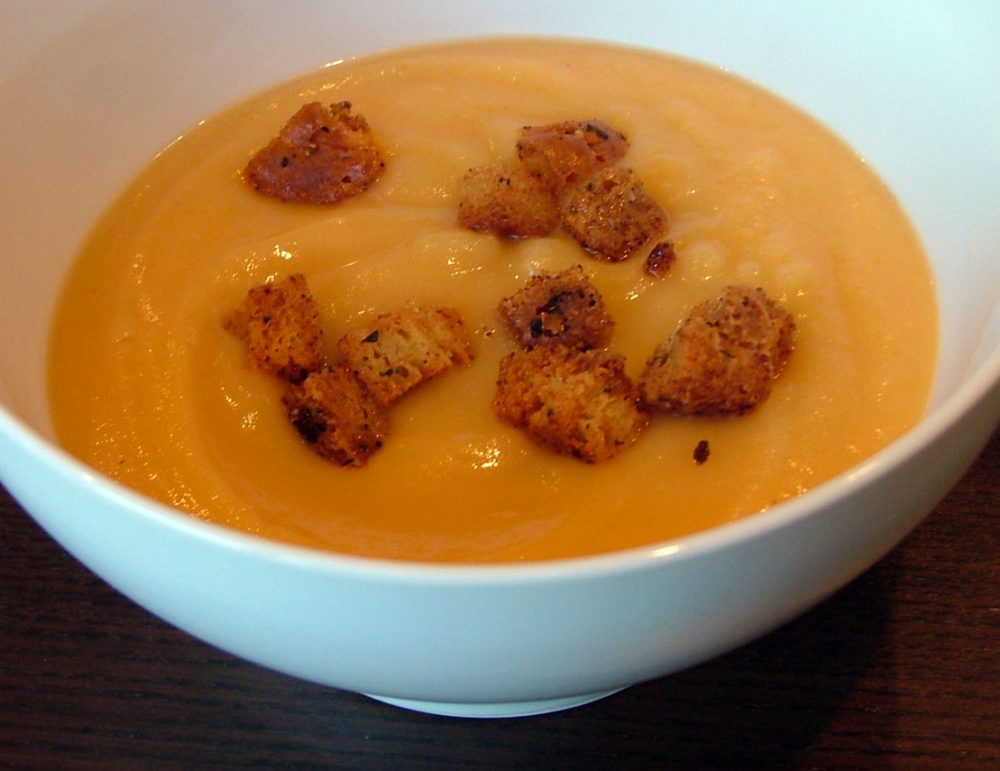 Gluten Free, Casein Free Creamy Potato Soup is a wonderful comfort food for a cold night! We love to serve this in the winter. It is easy to make your own croutons which is a nice topper to this delicious soup! Sneaking in the cauliflower and squash puree is a win for me!
Gluten Free, Casein Free Creamy Potato Soup
Wonderful comfort food for a cold night!
Print Recipe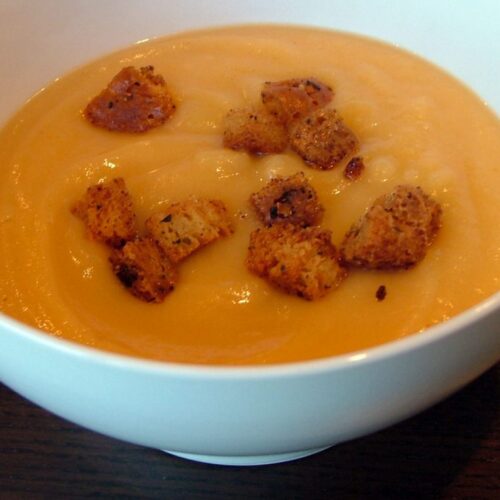 Ingredients
Olive Oil Cooking Spray

2

tsp

olive oil

1

whole

small onion

chopped

1

clove

garlic

cut in half

28

oz

gluten-free chicken broth

2

lbs.

russet potatoes

peeled and chopped

1/2

cup

cauliflower puree*

1 1/2

cups

butternut squash puree*

1

cup

almond milk

or other milk alternative

1

tsp

white vinegar

gluten-free

1/2

tsp

salt

gluten-free croutons

optional
Instructions
Combine white vinegar and milk alternative and set aside (this functions as buttermilk).

Coat a large pot with cooking spray and set over medium heat. When the pot is hot, add the oil, onion, and then the garlic. Cook, stirring occasionally, until the onion is soft but not brown; about 5-6 minutes. (Don't burn the garlic!)

Add broth and potatoes and bring to a boil. Reduce heat and simmer, partially covered, until the potatoes are tender; about 25 minutes.

Carefully spoon the mixture into a food processor or blender and add the vegetable purees, the milk mixture, and salt. Puree until smooth.

Ladle into bowls and sprinkle with croutons, if you like. Serve hot.
Notes
Directions for making purees - *Butternut Squash: cut off the stem, cut squash in half lengthwise and scrape out seeds. Roast halves on cookie sheet, flesh-side down, at 400 for 45-50 minutes. Scoop out the flesh and puree in food processor or blender for about 2 minutes. *Cauliflower Puree: Cut off florets and discard core. Steam for 8-10 minutes. In a food processor/blender, puree for about 2 minutes with a few teaspoons of water if you need it for a smooth, creamy texture. •NOTE: I often make large batches of purees and package them in Ziploc quart freezer bags in 1/4 or 1/2 cup size amounts. Then, you can simply thaw them out for a recipe and snip off a corner of the bag and squeeze the puree out of the hole into a bowl. Very easy and efficient! (Recipe adapted from "Deceptively Delicious" cookbook by Jessica Seinfeld.)
Gluten Free Recipes:
Gluten Free Strawberry Pretzel Salad
Gluten-Free, Casein-Free Chocolate Donuts
Rachel is the mother of a son with Autism. She and her family began eating a gluten-free, casein-free diet in November 2011. Not long after, she discovered that she too was intolerant of gluten and has happily enjoyed discovering new ways to find delicious ways to enjoy eating a gfcf diet. Please visit her blog to learn more.