Gluten-Free, Casein-Free BBQ Beef with Polenta
If you haven't tried polenta you are missing out. This Gluten-Free, Casein-Free BBQ Beef with Polenta is out of this world delicious. This is a new twist on the traditional poleta but just as tasty. Best of all this is a gluten free recipe when you use gluten free ingredients (listed below). Trust us if you haven't tried it this will soon become a new favorite recipe for dinner! Be sure to give it a try! You will be happy you did.
Gluten-Free, Casein-Free BBQ Beef with Polenta
A new twist on polenta...but just as tasty!
Print Recipe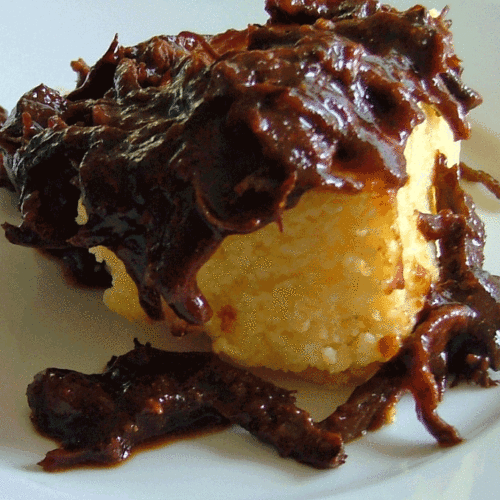 Ingredients
For Beef -

1 3

lb.

boneless chuck roast

1

tsp

onion powder

Salt and Pepper to taste

15

oz

bottle of gluten-free

dairy-free bbq sauce

For Polenta -

6

cups

water

1

tsp

salt

2

cups

Bob's Red Mill Corn Grits/Polenta

3

Tbsp

ghee

Non-stick cooking spray
Instructions
For Beef

Put roast in your slow cooker. Sprinkle with garlic powder and onion powder, and season with salt and pepper. Pour BBQ sauce over meat.

Cook on Low for 6 to 8 hours.

Remove meat from slow cooker, shred, and return to slow cooker. Cook for 1 more hour.

For Polenta

In a large deep pan over high heat, bring water and salt to a boil; stir in the polenta.

Reduce heat and simmer gently, stirring frequently to avoid sticking, until mixture is very thick (about 30 minutes). Be sure to use a long-handled spoon to avoid burns from the popping and bubbling mixture!

Stir in the ghee and additional salt, if you prefer.

Spray a medium-sized bowl with canola oil spray. Spoon polenta into the bowl and let set for 10 minutes.

Invert onto a flat plate; mixture should continue to hold shape of the bowl.

Cut polenta into thick slices (like cake) and serve hot topped with the BBQ beef.
Rachel is the mother of a son with Autism. She and her family began eating a gluten-free, casein-free diet in November 2011. Not long after, she discovered that she too was intolerant of gluten and has happily enjoyed discovering new ways to find delicious ways to enjoy eating a gfcf diet. Please visit her blog to learn more.