Elf on the Shelf 101 for Newbies
Enjoy this Elf on the Shelf 101 for Newbies information. You may have heard about the Elf on the Shelf "craze" and if you are on facebook you have most likely seen your friends sharing pictures of their Elf on the Shelf doing some crazy and fun things but you may have no idea what this is all about!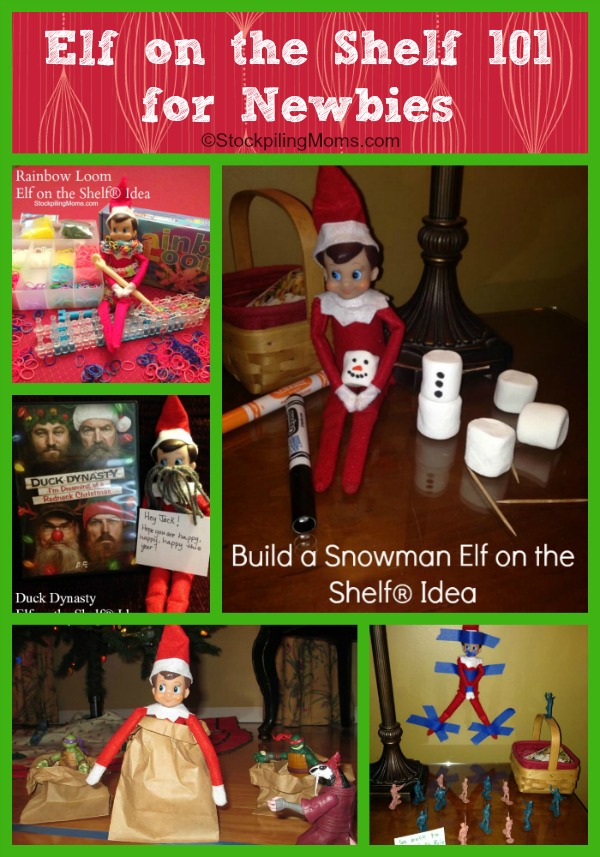 We are here to help you figure out the process and decide if Elf on the Shelf® is for your family. First of all we are not here to tell you that you need to participate in the Elf on the Shelf®. With that being said, we do participate and it is one of our families favorite Christmas traditions. Some people think that the Elves are "creepy" but we just think they are a lot of fun, however that is for you to decide.
What is the Elf on the Shelf?
The Elf on the Shelf® is a Christmas Tradition that was created by two Mom's. Based on the tradition Carol Aebersold began with her family in the 1970's, this cleverly rhymed children's book explains that Santa knows who is naughty and/or nice because he sends a scout elf to every home to watch the children by day and reports to Santa each night. I personally don't find this creepy but some people do. Again that is up to you to decide. I find it a great way to keep the spirit of Santa alive so if that is something you want to do then this may be a great tradition for you too!
The Elf on the Shelf can be purchased and comes with a children's book explaining the story of Santa's scout elves (The Elf On The Shelf). It also includes a special scout elf "sent" from the North Pole to help Santa Claus manage his naughty and nice lists. You can choose from a boy or a girl Elf when you order. The Elf on the Shelf is Santa's eyes and ears in your home during the Christmas season. I may or may not occasionally say "don't let Elf see you doing that" during the season 🙂
As the story goes, when a family purchases an Elf and gives it a name, the scout elf "receives" its Christmas magic and can fly to the North Pole each night to tell Santa Claus about all of the day's adventures. Each morning, the scout elf returns to its family and perches in a different place to watch the fun. The fun is that the children love to wake up and race around the house looking for their scout elf each morning to find out where it moved too in the night and what it has been up too.
How to get started with Elf on the Shelf:
1. Purchase your Elf on the Shelf. They are available at amazon.com or Hallmark stores.
2. Decide when you want to present it to your children for the first time. We choose to have our elf arrive on December 1st but others choose the night after Thanksgiving or others choose the night that you decorate your Christmas tree. Best of all there is no right day to bring the elf on the shelf to your home. Once you decide on a date you should read the story to your children and then let the fun begin. The first night you read the book to your children and then the next morning the elf will have "arrived".
Rules:
1. No one can "touch" the Elf on the Shelf – if you do the magic is gone forever. Now, with that being said, our Elf has fallen before. When that happens I have used kitchen tongs and once I used two pencils like chop sticks to pick him up when the Elf has fallen in front of my son. Some readers have used gloves. The important thing is that this is not a TOY. It is designed for the children to respect and they need to "believe" that the Elf is monitoring their behavior during he season.
2. The Elf must move each night into a new location. You can simply move your elf to different rooms of the house. The first year we didn't get creative with our Elf like we do today. In fact it is almost now as much fun for us as it is for my son because we really try to come up with creative ideas to "top" the ideas that we have done before.
It is up to YOU on how extreme you want to go with your Elf. You can simply move him/her to different location or you can come up with creative ideas. You can choose if you want your elf to pull pranks on the kids too. To help you we have created a free Elf on the Shelf Calendar Printable and a free Elf on the Shelf Supply List Printable to help you plan ahead and take the stress out of it for you.
3. What do you do if you forget to move your Elf on the Shelf? If you are like me and you create an elaborate and fun theme for your Elf you will more than likely not forget to move him but if you are busy, tired and forgetful then my advice is to SET AN ALARM on your cell phone. We also try to post a reminder at 10:00 pm every night on our Facebook page too! This will be a lifesaver! If you forget to move your elf – don't worry. Here are some ideas from readers for you if you do.
"I say that they can probably see them better from that spot."
"Huh, guess the elf really liked sitting there!"
"He needed to keep an eye on you from that perch."
"I tell the kids he was really tired."
"I guess you were so good yesterday that he didn't have anything to report."
Can I expand the Elf on the Shelf to other times throughout the year?
Of course you can! In fact many readers bring their Elf on the Shelf for surprise visits all year long. We have a fun Summer Elf on the Shelf Idea for you.
One of our readers said that their elf showed up for a bit around Halloween this year to keep an eye on the kids, wearing a Dr. Who coat. Then he disappeared again not long ago to go do something at the North Pole again. Last year the stinker went vacationing and sent us postcards from around the globe during his off-season.
One reader has her Elf appear for Birthday's, Valentine's Day, Easter and Thanksgiving. It is a great way to surprise the kids and keep the fun going all year long.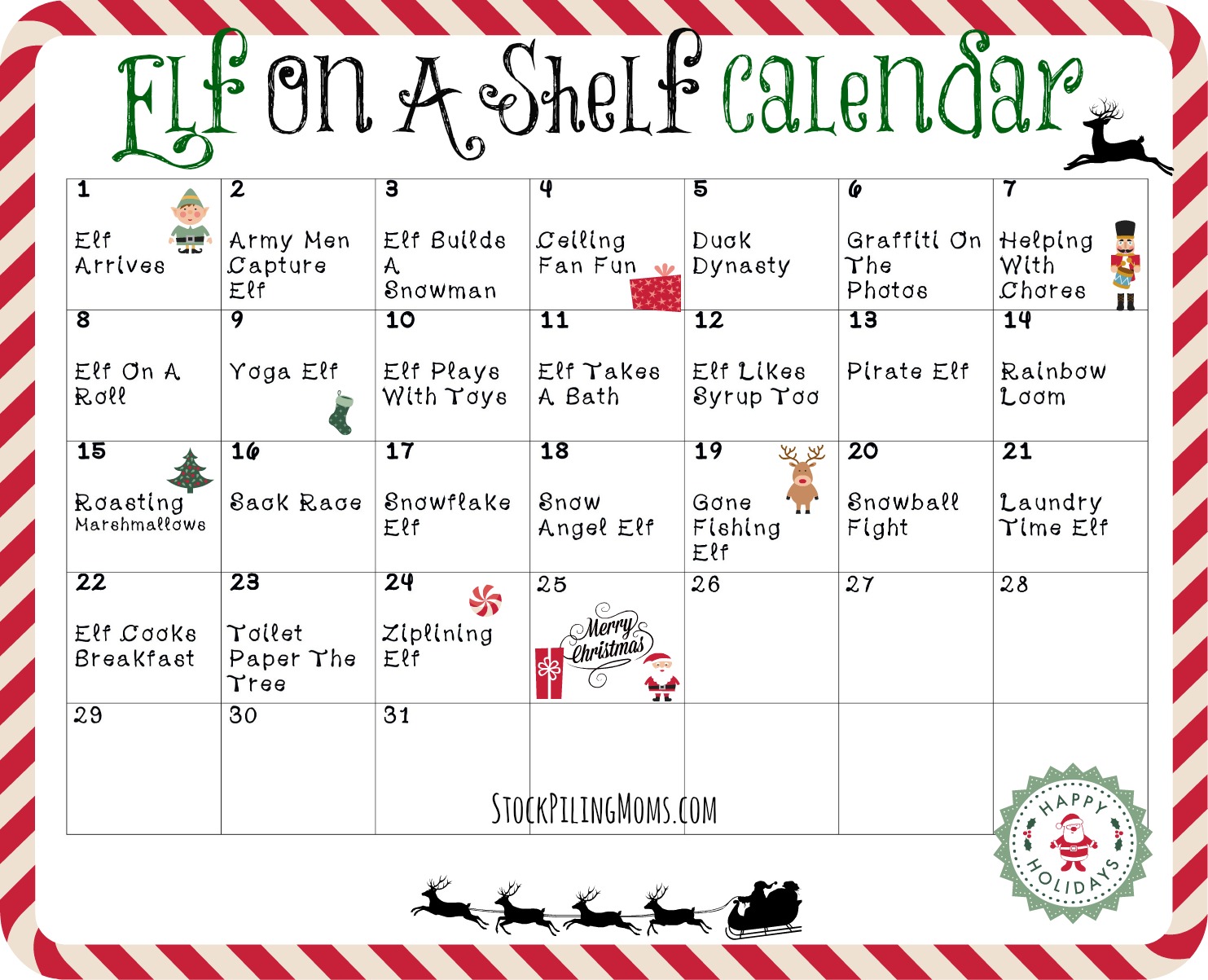 How Can I Keep From Being Overwhelmed With Elf on the Shelf?
Be sure to print off our FREE printable Elf on the Shelf Calendar and Elf on the Shelf Supply List to keep it simple this year! We have created these resources for YOU! Use our ideas 🙂
In addition we have 40 Elf on the Shelf Ideas for you and 25 Elf on the Shelf Ideas in roundups for you! Check out all our great ideas for your elf at Stockpiling Moms The Elf on the Shelf Ideas! We also have Free Elf Printable Tags – perfect for gifts, muffins or cupcakes – a great way to surprise your kids too with a sweet treat from the Elf on the Shelf.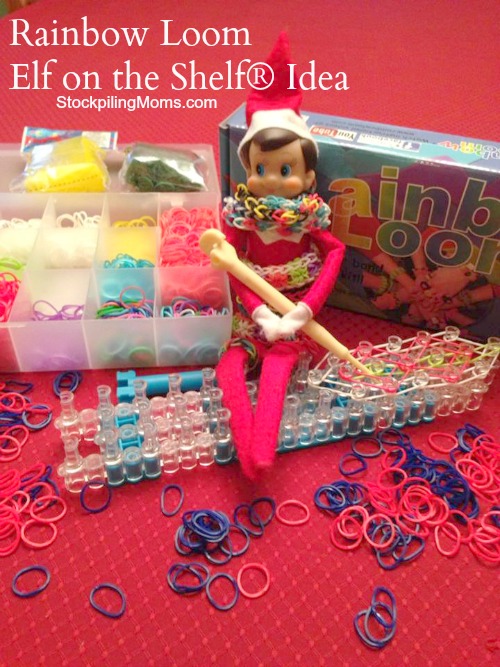 Rainbow Loom Elf on the Shelf Idea
Most importantly – Have FUN! Don't feel pressure to do more with the Elf than what you want but remember the kids will LOVE your elf antics and remember for a lifetime!
Do you have any Elf on the Shelf tips to share for Newbies?
Stockpiling Moms can be found in all your favorite places. Hop on over to Instagram and follow the fun. We love posting memes, family fun, travel, and whatever we are feeling that day. Pinterest is also an amazing place to visit Stockpiling Moms. This is where you can pin all your favorite articles from our Food, Travel & Lifestyle Blog.
Melissa is a football and soccer mom who has been married to her best friend for 24 years. She loves sharing recipes, travel reviews and tips that focus on helping busy families make memories.