Elf On A Shelf Supply List Printable
This year we have not only created a blog post with supply lists for you, but we have created a simple Elf On A Shelf Supply List Printable. With all of the rushing of the holiday season, it can be difficult to remember how everything you need for your daily Elf On A Shelf Adventures.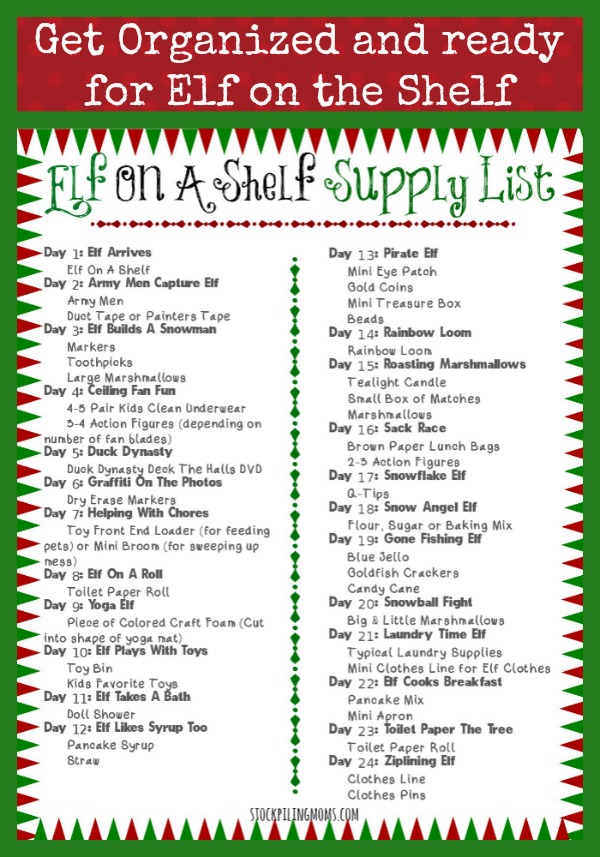 This list is broken down by each day and tells you exactly what supplies you need to make our most popular Elf On A Shelf adventures happen. If your kids are like ours, they wake up excited every day to see what their elf has done the night before.
ELF ON A SHELF SUPPLY LIST PRINTABLE
Here is the Elf on the Shelf supply list with some handy links to supplies you might want to order in advance. Below you will find the printable with easy link to download and print from home.
Day 1: Elf Arrives
Order you very own Elf On A Shelf if you don't have one
Day 2: Army Men Capture Elf
Army Men (Dollar Tree or Dollar General have for only $1 per package)
Painters Tape
Day 3: Elf Builds a Snowman
Markers
Toothpicks
Large Marshmallows
Day 4: Ceiling Fan Fun
4-5 Pair Clean Kids Underwear (one pair for each fan blade)
3-4 Action Figures/Toys
Day 5: Duck Dynasty
Day 6: Graffiti on the Photos
Day 7: Helping with Chores
Toy Truck – Front End Loader/Scoop or Mini Broom
Day 8: Elf on a Roll
Day 9: Yoga Elf
Piece of Craft Foam (Cut into yoga mat size/shape)
Day 10: Elf Plays with Toys
Toy Bin
Kids Favorite Toys
Day 11: Elf Takes a Bath
Doll Shower or Doll Bath Tub (can fill with mini marshmallows as bubbles)
Day 12: Elf Likes Syrup Too
Pancake Syrup
Drinking Straw
Day 13: Pirate Elf
Day 14: Rainbow Loom
Day 15: Roasting Marshmallows
Tealight Candle
Small Box of Matches
Large Marshmallows
Day 16: Sack Race
Brown Paper Lunch Bags
2-3 Action Figures
Day 17: Snowflake Elf
Day 18: Snow Angel Elf
Flour, Sugar or Baking Mix
Day 19: Gone Fishing Elf
Blue Jello
Small Bowl
Goldfish Crackers
Candy Cane or Mini Fishing Rod (found in kids games/Barbie accessories, etc.)
Day 20: Snowball Fight
Large & Miniature Marshmallows
Day 21: Laundry Time Elf
Typical Laundry Supplies
Extra Elf Clothes (Optional for added effect)
Day 22: Elf Cooks Breakfast
Day 23: Toilet Paper The Tree
Day 24: Ziplining Elf
To print our handy Elf On A Shelf Supply List Printable simply open the PDF here and print. This list will come in handy for all of your Elf On A Shelf adventures and make your holiday season run a lot easier this year!
Be sure to check out our free Elf on the Shelf Calendar Printable too.
I have many friends that are still looking for a home. If you are interested in some trouble around your house overnight and a way to make your kids be good for you all day, you need an elf!
You can pick up one of my friends on Amazon! They have fast shipping and your Elf can ride in before you know it! Check out all our great ideas for your elf at StockpilingMoms The Elf on the Shelf® Ideas! Check out our Free Elf Printable Tags – perfect for gifts or cupcakes!
Stockpiling Moms can be found in all your favorite places. Hop on over to Instagram and follow the fun. We love posting memes, family fun, travel, and whatever we are feeling that day. Pinterest is also an amazing place to visit Stockpiling Moms. This is where you can pin all your favorite articles from our Food, Travel & Lifestyle Blog.
Melissa is a football and soccer mom who has been married to her best friend for 24 years. She loves sharing recipes, travel reviews and tips that focus on helping busy families make memories.