Easy Ways To Get Moving Every Day
We are moving fast into New Year's Resolution time and it's time for us to share our favorite Easy Ways to Get Moving Every Day. These simple things will help you to make more steps, move out of a sedentary lifestyle and burn calories. While it may not seem like a few steps can make a difference, it can once you put a few extra moves into practice each day. Every step is a step toward better health!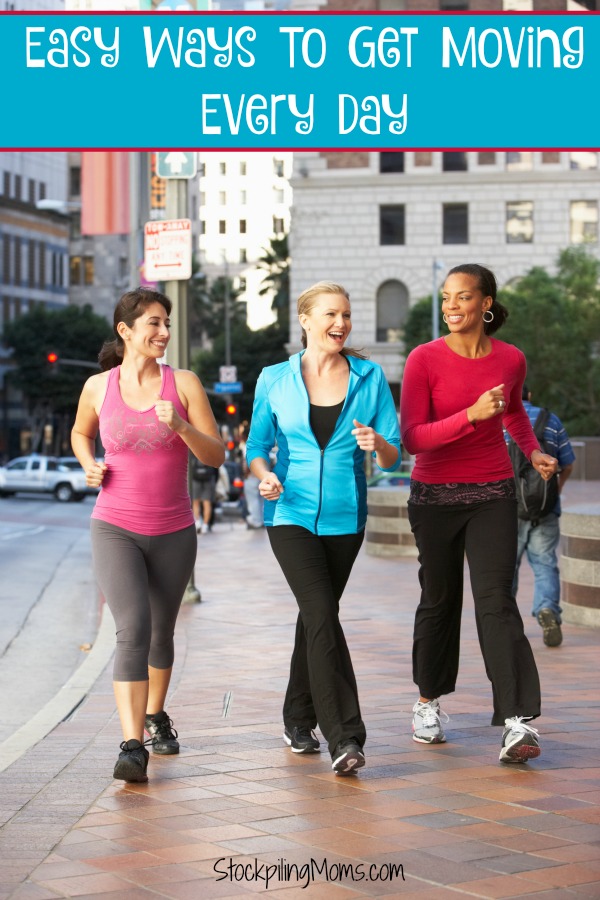 Easy Ways to Get Moving Every Day:
Walk your kids to the bus stop instead of driving.
Park at the farthest part of the parking lot when shopping.
Take the stairs at work.
Set an alarm to get up from our desk or chair every hour on the hour and walk the entire length of your home or office.
Take your pets outside for a walk or playtime.
Take up a sports hobby like softball, golf, volleyball or bicycling.
Move your laundry room to the basement so you have to walk up and down carrying baskets of laundry.
Walk to the corner market or store instead of driving.
Make your lunch with girlfriends a walking break instead.
Get to know your neighbors by walking your neighborhood each day when you go out to get the mail.
Set a number of steps and compete with your spouse to see who meets the daily goal first.
Make date nights hikes or walks downtown instead of sitting in a restaurant or theater.
Go walk outside early to see the morning sunrise before others get up.
Walk the length of the store even if you don't need to go down every aisle.
For those who are religious, walk your street and pray for each home as you walk. This is great for motivating you to get out and helps the time pass by fast.
Stop asking the kids to bring you items when you want or need something. Get up and get it yourself.
Put your shoes on each morning instead of wearing socks around the house. This will help you be more likely to go outside and move more.
Play with your kids every day when they get home from school.
These easy ways to get moving every day are very simple to include in any life. Whether you are trying to move more to lose weight, or simply feel like getting fit.
Melissa is a football and soccer mom who has been married to her best friend for 24 years. She loves sharing recipes, travel reviews and tips that focus on helping busy families make memories.