Dollar General Bobbie Brooks Jeans Review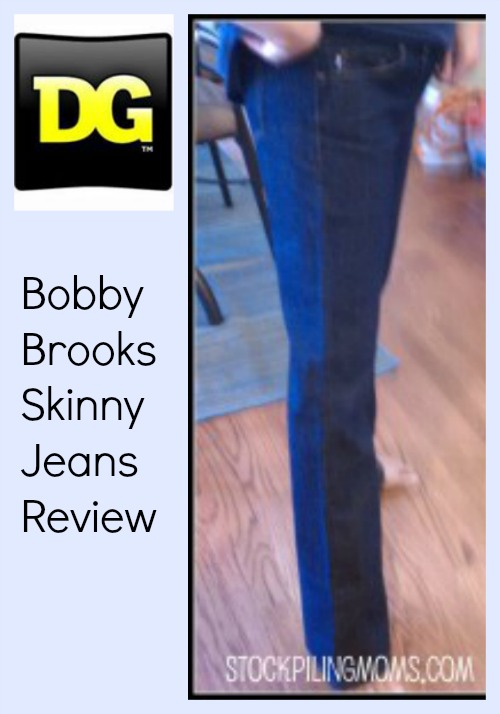 Check out our Dollar General Bobbie Brooks Jeans Review. I received a pair of Bobbie brooks jeans from the Dollar General. I was really hesitant on trying them because I am a really hard fit.
Dollar General Bobbie Brooks Jeans Review:
I have very small legs and a not as small waist. It is hard for me to find jeans that fit both. I usually find jeans that fit me around the middle and then my legs go swimming in them.
Right after I received the pair of jeans, I washed them. They held up great and I even dried them. I am a dryer. I dry everything! Guess what, THEY STILL FIT! I put them on and hit the grocery store and then headed over to Melissa's house.
They fit my legs very well and also fit around the waist. Melissa really like the way they looked on me. I like the way they looked and the way they felt around the waist and legs. I did find the jeans were a little stiff at first but once I wore them a few times they loosened up!
The greatest thing about these jeans is they can be purchased for as low as $12.00 at Dollar General. I really like the fact they were 5 pocket stretch jeans. I do not think I own many pants that do not have the stretch factor. This is very appealing to me. There is not a big difference from a $40.00 pair of jeans.
If you plan on trying a pair of bobby brooks jeans, I would love to hear about it! These jeans would be perfect for school, casual outings, and more. I wore them with sandals the first day but when I got home that night I threw on a pair of heels, and they looked very nice.
Check out Bobbie brooks at Dollar General! Let me know about your experience with Bobbie brooks jeans!
Other Dollar General Posts:
The Kraft Products You Love Now at Dollar General
Dollar General Accepts Printable Coupons
Dollar General Store Coupon Policy
Shelley is a boy mom, marine wife, and is blessed with an amazing family. She loves sharing recipes, travel reviews and tips that focus on helping busy families make memories.