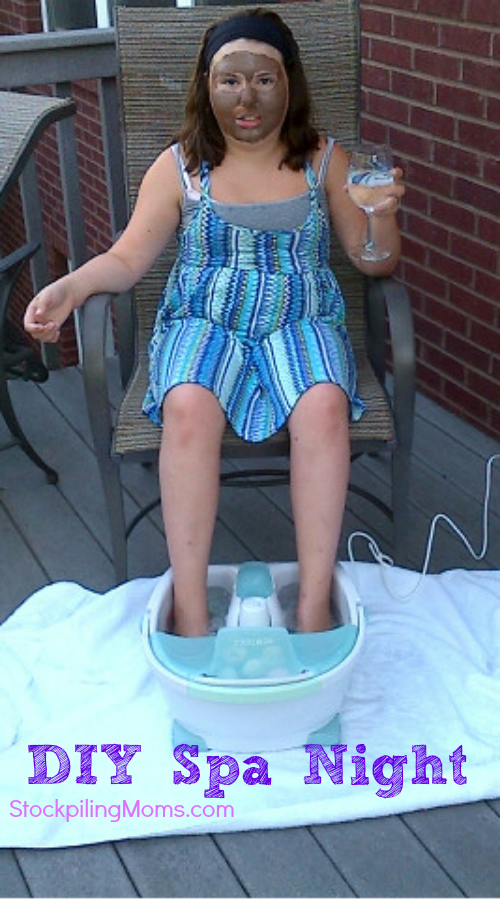 DIY Spa Night is one of my favorite traditions when my niece comes to visit. She comes to stay with me for two weeks each summer and we always reserve one night for a DIY Spa Night.
DIY Spa Night:
As a stay-at-home Mom I can say that I quickly gave up the pedicures and most everything else I did for myself when I started staying home. Several years ago, I decided that there was no reason why I couldn't have pedicures at home. So now I do a monthly Do It Yourself Pedicure and Spa Night!
I always schedule my DIY Spa Night with my family. I let them know that I am taking an hour to myself and I turn on some relaxing music and literally lock myself away just as if I would be if I was at the salon.
Here are a few tips for a DIY Spa Night:
Detox Water – I love to make this detox water or water with just lemon is nice too. Serve it in a stemmed glass to make it special!
Invest in a foot spa. I actually asked for one for Christmas. It was nothing I would normally purchase for myself and getting one as a gift was a great treat! You can also use your bathtub and soak your feet in warm water/Epson salt/favorite essential oil – this detox soak actually works really well for a DIY Spa Night.
Purchase a pumice stone or buffing file. Dry your feet completely then buff unwanted callouses. You can check out this Vitagoods Face & Body Cleansing Brush which works well!
Make your own foot scrub. Here is a simple recipe for a DIY Lemon Sugar Scrub.
Trim your nails. Be sure not to trim to short. Sometimes I file them instead of trimming so that I m sure to. Push back the cuticles on your toe nails and if you are lucky as someone to give you a foot massage.
Moisturize your legs and feet with a nice creme or lotion.
Polish – I like to finish my DIY Spa Night with a polish. I like to use Cutex products because they are affordable and are durable. I really like the Advanced Revival products. The nail polish remover actually strengthens your nails which I love. I have been using Cutex products since I was a young girl. I like the advanced revival one step remover pads too. They are really easy to use.
I like to do a face mask or hair mask while I do my pedicure so I can multi-task 🙂 Hopefully these tips will help you with your own DIY Spa Night!
Other Beauty Tips:
How to remove blackheads naturally
How to remove hair buildup naturally
Melissa is a football and soccer mom who has been married to her best friend for 24 years. She loves sharing recipes, travel reviews and tips that focus on helping busy families make memories.