How to make money with your child's used clothes and gear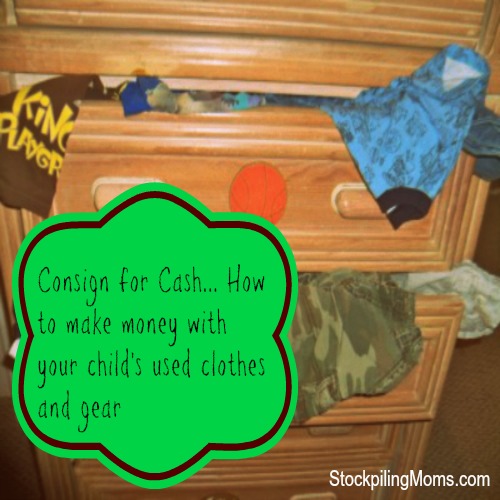 How to make money with your child's used clothes and gear. Consign for Cash….How to make money with your child's used clothes and gear
If you have little ones, you most likely find yourself with clothes, toys, and gear that your kiddo has outgrown. Rather than letting these pile up in the garage read on and learn how to make the most money for your kiddo's gear with consignment shops.
How to make money with your child's used clothes and gear:
Consignment shops are great for shopping and for selling your used baby and children's items. It is important to know the difference between a consignment shop and a resale shop. A resale shop will give you money today for your items, but it is typically a very small percentage. A consignment shop will offer to sell your items and you will make a much higher percentage, sometimes as high as 50% of the sale price. While the consignment shop does not give you instant money it is worth the wait, especially since you are getting paid for your used, no longer needed, items.
Ready to pack up those clothes and head to the consignment shop? Here are a couple tips…
Loyalty….When shopping at consignment shops it makes sense to shop all of them, since they will very likely have different things but when consigning it is best to choose one shop and work with only them.
Location….Pick a shop that is close to you. If you are driving way out of your way or making a special trip to drop off your items, it will cut into your profits, and you likely won't go. The consignment shop that I work with is on my normal drive to my children's school. I can put items in my van and drop them by when I drive past.
Learn the rules…. You will likely sign a consignment agreement, this protects you as well as the shop, and pay an initial consignment fee. Often this can be taken out of your first sales. Also know what the percentage of the sale price is that you will receive as the consigner.
Limit….It is important to limit what you take to the consignment shop. If a shop owner has to go through multiple totes of clothes that are stained, very outdated, or torn she will be likely to not take or price your items lower. Donate items that are not "sell-able" and only take items to the consignment shop that would interest you if you were shopping for your own baby or child.
If you have baby gear, strollers, play yards, furniture, highchairs, wiping them up quickly is also a plus and makes your items worth more. These quick steps help your bottom line when it comes to consigning.
Limit when also…. You may be tempted to take all the pants and sweatshirts that your child grew out of this winter to the consignment shop now rather than storing them over the summer. However, with the warm weather coming consignment shops may not take these items or they may sell them at a discounted price.
It's better to hold onto these items until your shop is accepting winter clothes. When I sort my kiddos' clothes at the end of each season, I store any items that they have grown out of into a box marked "consign in the fall/spring". This way I don't have to go through all the clothes to find the ones that I want to consign.
Learn the schedule…. My last tip for getting the most for your consigned items is to know when your shop starts accepting clothes for the next season. My shop starts accepting winter clothing in June because it takes time for the shop owner to tag, price and shelf all the items. Most people will start looking for and buying fall clothes near the end of the summer. If you wait and take your clothes when it gets cold, they likely will not be shelved and for sale by the time people are shopping.
I hope these tips help you turn a pile of toys or a box of clothes into some cash that you can use for more cute clothes that your little ones will be growing into very soon!
Additional Organization Tips:
D.I.Y. – Make Your Own Cookbook
Freezer Cooking Series :: How To Get Started, Tips, Recipes and More!
Organizing Your Coupons :: 7 Days of Stockpiling
Stockpiling 101 | Organizing Your Stockpile
Melissa is a football and soccer mom who has been married to her best friend for 24 years. She loves sharing recipes, travel reviews and tips that focus on helping busy families make memories.