Black Friday Plan of Attack
Black Friday Plan of Attack. Are you shopping on Black Friday? If so, it is really important to have a PLAN of attack! If you don't have a plan, it is easy to get overwhelmed and come home empty handed. Here are a few tips to make your experience as positive as possible and help you save big!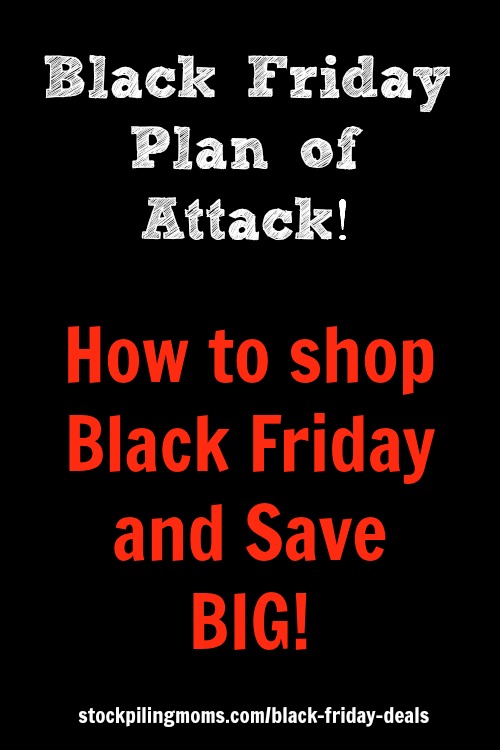 Black Friday Plan of Attack:
1. Do your homework. Be sure that you know what you are going for. You can't just "wonder around" thinking you will find all the great deals.
2. Wear comfortable shoes and dress in layers. If you are waiting in line outside, you will want to be dressed warm however once you are "in the store" you will get hot quickly. We suggest dressing in layers and wearing comfortable shoes.
3. Pack snacks and drinks. You need to be prepared. You don't want to waste your hard saved money on expensive vendors. Also, remember it is Thanksgiving night so you may not find many places open.
4. Bring a friend and tag team shop. There may be lines to get into some stores, so stand in separate lines and see who gets to the front first. This also works when the check-out lines are long.
5. Be sure to bring your cell phones (fully charged) and car cell phone charger.
6. Be sure to bring your shopping list, sales ads and any applicable coupons! Being prepared will save you money on Black Friday.
Black Friday can be a lot of fun if you go with the right people. You have to keep your sense of humor and have a good time while you are out. I personally love Black Friday because of the rush I get from the deals. Be sure you strategically plan where you want to shop and map out which stores open first. You need to plan to go to the stores that are top priority first.
We are going to start posting Black Friday ads and deals as we find them so be sure to check back often.
Do you shop on Black Friday? Please share any tips you have!
We have more great tips for Black Friday Shopping in our book – Savvy Saving Couponing Secrets from the Stockpiling Moms!
Stockpiling Tips:
Ways To Save:
How to Shop at Whole Foods without Spending your Whole Paycheck
5 Ways to Increase Your Savings at Target
7 Ways to Save Money Without Couponing
How to Get the Most out of your Sam's Club Membership
Melissa is a football and soccer mom who has been married to her best friend for 24 years. She loves sharing recipes, travel reviews and tips that focus on helping busy families make memories.