How To Make a Batman Valentine Exchange Box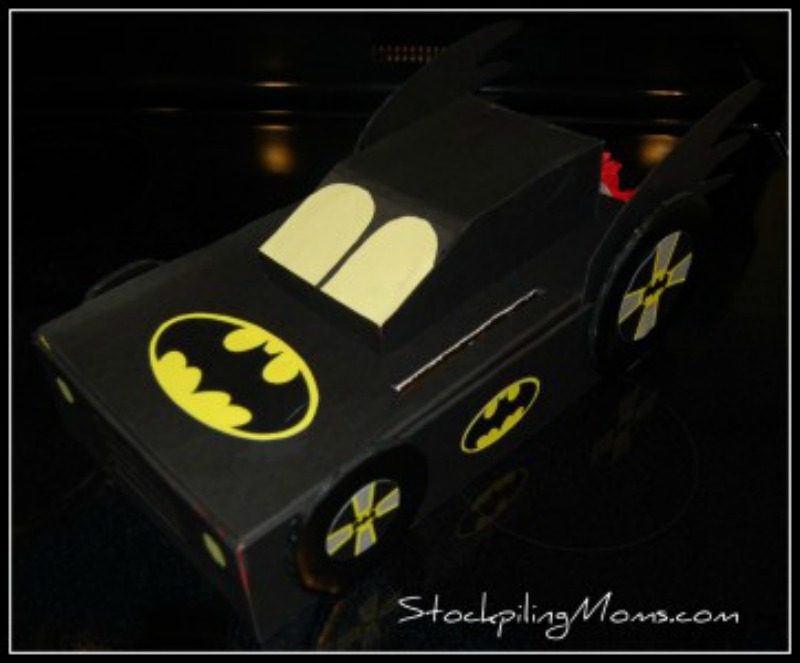 How To Make a Batman Valentine Exchange Box. This year my son had a homework assignment to decorate a shoebox to use to exchange his Valentine's at school.
How To Make a Batman Valentine Exchange Box:
Thinking that we would get some red paper, cut out some hearts and maybe use some glitter I was armed and ready. I made the mistake of asking him, "how" he wanted to decorate it. When he answered "I think I want to make batman's car" that is when I knew I was handing this project off to his dad.
I am lucky that my husband has an artistic flair and can literally draw and create almost anything my son has every asked for. So, when he said "Batman's Car" is what he wanted, that is what he got.
I wanted to share the final product with you as I was so amazed at how my husband could turn items, we had in our craft cabinet into Batman's Valentine Exchange Box. How do you think he did? I can tell you there is a happy little boy at our house!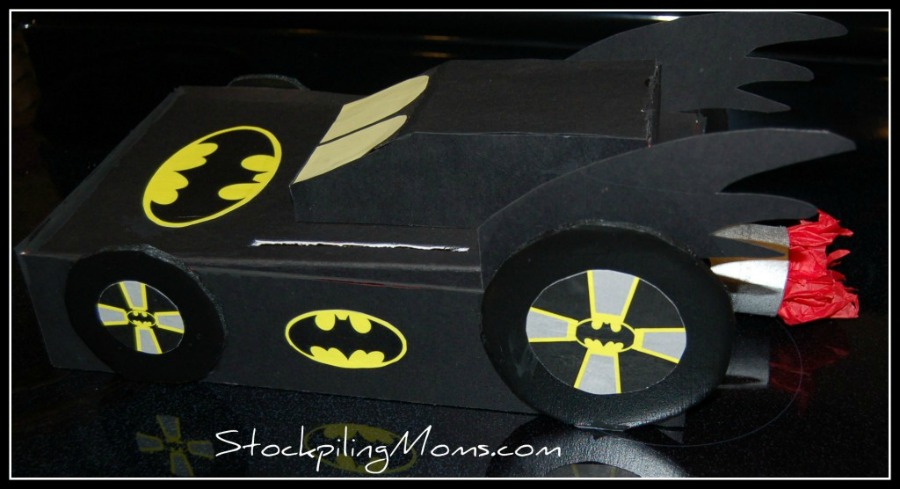 How to make a Batman Valentine Exchange Box
Supplies Used:
a shoe boxes
black tempera paint
black foam board (purchased at dollar store)
construction paper
red tissue paper
empty toilet paper or paper towel roll
silver paint
batman logo (printed off the internet)
How he did it:
He took a shoe box that they painted black with tempera paint.
Using black foam board, they cut out tires, flames and pieces to make a 3-D roof.
Next, they attached the tires and the flames with glue and constructed the roof and attached.
Finally, they spray painted a empty toilet paper roll (or cut a paper towel roll in half) silver and attached it as the tailpipe. They added some red tissue paper inside to become the flame.
They cut out two yellow "windows" out of construction paper and added those to the windshield.
Finally they printed some Batman logos off in color and attached those to the wheels, roof and side of the car which really made it pop!
Be sure to cut a slit for the Valentine's unless you plan to lift the lid on and off!
Valentine's Day Crafts Ideas
Valentine Ideas
Valentine Recipes
Melissa is a football and soccer mom who has been married to her best friend for 24 years. She loves sharing recipes, travel reviews and tips that focus on helping busy families make memories.