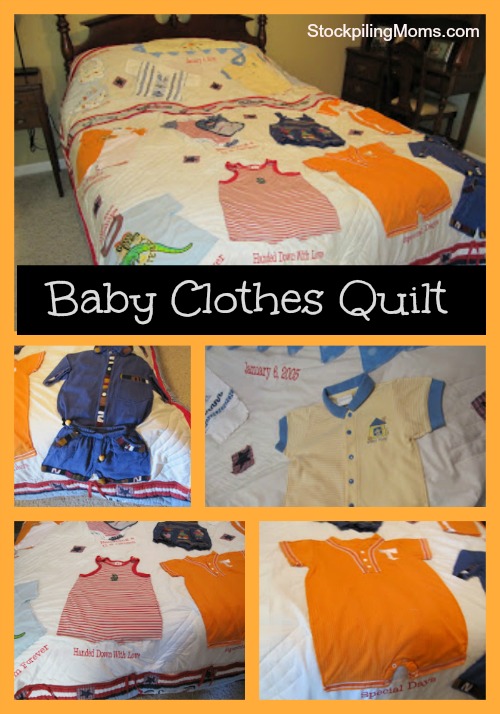 I love this idea for a Baby Clothes Quilt. It is the perfect way to preserve memories and becomes a treasured keepsake. If you have a box of treasured baby clothes in a tote in your closet then this post is for you! I had this quilt custom made using Peyton's baby clothes, his bumper pad, baby quilt and other special baby items that I had kept from his first year. It was custom made by a local seamstress and it is a one of kind. It is the most cherished possession I own! I was brought to tears of joy when she brought it to me. She spread it out on my living room floor while I kept my eye's closed and then when I looked I immediately flooded with so much joy that I blubbered all over it.
The seamstress babysits her grandchildren and quilts and sews on the side. I met her two year's ago at a vendor event and then we finally got together and I gave everything to her about a year ago. I knew that and I was in no rush for it. We laid out a design and I told her what to embroider however I turned the design over to her and told her I was not sure what I expected but that I wanted her to preserve the outfits and not "chop them up". I have to tell you I was in shock when I saw it. It was so much more than what I expected!
I always knew I wanted this made but I had to find the right person to make it because these memories are so precious and treasured. I wanted the outfits preserved just as they were. If you are considering a keepsake to preserve the memories of your child's first year or special events this is a great idea. There are several resources on Etsy too. I have seen them for t-shirts, wedding gowns and more!
Peyton was so excited to get the quilt too and we have talked about the memories already and it is going to give us a lot more to continue talking about in the future. I will be passing this onto him when the times is right of course.
Be sure to "PIN" this post so you will have it when you are ready to make it. Please follow us on Pinterest and enjoy hundreds of recipes, crafts, party planning ideas, gardening, DIY and more.
More Baby Posts:
How to make your own baby food
Whimsical Baby Boy Nursery Ideas
Melissa is a football and soccer mom who has been married to her best friend for 24 years. She loves sharing recipes, travel reviews and tips that focus on helping busy families make memories.