Announcing Straight Talk Wireless
Announcing Straight Talk Wireless. We are so excited to announce that we are now Straight Talk Wireless Brand Ambassadors (#StraightTalkTesters)! We are always looking for affordable cellphone service to share with you. Straight Talk offers the same phones, including the latest smartphones, on the same networks, at half the cost! Woo Hoo! We love saving money and know you do too. However, when it comes to our smartphones, we have to admit we can't sacrifice on service!
Announcing Straight Talk Wireless:
So, what does this mean? We will be sharing with you on a monthly basis information from Straight Talk Wireless as well as our opinions as #StraightTalkTesters.
Straight Talk offers the same nationwide coverage on America's largest and most dependable networks. You can get up to 8x more high-speed data than other $45 no-contract plans! We have the opportunity to test Straight Talk ourselves! We were provided an iPhone 5 with data plan and though we are only a week into using our new phones we are impressed. So far we have had ZERO dropped calls. We are getting ready to travel out of state with our phones and can't wait to share with you our thoughts.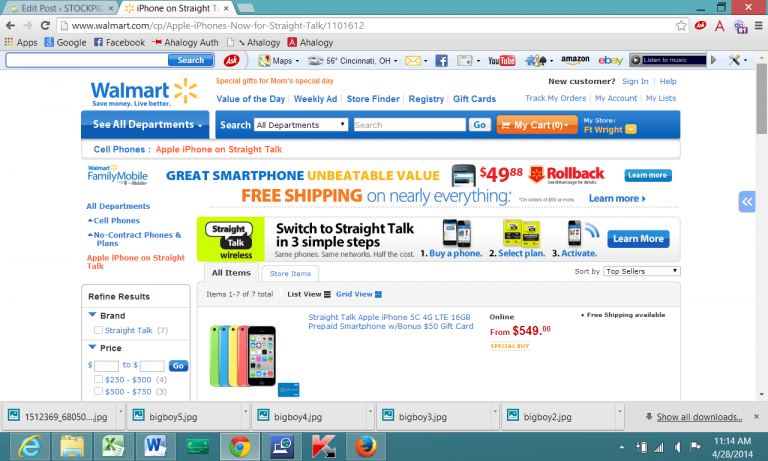 For only $45 a month you can get unlimited nationwide talk, text and data (high speed data for the first 2.5 GB of data use). We love that you can easily check your balance and service end date at http://bit.ly/R3DoyT, so there is no concern about overages! Straight Talk is available exclusively at Walmart.

Right now, you can purchase one of the many Straight Talk ready smartphones or Bring Your Own Phone (BYOP) to Straight Talk. More details at http://bit.ly/1mYnPFr. Ready to Switch? When you bring your own phone you just simply check for compatibility and then you purchase a SIM card or network activation code (on CDMA) and pick up a plan! It is that easy!
Setting up your new phone with Straight Talk Wireless was easy as 1-2-3. My husband set it up for me by calling from our land line and it took less than 10 minutes from start to finish. It was that easy!
Don't need a cell phone plan right now? Straight Talk also offers a land line package! The device price is $69, and you can get service for as low as $15 a month! We are planning to switch over because we can not get our local rate that low and we need a land line for our home security system and for 911. This is a very affordable solution for us. Free yourself from your home phone company and start saving today! With Straight Talk Wireless Home Phone you'll be able to make Unlimited* Calls without a contract, monthly bill or activation fee.
Disclosure: This is a sponsored post on behalf of Straight Talk Wireless. We are #StraightTalkTesters however all opinions are 100% our own. We are working with this brand because we feel strongly about it.
Melissa is a football and soccer mom who has been married to her best friend for 24 years. She loves sharing recipes, travel reviews and tips that focus on helping busy families make memories.