7 Ways to Save on Spring Cleaning Supplies
Can you believe it is time to think about spring cleaning already? It seems as though we were just getting organized with the arrival of the new year, and now it is time to give it all a good scrub down. Deep cleaning your home may seem like an expensive task, but the truth is there are ways you can cut down your costs. Take a peek below at 7 ways to save on spring cleaning supplies so you can get your space spruced for less.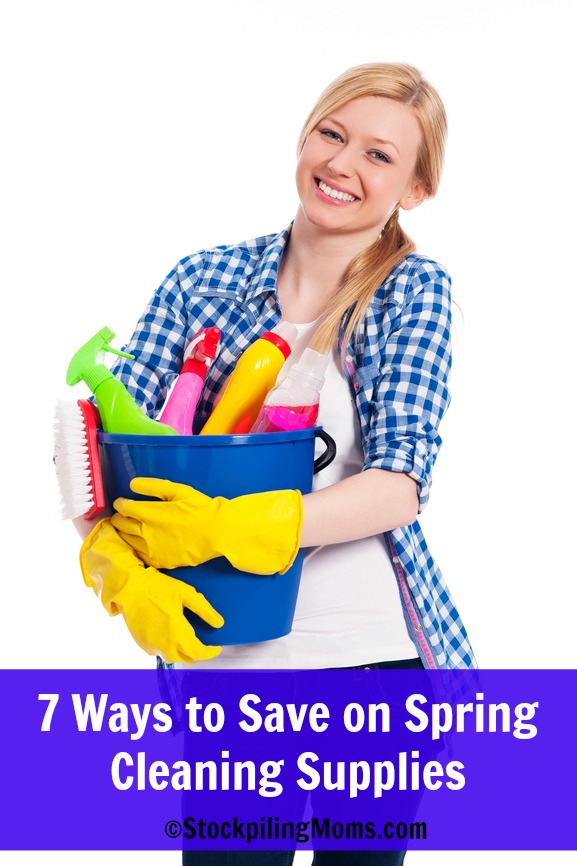 7 Ways to Save on Spring Cleaning Supplies
1. Repurpose old t-shirts – old t-shirts can be torn up and used for dusting, polishing, even washing windows. Just cut your shirts into squares or even use it as is in place of paper towels or other paper cleaning products.
2. Cut your magic erasers in half – When you take the magic eraser sponge out of the package, cut it in half. This way it will last longer as you knock out jobs and will wear out less quickly. You can even cut it into fourths if you are going to be using it for small detailing jobs.
3. Enlist the help of vinegar – A vinegar and water mixture make the perfect cleaning solution! In a spare spray bottle mix equal parts vinegar and water and use it on counters, tile, even glass. It cleans for just pennies.
4. Scour local thrift stores – You can find cleaning rags, old towels, buckets, spray bottles, and other cleaning necessities at your local thrift store. Give them a try and see what you can find to help make your job easier for less.
5. Visit your local dollar store – The cleaning supply section at stores such as Dollar Tree is growing daily. You can find name brand products, scrubbers, mops and more. Visit your local dollar store and see what supplies you can use. For just $1, they are worth trying.
6. Keep eyes peeled for coupons – Product companies know you are starting to spring clean, so they will be offering you savings. Keep your eyes peeled on their Facebook pages, in the mail, in Sunday papers, and via their website for valuable coupons and savings offers.
7. Remember, a little goes a long way – Rethink how much product you are using when you clean. Try being more conscious about using less and still getting the job done.
As you can see, there are plenty of ways to save on spring cleaning supplies! Give these 7 tips a try and see how they can help you!
10 Laundry Tips:
How to make your own dryer sheets
How to make your own laundry detergent
How to remove laundry stains with lemon essential oil
How to remove sour smell from towels
How to remove sour smell from wet clothes
How to remove stinky smell from HE washing machines
How to remove mud from clothing
Melissa is a football and soccer mom who has been married to her best friend for 24 years. She loves sharing recipes, travel reviews and tips that focus on helping busy families make memories.