7 Clean Bathroom Hacks You Must Try
When it comes to a clean bathroom, it is all in the details. Ignoring just a small detail can really have an impact on the space, so it is important you leave no corner ignored when it comes to this high traffic space. Check out these 7 Clean Bathroom Hacks you MUST try now.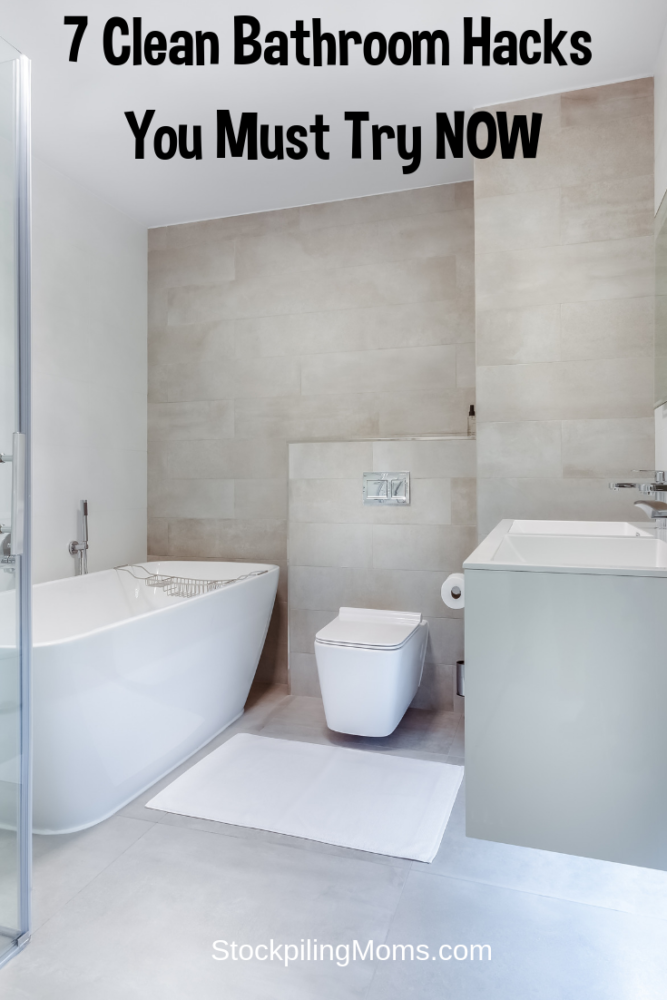 7 Clean Bathroom Hacks You Must Try Now
Luckily, there are ways you can HACK your way to a cleaner bathroom. Look below at these 7 clean bathroom hacks you must try NOW, and see how they can help you get a fresh and clean bathroom in no time.
1. Get out the denture cleaner
One of the quickest ways to get a toilet clean is to toss in a few denture cleaning tabs. Let the tabs dissolve, brush, then flush. The tabs will help eat away at grime and won't damage your toilet bowl. This is a fast, easy way to a clean bowl.
2. Try this shower head cleaning trick
Are your shower heads looking clogged and crusty? Fill a sandwich bag with CLR Cleanser, place it under the shower head so the shower head is submerged, then secure in place with a rubber band. The solution will go to work cutting through rust and calcium so your shower head is sparking and free flowing.
3. Baking soda is your friend
Baking soda can be used in so many ways. Create a paste with baking soda and vinegar and scrub tubs, counter tops, shower tiles, and even hardware. It will rinse clean and leave the surface shining. Add a few drops of essential oils to the paste if you really want to the space to smell great.
This is when my list of Dollar Tree Cleaning Supplies You Should Buy comes in handy!
4. Get out the dryer sheets
Dryer sheets can be used to dust wall art such as pictures and frames, and can also be used to dust items such as the back of the toilet, sink caddies, toothbrush holders, and more. You can also keep dryer sheets tucked behind the toilet and in the toilet paper roll to keep the space smelling great.
5. Add fresh plants
Add a little life to your bathroom with a fresh plant or too. Plants will help keep the air clean while also adding color and ambiance. Try plants such as snake plant or fern, as they will grow well in the space and are fairly low maintenance.

6. Vinegar is a must
Forget the fancy glass cleaners. Vinegar will help get mirrors and shower doors sparkling and will help future build up from happening. Just spray on and wipe with a clean cloth. You can also help mildew from building up on shower liners by spraying it with salt water prior to use.
Check out these Tips for Cleaning with Vinegar!
7. Don't neglect your linens
Sad linens will put a damper on any bathroom. Be sure to toss the bath mat in the wash once a week, and keep fabric freshening spray on hand for in between clean ups. Using bold colors in your linen choices will keep them from showing signs of wear such as make up stains, and properly placed Command hooks can encourage everyone to hang towels keeping mildew and odors at bay.

Are you ready to hack your way to a fresh and clean bathroom? Try these 7 clean bathroom hacks you must try now and see what a difference they can make to your space.
Melissa is a football and soccer mom who has been married to her best friend for 24 years. She loves sharing recipes, travel reviews and tips that focus on helping busy families make memories.