7 Keto Friendly Foods You Can Find at Dollar Tree
Who would think that you could find tasty Keto friendly foods at your local Dollar Tree? No matter what kind of budget you are working with, Dollar Tree does have amazing deals on food items that fit the Keto lifestyle. Before you head to your local grocery store, check out these 7 Keto friendly foods you can find at Dollar Tree and see how budget friendly Keto snacking can really be!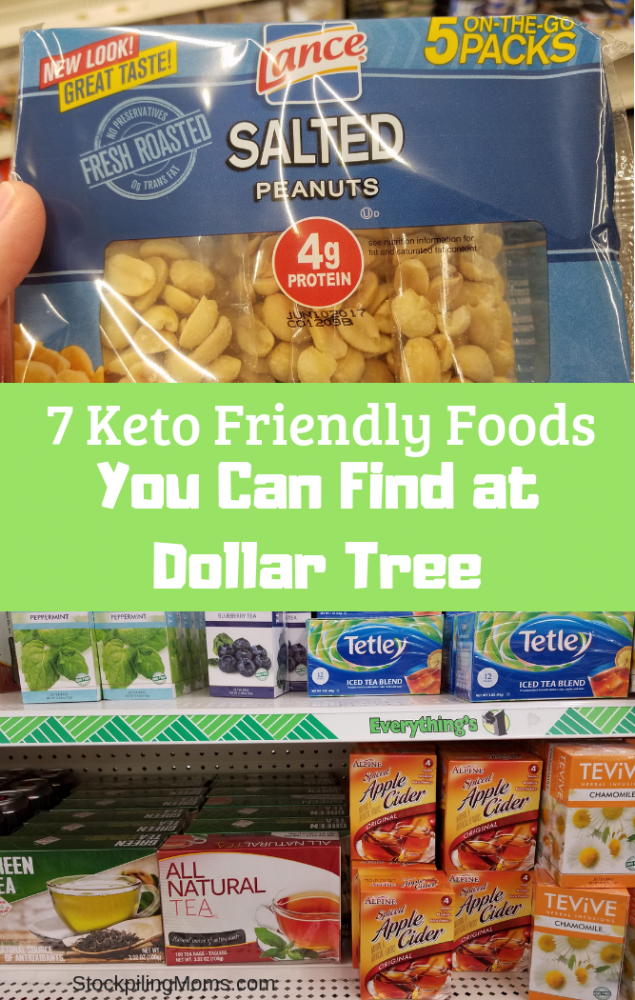 7 Keto Friendly Foods You Can Find at Dollar Tree
1. Beef jerky.
Beef jerky is a snack that every keto dieter keeps on hand. Luckily, Dollar Tree has a lot of options! You can find beef jerky sticks at most Dollar Tree stores, perfect for keeping on hand for a quick snack or for adding to your lunch line up. Grab a few, so when you need a salty snack, you have one. Just be sure the choice you select has no added sugar.

2. Nuts.
Nuts can be so expensive. Dollar Tree sells small bags of nuts for just a buck each. Choose from peanuts, almonds, cashews and sunflower seeds. These nuts can be enjoyed as a snack or you can add them to your salads and other Keto friendly recipes.

3. Canned green beans.
It is always wise to pair some green vegetables with your Keto friendly lunch or dinner. Dollar Tree sells name brand canned green beans, perfect for a quick side dish. Stock up on canned green beans to add to cold salads or to warm up for a quick side.

4. Coconut oil.
If you buy coconut oil at a health food store, you can easily pay $6 and up per jar. Dollar Tree sells small jars of coconut oil for just a buck, making it the perfect find for the dieter on a budget. Use coconut oil to cook your vegetables in or add to your baking. It is a healthier alternative!

5. Olive oil.
Olive oil is a staple of the Keto diet! It contains the healthy fats you need while giving you loads of flavor. Bought at the grocery store, olive oil can cost you upwards of $7 a bottle, but Dollar Tree sells small bottles for a buck. Use it to flavor vegetables, pan fry chicken and steak, or use it to make your own marinades.

6. Select frozen foods.
Check out the frozen food selection for individually sized tilapia or steaks. Not all Dollar Tree stores carry these, but many do. They are great to have on hand when you are cooking for one, and for just a buck each, you can't beat it!

7. Select beverages.
Watch out for those sugary drinks at Dollar Tree, and opt for the mini packs of bottled water instead. You can get a 6 pack for just a buck, which can help you get the water intake your body craves. Sugar free drink mixes may also be an option, just be sure to check out the ingredients before you buy.
Are you ready to enjoy the keto diet for less? Head to your local Dollar Tree and check out these 7 keto friendly foods you can find. Stock up when you see them, and see how easy it can be to enjoy keto for less.
More Keto Tips:
What Can You Eat on the Keto Diet?
Ultimate Keto Diet For Beginners
Melissa is a football and soccer mom who has been married to her best friend for 24 years. She loves sharing recipes, travel reviews and tips that focus on helping busy families make memories.